Do you want to share your iTunes library to other mobile devices?
One Apple device just doesn't seem to be enough these days! Carrying your iPad and your iPhone along with your MacBook seems to be the norm. This apple ecosystem works really well together as apple rarely places nice with anyone else. All these devices are built around the philosophy which emphasizes on clean metallic design and portability. Apple wants you to sync all your devices with the same iTunes library, though it has its ups and downs.
In this tutorial we look at how iTunes library can be shared among multiple devices. This tutorial is broken into two separate parts, part 1 focuses on people who prefer to do things in the apple way and part 2 is for the rebels who prefer to do things their way as it allows more freedom and features without any penalties.
You can either choose to stream music over your home network or choose to share it with other devices via the home network.
To stream your music via iTunes follow these steps:
Open iTunes.
Go to the Edit menu and select Preferences (Windows OS) or Preferences menu (on Mac).
Share Your iTunes Music Library
From the list of tabs on the top, choosing "Sharing" tab.
Check the option to "Share my library on my local network". Gives you the option to share everything or selected play lists.
If so you wish you may add a password to everything being shared.
Once you have made selections click Ok.
One thing to note is that your iTunes that shares the library must remain open for the others to connect to it and stream the music. Once this is done anyone on the same local area network should be able to see the playlists you're shared and stream music.
Another way to share your content is via Home Sharing option. Apple allows you to share your music and files with other devices that are authorized to use the same Apple ID.
Go to the File and Home Sharing.
Turn on Home Sharing.
Enter apple id and password when prompted (Authorization maybe required if not done already).
Done.
Repeat above steps for other computers to enable home sharing and view the shared content on them.
One has to admit the approach mentioned in part 1 is quite restricted. Keeping the iTunes open at all times plus streaming the music instead of actually having it, means you need to have multiple devices powered on at the same time. What if you don't want that? What if you just can't to transfer your collection on one device to another device you own? One word answer, "iMusic".
iMusic allows you to copy your iTunes library from one iOS device to another, making the whole process super simple and fast. It's not a free application it requires to be purchased from the developers. They offer a trial version which can be used for a certain period of time after which it will request for registration in order to use. The main use of iMusic is to offer integrated solutions that will help to manage digital music in a convenient manner.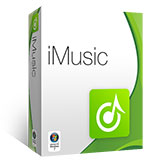 iMusic - Most Excellent Spotify to MP3 Downloader
Download music from over 10,000 music and video sites.
Record music in original quality and automatically split the ads.
Discover and download music from more than 300,000 songs.
Transfer music between any two devices directly without iTunes.
Fix music library intelligently with correct ID3 tags.
Burm music to CDs in one click.
1 click to transfer downloaded music and playlist to USB drive to enjoy in car.
Steps to Share iTunes Library to iPhone by iMusic
Step1. Just plug in both devices into the computer. Start up iMusic.
Step 2. Click "Transfer music to other device". Then the music will be sharing to other device.
If you want to share your iTunes Library to your computer, it is easy to share too. Just click the music and export to your computer.
There you multiple ways to copy files from one device to another using iMusic and the best part is you not even need to login into your Apple ID, its simple, its fast and hassle free.
[Bonus] Video Tutorial: iMusic- Sync Music from iTunes to iPhone/iPod/iPad