Editing involves various task that can be performed which is referred to as renaming but it also involves matters like copying, compiling and deleting.
There are many ways that one can prefer to edit their iTunes libraries. There are the automatic and manual methods. In manual method, the user personally searches the files to be edited and then applies the format he desires. For automatic the user uses software that enables him to edit his playlist.
This is an detailed steps of how to edit the names of songs, playlists, or delete songs within your iTunes library using iTunes.
Steps to Edit iTunes Song
Step 1. Download and install the lastest iTunes to your computer. iTunes supports from different computer versions this will depend on the spec that are required during installation. Then open iTunes window.
Step 2.Select the song name that you want to change. Right click on the song and then select "Get Info" this will display the song details that you want to change, you can choose to change or leave it. Click "OK" at the bottom of the window.
Edit iTunes Playlist
Step 1. Select a playlist you want to edit. You can right click the playlist and select "Edit Playlist". Or when you have select the playlist and you will see "Edit playlist" on the right top corner.
Step 2.Then a new window will pop up on the right side. You can add a description and choose different order, such as name, time, artist, genre, etc. You can also change the playlist's name- This change "Downloaded" into "My favorite". After editing, click "OK" to save the changes.
Step 3. After you click OK, you will see this playlist as screenshot which the description is "love", the name is changed into "My Favorite", and it sorted by name. If you don't like some songs in this playlist, you can delete it.
Part 2. Edit iTunes Library Easy and Automaticly with iMusic
Part 2.
iMusic is an application that is used with devices to be able to edit or easily navigate iTunes automatically. It's not a free application it requires to be purchased from the developers. They offer a trial version which can be used for a certain period of time. The main use of iMusic is to offer integrated solutions that will help to manage digital music in a convenient manner.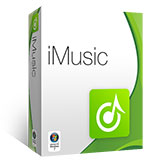 iMusic - Edit iTunes Library with One Click
Download music from over 10,000 music and video sites.
Record music in original quality and automatically split the ads.
Discover and download music from more than 300,000 songs.
Transfer music between any two devices directly without iTunes.
Fix music library intelligently with correct ID3 tags.
1 click to transfer downloaded music and playlist to USB drive to enjoy in car.
Ability to burn downloaded songs and playlists to CDs easily.
Editing with iMusic is an easy and enjoyable method since one does not need to perform much task. There are many features that come with the application regarding editing; one can easily rename, copy to other devices by drag and drop method compile or delete duplicate or destroyed files. In the case of destroyed files one can first try to rebuild the files.
Tutorial to Edit iTunes with iMusic
Steps that should be followed during editing when using iMusic are a little bit simpler since almost the entire task is done by the application. Before that , you could first download music to iTunes library by iMusic.
Step 1. Find the music in the ITUNES LIBRARY which you want to edit .
Step 2 Next, select the song, right click it and tap on "Edit music info" from the drop down list.
Step 3 A new panel will open on the right side with details of the song. To automatically get the track name, click on "Identify" that can access the database and find the track name. Once the name is found, click on "Save" to complete the process.
you can edit the name on your own in the name section and then clicking "Save" button.