To some people making a backup of iTunes backup might not be the most important thing in the world, but it is one of the few important things for a majority of people who would want to keep a backup of everything with them on their PCs. Music is an essential part of smartphones these days and it takes a lot of time and money for setting up a playlist that no one else in one's friend list would have or a sibling would share. Therefore, keeping your playlist safe and in several places give you a better chance of not being a victim or any software or hardware failure. This article will introduce you two solutions to backup itunes playlists, including the music files too.
A large number of people are not in favor of using iTunes because of the problems that they have to face as a result of the security measures that Apple likes to maintain. It must be kept in mind that no matter how complex iTunes gets, it is the best software for handling an iOS device and ensuring that all the data is in one place.
Following are the steps that need to be followed in order to backup itunes playlists from itunes 12:
Step 1:

Install iTunes
For someone who has ever owned an iOS device, they must already have iTunes installed, but for those who don't have the software installed, you simply have to head over to the official website of Apple and download a free copy of iTunes.
Step 2:

Finding the Library
Once you open itunes 12, you need to open the FILE drop down and hover your mouse cursor over the "Library" option.
Step 3:

Exporting the Playlists
Select the "Export Playlist" option from the drop down that appears after hovering over the "Library" option.
Step 4:

Choosing the Export File type
Select the file type, ideally select XML format that will keep a list of the whole playlist for you in the location that you choose. Once you have selected the type, click on the "Save" button to save the backup on to your hard drive. In this way, you can backup itunes playlists in the format you need.
The first method only help you backup itunes playlists, not the music files. Usually people find it hard to recover their iTunes playlists back into music files and they fail to do. The best way to backup itunes playlists in order to recover them back into music files is to use iMusic.
iMusic is an excellent program to allow you manage your whole itunes library. The first step is then to download your trial version of the program from the website your computer. Once you install it, launch it and connect your iPhone to the computer through your USB cable. Your iPhone will be automatically detected!
Once you have made an itunes playlist backup file in the XML format, following the steps and procedures have been mentioned above. you need to follow the steps below in order to recover the music files from that playlists.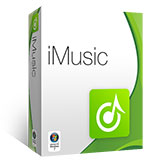 iMusic - Best Media Managing Music for the iPhone, iPod and the iPad
Download music from more than 300 music sites by copying and pasting the URL.
Record unlimited music from any website for playback in your computer with just one click.
Built-in music library let you browse and preview the lattest and hottest music.
Automatically save downloaded/recorded music to library for management and easy transfer.
Identify and tag music with artist, title, album, genre, and more with the latest technology.
Steps to Backup iTunes Playlists by iMusic
Step 1:

Open iMusic
Step 2: Scanning Process. Select "ToolBox" then it will let you back up iTunes library after clicking "Backup/Restore iTunes".
Step 3: Click "Backup" and a new window will pop up and select the files which you want to backup.
Video Tutorial: iMusic- How to Backup iTunes with Simple Clicks