What is the best way to convert Napster to iTunes?
Napster is a free program which was formerly available but is now have become one of the popular online music store for purchasing songs and audio files. The name Napster was given two online services and was founded as a pioneering P2P file sharing Internet service which emphasized on sharing audio files, typically music and encoded in MP3 format. So now you can enjoy Napster music more freely, and get the best solution here. This article will make you understand how Napster helps to convert the music from Napster to iTunes, how you can download Rhapsody to iTunes.
Online popular music store Napster will allow you to purchase songs and audio files. You simply have to drag the files to iTunes for preserving and convert them to iPod, iPhone for playback anytime and anywhere. Napster to iTunes converter uses the powerful audio recorder tool named as Atreaming Audio Recorder. This converter is designed to record all kinds of audio files and generate a MP3 file as Napster song. After generating the file you can directly transfer it to your iTunes. Let us discuss about how you can convert Napster to iTunes.
Step 1. Download, install and launch the Streaming Audio Recorder
Click the free download link available online to get the app and click on .exe file to install it. During the installation process you should Launch Streaming Audio Recorder right now and then simply click on desktop icon to run it.
Step 2. Click on Record button
You will see on the top left corner, play the song on Napster that you want to transfer, the app will automatically record your song and when your song is over the recording will stop instantly and save your file as MP3 in one click.
Step 3. Add to iTunes
If you want to add your track in app library then simply click on "Add to iTunes" button in the bottom of the main interface.
Note: Check your iTunes playlist, and your music is saved in your playlist. This one is amazing as it would save your money where some of the music can't be saved as the subscription expires. But here you'll get benefits.
Aimersoft iMusic is an excellent music downloader that will allow users to download music, share and record music from online streaming music services. Whereas it is said that Napster became the best online music store service after Rhapsody acquire the best buy. Rhapsody is an online music sharing website that will allow users to listen thousands of songs online and can share their favourite tracks among their friends. So many people are seeking the way for Rhapsody download songs and listen to them. In fact there are several ways to download them and can help you to solve the problem to download Rhapsody to iTunes here.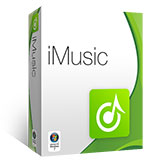 iMusic - Download Napster to iTunes Easily and Efficiently
Download music from over 10,000 music and video sites.
Record music in original quality and automatically split the ads.
Discover and download music from more than 300,000 songs.
Transfer music between any two devices directly without iTunes.
Fix music library intelligently with correct ID3 tags.
1 click to transfer downloaded music and playlist to USB drive to enjoy in car.
Ability to burn downloaded songs and playlists to CDs easily.
Check this out you'll find it easy to easily downloads using iMusic.
Step 1. Download and install iMusic
Start the program on your computer after installation is completed.
Step 2. Download Interface
Start iMusic and select the download option located on the top of the interface.
Step 3. Copy Rhapsody's link
Copy the link from the address bar that you to download from Rhapsody.
Step 4. Paste the URL
Paste the URL into iMusic and click on download button to start downloading your music. Choose MP3 as your output.
Note: By using iMusic you can easily download Rhapsody songs. Also this program can allow you to transfer the downloaded music files with different formats to your mobile devices so iMusic is the best choice for you.
3.1 How to Convert Napster to iTunes with TuneClone
We know that music cannot be purchased from Napster nor can be played with other incompatible devices like Apple iPod and Microsoft Zune. If you don't continue to pay you won't be able to keep the music after the subscription expires. In this case if you have purchased great amount of music and want to take a backup, then TuneClone is the best suggested. TuneClone Convertor will act as a virtual CD-ROM drive on your PC and allow you to convert iTunes music without loss of any files and along with ID3 tags for well preserved.
Features
• TuneClone M4P Converter is a very easy to use software that converts iTunes M4P, WMA music files to plain MP3, easy to install, and easy to use via a simple user interface.
• TuneClone can runs on Windows XP, Windows 10/8/7/Vista 32/64 bit.
• It supports almost all the media player software that let you burn audio CD.
• It Includes iTunes, Windows Media Player, RealPlayer, RealOne, WinAMP, Napster.
Pros
• Easy to use
• Works very well and fast
Cons
• No any other than Quite Expensive
TuneClone Setting Window
ID3 Editor Window
3.2 How to Convert Napster to iTunes with Aimersoft
You can download hundreds of music albums from Napster with spending a little money as the downloaded WMA files are usually protected with DRM. What if you want to play the music on iPod or iPhone? Here you need to convert your files to MP3 so that you can play your favourite music on any MP3 player whichever you want to play using Aimersoft convertor.
Features
• Aimersoft convertor will help you to resolve the Napster DRM protection and convert your files to MP3 in just few clicks.
• It can support video and audio formats which includes WMV, AVI, MOV, M4V, FLV, VOB, WMA, MP3, M4B.
Pros
• Easy and fast conversion simple few clicks
• Conversion can be done in batches
Cons
• It isn't free. You have to pay for the full version.
In conclusion we recommend you to use the iMusic and Streaming Record Audio which will help you to easy convert your music tracks and transfer them into your iTunes library.