How to remove duplicates in iTunes for the Windows ? Does anyone could recommend some perfect way to remove duplicates from iTunes Library ?
Let's face it when it comes down to mobile storage we don't get too many options with the iPhone. There is no expandable storage capacity in the iPhone, every megabyte is important. This is especially true for mostly all models of iPhone. Not just that removing duplicate items from your library causes a lot of hassle for all people who wants to save memory of their iPhone. There isn't just one but several drawbacks of manually doing it. Takes a lot of your time, you have to manually select the songs, browse through you library and delete them. In addition to that, the duplicate songs which you will be deleting are still going to be a part of your back up in the iTunes library. These duplicate songs take a huge amount of space in your Apple device and that is something we want to avoid. For your convenience, iMusic has devised a system for you, where you can get your library analyzed and get the songs deleted on their own.
First of all, we would like to tell you about deleting duplicates from iTunes library with iTunes. This is a good thing to remove duplicates from iTunes using iTunes itself for those people who don't want to install other software in their system. But the problem with this way is that it takes a lot of time to select and find duplicates, because you have to select all songs manually when using this way.
Now we are going to tell you about this way. Just follow the following steps.
To delete duplicates from iTunes library using iTunes, first of all please note you need to download and install latest version of iTunes from official website. After downloading install and run it then follow the following path.
Click on File , choose "My library" and then select" Show Duplicates".
After watching duplicates click on "All" to view all duplicate songs.
If you want to see duplicate from same album then click on "Same Album", it will show you all duplicate songs from the same album.
Part 2. Remove Duplicate from iTunes Library with iMusic
Duplicate files on your iPhone take a lot of space on your iPhone and it is really very important to delete them from the iPhone. This is really hard task to find duplicates manually one by one. It is good to use a software like wondershare iMusic to do it because it can help you more and less your tension and finding songs one by one. You can do it easily in just one click by using iMusic.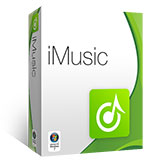 iMusic - Remove Duplicates from iTunes Library with One Click
Download music from more than 300 music sites by copying and pasting the URL.
Record unlimited music from any website for playback in your computer with just one click.
Built-in music library let you browse and preview the lattest and hottest music.
Automatically save downloaded/recorded music to library for management and easy transfer.
Identify and tag music with artist, title, album, genre, and more with the latest technology.
1 click to transfer downloaded music and playlist to USB drive to enjoy in car.
Ability to burn downloaded songs and playlists to CDs easily.
Key features
Able to delete duplicate music files from you iPhone and android device.
iMusic is able to fix your entire iTunes library easily in just one click.
You can manage your iTunes library without any iTunes restrictions.
Transfer you iTunes music to any other device without any device limitation.
Automatically convert music to the device supported format while transferring music to other devices.
Download music from more than 10000+ websites.
You can record music from more than 10000+ music sharing website anything what you want to record over internet.
If you don't find any music over internet then you can directly discover music from iMusic interface.
Inbuilt professional music player which allows you to playback your songs.
Replace your mp4 file in mp4 format while downloading.
Allows you to use your android device with iTunes directly.
Automatically fix music tags, album covers in just one click.
How to delete duplicates using iMusic
Step 1 First of all, download iMusic from the official website and install it on your system by following on screen instruction. After installing run it and you will see user interface like the below screenshot.
Step 2 After launching iMusic, click on Toolbox and click on "Clean up iTunes library" on the "Toolbox" page.
Step 3 Once you have followed the above step, you will see a window like the below picture. Now click on "Scan" option.
When you click on scan option then it will show all problems with your iTunes library. Here you can see number of duplicate music files. Here you need to click on "Fix".
Step 4 Once you have clicked on the "Fix" button, one window will open. In this window, you need to click on "Delete duplicate songs" in the left side tab. Now click on "Delete Duplicates".
After clicking on delete duplicates, it will automatically delete all duplicate songs from your iTunes library.
Tunesweeper is a software which allow user to find out duplicate from their itunes library easily. This software comes with good features with finding duplicate songs. This software is able to find duplicate songs on your itunes library. It is able to automatically download album artwork. It is able to remove missing albums from your iTunes library so it can help you to clean up your iTunes library.
Key features:
Allow you to find out duplicate and missing tracks easily and quickly.
It is able to download missing artwork automatically.
It is able to delete tracks in iTunes which are not there in your computer.
Able to automatically identify music tracks in iTunes.
Copytrans tunetastic is a good option to remove duplicate music files from the iTunes library easily. You can easily find out duplicate songs using this software. It comes with a lot of features which allows you to do other tasks also with your iTunes library. If allows you to fix your itunes library, fix broken itunes links, missing songs and orphan files also.
Rinse is a very good software which allows you to do a lot of tasks with your iTunes library. It is able to add or fix album tracks or songs in album. There is a problem with this software that it's not that much of stable as compare to iMusic while using. It is able to find out duplicate songs from iTunes library in just once click easily. This is a problem which is faced by users that customer support of this software support team is not good.