How to manage a very old iTunes music library ? I guess many people will encounter this problem.
When your music and movie libraries get bigger, it is always good to be organized. There is no scarcity of decent iTunes library managers out there. In this article, we will introduce top 5 iTunes Library Managers.
This is a thoroughly professional solution for management of iTunes libraries. It is ideal for all disc jockeys, music collectors and audiophiles who want to maintain a systematic and organized musical digital life. SuperSync allows the users to organize and compare and merge itunes libraries across all personal computers, Macs and iOS gadgets. It will also help in deleting duplicate items. It has other interesting features such as reporting of missing tracks which can be very handy in management of large catalogues of music from multiple sources. The only handicap with SuperSync is that it can only be accessed at the website and not within a program.
SuperSync Rating: 3.5/5.0
iMusic allows users to manage music and other media files on iOS devices and also move them from one place to another without going through the need of entering iTunes. iMusic provides a sleek interface through which the users can access all features of the app. There are large buttons to help identify various actions with clear instructions to follow that help users know what and when to connect. Status bars also indicate how fast things are loaded. All the loaded files can be previewed from your device before they are exported to the selected location. Multiple devices can be connected at one time, making the data transfer process streamlined. iMusic is compatible with iPhones 6s Plus/ 6s/6 Plus/6/5S/5/4S, iPod Touch 5,iPod Nano, iPod Classic, iPad Mini, the new iPad and iOS 9.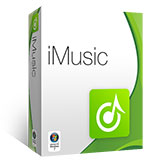 iMusic - Best Media Manager for the iPhone, iPod and the iPad
Download music from more than 300 music sites by copying and pasting the URL.
Record unlimited music from any website for playback in your computer with just one click.
Built-in music library let you browse and preview the lattest and hottest music.
Automatically save downloaded/recorded music to library for management and easy transfer.
Identify and tag music with artist, title, album, genre, and more with the latest technology.
1 click to transfer downloaded music and playlist to USB drive to enjoy in car.
Ability to burn downloaded songs and playlists to CDs easily.
Download.cnet.com Editors' Rating: 4.0/5.0
Link :https://www.aimersoft.com/imusic.html
Steps to Manage iTunes Library by iMusic
iMusic could let you freely rebuild iTunes library, clean up iTunes library and back up iTunes library so on. Here we will introduce how to use iMusic to clean up iTunes library eaily.
Step 1: Launch iMusic on your PC or Mac. And then click "ITUNES LIBRARY" menu on the top of the software to enter the management for iTunes library. After then click the music icon on the left side of the window. Click the cleanup icon on the right side of the window, the fourth one.
Step 2: Click "Scan" in the pop-up window, letting iMusic scan for the broken, duplicate and miss labelled songs for you. The duration of the scanning process depends on how many songs are in your iTunes Library. If you have a big iTunes Library, then it might a few minutes.
Step 3: The amount of missed tags, covers, duplicate and broken tracks will be displayed in the result window. Click "Fix" to let iMusic fix them all for you. it will work automatically.
Video Tutorial: How to Clean Up iTunes Library with iMusic
You can use the given link to use the software online:http://www.mytune.in/
It allows all the iTunes users to organize multiple music libraries among various folders and share that music between several users on a device. Users are able to copy the music between various libraries while maintaining their ratings and play counts intact. This enables the libraries to be broken down into smaller units and merged later with bigger ones. It also allows the users to fix all the dead music tracks whose files may have gone missing. It is compatible with OS X 10.10 and itunes 12.
Link http://www.macupdate.com/app/mac/27976/powertunes
Rating: 4.0/5.0
This app can clean up music files that do not have proper labels involving artist names, track numbers and genres. It will also help in finding the cover art if it is missing. It helps in alerting the users of all local concerts if their favourite artists are appearing. It pulls in all the good music content from the internet such as YouTube videos and Google News to enrich listening experience. Its installation is simple. It is compatible with both the Mac and PC versions of iTunes. It will scan the library within seconds. Its disadvantage is that its free version is rather limited and is not fully operational. The program will hound a user to register every time he or she opens it.
Rating by Download.cnet.com Editors: 2.5/5.0
This app will make backup copies of the music libraries of iTunes, their database files and iTunes Preferences. This helps the users in saving multiple libraries easily. Configurations of preferences can be retrieved without much difficulty and it can be loaded whenever you like. It is compatible with iTunes 10.4 and OS X 10.7 Lion. The handicap is that it does not operate on Power PC devices.
Link http://www.macupdate.com/app/mac/7689/itunes-library-manager