Question: I've wanted to move my iTunes library from my old notebook to another computer for months. But it is a headache, especially with numerous songs in my library. What should I do, say, transfer music from iPhone 6 to computer?
Answer: To transfer music from iTunes library to another computer, here we will introduce 4 ways to transfer iTunes music to another computer.
When you buy a new computer or laptop, you may want to back up iTunes to the new computer. But sometime you will face a lot of issues to transfer their iTunes files to new computer. This is a very big problem because no one wants to lose their old iTunes library which is collection of several years. In that case people need any software to back up their iTunes library to new computer because it is not possible to do directly with iTunes. We are going to discuss about some methods now which can help you to overcome this problem.
Part 1. Best Way to Transfer iTunes Music to a New Computer
iMusic is software which allows users to transfer their music files to any other device. It can copy the whole iTunes library once to another computer, and don't need you copy it manually. It is very easy to backup and it will also keep orders in the same folder location to the new computer. What's more, you will not loss any music with the id3 tags. It will fix missing covers, missing tracks and so on. This software is better than any other software because there are a lot features available in this software. If you have hugh music in your iTunes, it is the best way to use Imusic to back up to another computer. Because, you can connect external hard drive with iMusic no matter how hugh the music are, you can copy to another computer automatically.
It can download or record music as well. User can download music from more than 10000+ websites using this software. Even it supports recording from the same number of websites. If you don't want to find out your tracks over internet from different sites then you can directly discover it from the iMusic platform itself.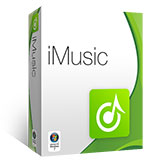 iMusic - Move iTunes to Computer with One Click
Download music from more than 3000 music sites such as YouTube, Dailymotion, Vimeo, Vevo, Hulu, Spotify, and much more through copying and pasting the URLs.
Transfer music between a computer, iPhone, iTunes Library, iPad, iPod and Android phones making it easy to share songs.
Record music from radio stations and streaming sites and gets the identification of the songs including the title, album artist, and genre.
It acts as a management toolbox that lets you manage iPad, iPod, iPhone and Android phones iTunes Library through options like backup iTunes, recover iTunes Library, fix iTunes music tags and covers as well as remove music DRM protection.
Batch download of files is supported where you can download up to 100 songs at the same time.
1 click to transfer downloaded music and playlist to USB drive to enjoy in car.
Ability to burn downloaded songs and playlists to CDs easily.
How to Transfer Music to New Computer Using iMusic
Here we use iPhone as a hard drive to transfer music from iTunes to another computer, and you can also use an external hard drive as well. Don't worry about the space any more. iMusic Supports iOS device, Android device, and hard drive, etc.
Step 1. Download and install iMusic. Connect you iPhone with your old computer. Click "Device" on the top of the interface. Then click "Transfer iTunes Music to Device".
Click "Transfer". Then iTunes library will transfer to your device or hard drive.
Step 2. Once you have transfer to your iPhone or hard drive. Connect your device to another computer. And open iMusic on that computer too. Click "Transfer Music to iTunes".
Click "Start". Then you will transfer to iTunes Music. So the iTunes mysic will be on the another computer successfully.
Export to Computer
After you tranfer the iTunes to your device, then connect to your new computer. And click "iTunes Library" on the top of the inferface. select the music, and click Export icon to export to you computer as screenshot.
Related Video Tutorial: iMusic- Add songs from PC/Mac to iTunes Library
As you know, if you download or purchase music, videos, audiobook and more from iTunes, iTunes will save them on the iTunes folder on your computer. Thus, to transfer iTunes Library to another computer, you can plug into an external hard drive or a usb flash drive to the computer, and then, copy the iTunes folder to it. But if there are some folders, then sometimes you will lost music.
Firstly, find the iTunes folder on the computer. In Windows 7, the iTunes folder is saved here: C: UsersAdministratorMusiciTunes. If your computer running Windows XP, Vista or other, you can go and find the iTunes folder in the similar save path. Secondly, download and install iTunes on another computer. Navigate to the save path of iTunes folder on this computer. Thirdly, connect the external hard drive or usb flash drive to the computer. Then, copy the old iTunes folder and replace the new one.
If you are using mac and want to transfer your from your mac your new mac pc then you can do it using OSX's migration assistant. You can transfer their music files to new computer using iTunes also following are the steps which you need to follow to transfer using iTunes.
Step 1.

Turn on files sharing

First of all go to your old computer and turn on files sharing on your old mac. To turn on files sharing follow these steps: Edit > Preferences.
Step 2 .

Open file sharing on the new Mac

Go in the services list and Turn on file sharing. Now you can see your mac as shared connection. Select it and connect as. Then select registered user. It will ask you to enter password then enter your username and password of your new mac.
After connecting you mac with your new mac go to ~/Music folder of the new mac. Paste your whole iTunes folder here.
Note: Paste is on the same location where it was on the old mac. Please keep in mind if you have any unique files in your new mac then don't do this because it will overwrite all previous data.
TunesGo Retro is the best available software over internet to transfer music files from any IOS device to other IOS device or backing up your iTunes library collection. This software enables you to transfer your iTunes library music files to any idevice or any other computer. But if there are huge iTunes libary but your iDevice is limited apace, then this method is not good enough. But if you just want to trasfer limited music, then it is the easiest way to transfer iTunes music to another computer. TunesGo Retro is able to transfer your all iTunes library files including music, videos and podcasts also. Even you can back up your contacts as well. There are a lot of features available in this software which we are going to tell you in the key features section.
Key features:
• Transfer iTunes library data to pc easily in few clicks
• Transfer your iTunes playlists without iTunes restrictions quickly.
• Copy your music files to any IOS device.
• Transfer all files of your IOS device such as music, videos, podcasts, contacts and playlists also
• Transfer you files in 100% original quality with losing audio quality of your music files.
• It automatically convert ios supported format while transferring files.
• Automatically fix incomplete id3 information including album, rating and artwork etc.
• Allow you to share your purchased music with different apple id's
• Transfer your whole playlist in just one click so no need to transfer one by one.
• Transfer music between ios devices directly by connecting more than 1 device same time with tunesgo retro
• Back your contacts and then you can edit or delete or rename from tunesgo retro interface itself.
• Delete duplicate automatically
• Rebuild your iTunes library in just one click.
• Delete anything from the interface itself such as your contacts or music files.
How to transfer iTunes music to new computer using iMusic Retro
Step 1. First of all you need to connect your iPhone with your old computer and sync your previous iTunes library data with your iPhone. Once sync is finished disconnect your iPhone from your old computer.
Step 2. To transfer your purchases and iTunes music files please download TunesGo Retro from the below box.
Step 3. After downloading install it on your system by following on screen instructions.
Step 4. Once you have installed it on your new computer then connect your iPhone using iPhone usb cable, then TunesGo Retro will automatically detect your iPhone.
Step 5. Now if you want to transfer music files only then from the left tab click on media. Select your all music files,and click on Export to option on the top, then "Export to My Computer".