What's the biggest iTunes library? There is not technical maximum library size for iTunes. But the larger the iTunes library size is, the slower your iTunes will turn to. This article will share 3 ways to reduce iTunes library size to release free space and speed up your iTunes.
The size of music files may vary greatly from different parameters such as bit rate and channels. If you are not as discriminating as some music enthusiast, the 192 kbps bit rate is enough for quality. So how to reduce the size of music files? See the specifics below:
1. First go to iTunes > Preferences > General > Import Settings > MP3 Encoder and set quality to Higher Quality (192 kbps).
2. Create a Smart Playlist from File > New Smart Playlist.
3. Set "Bit Rate is greater than 192" as the criteria to find out all matched music files.
4. Select all music files by Command + A or dragging.
5. Right click and select Create MP3 version. This will take a lot of time if your music collection is very large.
6. Go to Library > Music and show duplicates by File > Display Duplicates.
7. Sort by Bit Rate (If bit rate column doesn't appear, right click on any column and select Bit Rate. You are recommended to repeat this process to show Size column to see how much size is reduced for each music file - from 256 to 192, about 3MB - each song. )
8. Delete the larger music files.
Be default, your media files, such as video, TV shows, music, podcasts, are stored in the same iTunes library. However, you can sperate them by creating different libraries to store different types of files. And it's very easy to switch between different libraries. To do it, just hold down Option (or Shift for Windows) when starting iTunes to choose library or create a new one.
Duplicates in itunes are also the main reason why your iTunes library is so large. To delete duplicates in itunes, go to Music, Movies, TV Shows, etc and click File / Display Duplicate to show all duplicate in iTunes. Then remove the larger or older files.
iMusic is a definitive music downloader that will meet all your music needs, including deleting the duplicate tracks. It is a free music download platform which can download music directly. It is totally free programming that can be compatible with Windows and Mac. It can download directly or record music rapidly from 10000+ sites. It can fix ID3 tags, covers, and delete duplicate Song & remove missing tracks.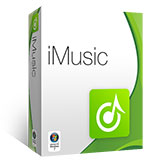 iMusic - Best Media Managing Music for the iPhone, iPod and the iPad
Download music from more than 3000 music sites such as YouTube, Dailymotion, Vimeo, Vevo, Hulu, Spotify, and much more through copying and pasting the URLs.
Transfer music between a computer, iPhone, iTunes Library, iPad, iPod and Android phones making it easy to share songs.
Record music from radio stations and streaming sites and gets the identification of the songs including the title, album artist, and genre.
It acts as a management toolbox that lets you manage iPad, iPod, iPhone and Android phones iTunes Library through options like backup iTunes, recover iTunes Library, fix iTunes music tags and covers as well as remove music DRM protection.
Batch download of files is supported where you can download up to 100 songs at the same time.
1 click to transfer downloaded music and playlist to USB drive to enjoy in car.
Ability to burn downloaded songs and playlists to CDs easily.
How to delete dupicates in iTunes?
Step 1. Download and install iMusic. After you launch it, select the "TOOLBOX" option and click "Clean up iTunes Library".
Step 2. Then you click "Duplicate tracks".
Or you can also click "Scan" button to scan missing tags, missing covers, duplicate tracks, missing tracks.
Step 3. Click "Delete duplicate" to delete the duplicate songs.