I want to watch iTunes video on TV, how to achieve it ?
Who does not like to rent out or buy movies from the iTunes store? It is the most convenient and thorough library of movies that have been cataloged. Easy to access and even easier to watch and with absolutely high quality of image reception, this is the choice that a lot of people make when they have to sleep in on a weekend. The problem that a lot of people face is that though they can access these movies in any of their Apple devices, when they need to watch these movies on a larger screen or on their televisions. Since the convenience of accessing movies and videos from iTunes is high, we realize that you have lots of stored movies in your fated iTunes library, which have either been downloaded or purchased.
Watching iTunes movies on TV can be a lot of fun especially with you family and friends for better measure. This article is going to talk about the 4 main ways in which you can access and watch itunes movies on your TV and make for a better video watching experience. Follow these steps to get the biggest benefit.
Step 1. Burning videos to a DVD is the best possible way in which one can access any movie from any source. The same is true for iTunes. Most of the itunes movies are in the M4V format and the basic problem is that it s usually protected by Apple's DRM.
Step 2. M4V DRM files generally cannot be burned onto DVDs because of the rights that are protecting the content that is available through videos. For this the DRMs have to be removed and can then be played onto TVs through a player. The next step therefore is to crack the copy protection of digital content from itunes movies and then copy the DRM-free movies on to a DVD of your choice.
Step 3. One of the easiest ways of doing this is through the software Wondershare Video Converter Ultimate which is the best program that can help you in removing the DRM and make your DVD in one go. A DRM remover DVD maker, this is your best friend in this given situation.
Step 4. One point that you have to remember when using the MAC PC for the same is that the program is different. Wondershare Video Converter Ultimate for Mac is the thing that you should be looking for. But keep in mind that the Mac version will not be able to remove the DRM protection from iTunes for you.
Step 5. You have to install the program and run it. You then have to go to the Burn tab and then select Add Files to add itunes movies that you want to send to a DVD which then can be used for playing on TV.
Step 6. By then selecting the DVD menu and clicking "Burn" you can begin burning the DVD from iTunes movie files. For the protected M4V files, you need to get an alternative converted format that will remove the DRM and then you can proceed as above.
This is what the Wondershare Video Converter Ultimate Interface looks like:
Step 1. If you already have the iTunes on your computer, then another way you can salvage those rented movies from going waste is to play the videos on iTunes via the computer. By connecting the computer to the TV, you can make sure that you can watch the same through iTunes that is connected in the computer.
Step 2. If you can acquire an HDMI cable, then most of your problems are over. By directly connecting what is visible on your computer onto the TV, you will have perfect transmission that also does not affect the image quality and definition.
Step 3. You can use the TV remote control to go to the setting. The settings will specify the switch for the TV's input to the correct port. You can even connect and set the graphics adapter and continue to choose and use the TV screen as the monitor where you will be primarily watching the movies. By using this simple step you can play any iTunes on your preferred screen of watching. Do keep that popcorn by your side.
Step 4. You can join your computer with your TV via other kinds of audio and video cables. To connect audio cables, you will need to get a Miniplug-to-RCA stereo cable and by connecting this to your headphone jack on your computer and the audio port on your TV. For a video input, you will need two methods. If you have an S-video connection on the PC, then you can use an S-video cable to connect to the RCA ports that are available on your TV. A VGA or DVI connection can help with directly connecting your TV and your computer, making the display work like a monitor.
Step 1. Another way to watch itunes movies and videos on TV at your leisure is to get connected to Apple TV. Meant for this specific purpose only, Apple TV can connect the movies from your iTunes library to the TV, on which you want to watch your movies.
Step 2. By choosing to sync the movies that you like from your iTunes library to the Apple TV box, you will have all the selected movies at your disposal to connect to a larger screen which is the basic discrepancy that one faces on iPods and iPads, even though they have superior video output. If you own an Apple TV, then your problems will be decreased to a much smaller issue of merely connecting of cables.
Step 3. If by any chance you do not own an Apple TV, then you have other ways of contending with this problem. But before bypassing these steps you can choose which can be the most cost effective way for you.
Step 4. You will require an internet connection to stream in the movies from Apple TV. For better picture quality, you will also require a widescreen enhanced definition TV or high definition TV. The Mac or PC iTunes will suffice to stream all the required movies that you need to stream in.
There are two methods under this that can help you watch videos on a TV. The first ia the option of Airplay and the other is the option of connecting the iPad to the TV directly. Whichever suits your pocket and fancy can be used to combat the boredom that you are feeling.
AirPlay
Step 1. The AirPlay feature has been started specifically for those who want to watch movies online on their TV. You can use the wireless system to watch Commercial flicks as well as the videos you shot and the other rented movies from iPad to an Apple TV box. There is need that you have an HDTV for the same.
Step 2. Once you start watching any movie on the iPad, you can tap the AirPlay button which you will be able to find in the setting sections of the video controls. Though you will be able to watch only one screen at one go, you will still be able to stream in any of the movies that you have been watching to the Apple TV box and then you have to refer to the steps that concern the Apple TV section.
Step 3. The best part about this method is that while your movie is streaming on the TV you can multitask on you tablet and continue working if your times is not totally free. Your kids can continue watching a movie and entertaining themselves while you finish your pending work. It must be said that rented movies show trouble when being fixed up to a TV.
AV Adapter Cables
You can buy an adapter cable and join them to the TV do get brilliant picture quality. These cables are often supplied by Apple itself but you might not want to go in for expensive cables and by them off locally in the market. This will also save you a pretty penny when considering the overall cost for watching movies on a TV.
Method
Cost
Effective
Ease
Watch itunes movies on TV by burning to a DVD
Free
Yes
Easy. Need to install program
Watch itunes movies on TV via computer
Cost of HDMI cables $50-60
Yes
Difficult. Need varieties of cable and knowledge
Watch itunes movies on Apple TV
Apple TV $250
Yes
Difficult. Need to subscribe
Watch Video from Your iPad on your TV
Cost of Airplay, Cost of Cables from Apple or otherwise
Yes
Easy. Prerequisite being Apple products
iMusic from Aimersoft is one of the best music transfer and manager for both Windows and Mac. It could freely let you download Youtube video to MP4 easily. Besides, it also could help you to transfer your downloaded videos to iPhone/iPod/iPad/Android/Window/Mac/iTunes with ease.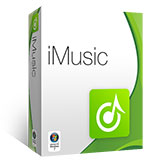 iMusic - Download Youtube Videos to iTunes Easily
Download music /video from more than 3000 music sites such as YouTube, Dailymotion, Vimeo, Vevo, Hulu, Spotify, and much more through copying and pasting the URLs.
Transfer music/video between a computer, iPhone, iTunes Library, iPad, iPod and Android phones making it easy to share songs.
Record music from radio stations and streaming sites and gets the identification of the songs including the title, album artist, and genre.
It acts as a management toolbox that lets you manage iPad, iPod, iPhone and Android phones iTunes Library through options like backup iTunes, recover iTunes Library, fix iTunes music tags and covers as well as remove music DRM protection.
Batch download of files is supported where you can download up to 100 songs at the same time.
1 click to transfer downloaded music and playlist to USB drive to enjoy in car.
Ability to burn downloaded songs and playlists to CDs easily.
Steps to Download Youtube Videos to iTunes by iMusic
Step 1: Download and launch iMusic on your Windows or Mac computer, open it to it's main interface.
Step 2: Then come to Youtube website , find the wanted video, copy it's URL address, then paste the URL in the blank to start the downloading process.
Step 3: Choose the output format as MP4 . then bgin the processs to download.
Step 3:Now you could check the downloaded songs. iMusic is automatically download all the songs to iTunes library.