How do you transfer iTunes playlists to a new computer? Before that, please make a new backup of your iTunes library or update your existing backup before you move it.
There are a lot of iPhone users who loves music and every time or anytime they add new and latest music to their devices and create new playlist. Users create playlists to listen all songs easily in just one click. But sometimes when they buy new computer or laptop then they face problem because those songs are there in their old computer, so then they need to know about transferring their iTunes playlists to new computer. Today we are going to solve this problem with this article.
First solution of transferring iTunes playlists to new computer is iMusic which is the best and very easy way to do this thing and save your music. iMusic is able to save your old playlists and transfer them to any other new computer. Even you can transfer it to any other device by using iMusic because iMusic don't have any limitation on sharing music or any data between devices. iMusic is able to do a lot of other things also such as downloading or recording music. It comes with a lot of great features such as: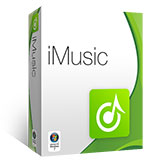 iMusic - Best Media Managing Music Tool for the iPhone, iPod and the iPad
Download music from more than 300 music sites by copying and pasting the URL.
Record unlimited music from any website for playback in your computer with just one click.
Built-in music library let you browse and preview the lattest and hottest music.
Automatically save downloaded/recorded music to library for management and easy transfer.
Identify and tag music with artist, title, album, genre, and more with the latest technology.
1 click to transfer downloaded music and playlist to USB drive to enjoy in car.
Ability to burn downloaded songs and playlists to CDs easily.
Key features:
• Transfer any iTunes playlist to new computer easily.
• Transfer all of your music files to any other device in minutes.
• It is able to download music from more than 10000+ music sharing websites.
• iMusic allows you to record music from any music sharing website online.
• You can record anything whatever you are listening over internet.
• iMusic is able to transfer music files to any other device.
• Automatically detect duplicates while transferring music and delete them.
• Replace mp4 files to mp3 format.
• Allows you to create your personal mixtape music CD.
• You can discover a lot of music songs directly from the iMusic platform.
• Manage your iTunes library with a lot of other features.
• Automatically fix incomplete music tags and id3 information.
• Clean up your music library in just one click.
How to transfer iTunes playlist to new computer using iMusic
Step 1. If you are looking to transfer your iTunes playlist using iMusic easily, then first of all you need to download iMusic from the official website of wondershare. Install it on your system and run it, you will see interface like the below screenshot.
Step 2. Once you have downloaded and installed it on your system, then click on "iTunes library". In the iTunes library option select your playlists which you want to transfer like the below screenshot.
Step 3. Once you have selected your playlists, click on Export button and then Click on Export to My Computer to transfer playlist to computer.
Step 4. When you click on Export to my computer, it will ask you to select the location where you want to store these playlists. After selecting location click on ok button. Now it will transfer all of your songs to your computer. Now you will be able to share your playlists anywhere.
If you are going to use a new computer and you don't want to use your old playlists to your new computer then you can create your new playlists. We are going to share some tips about creating new playlists with instead of transferring old playlists to new computer. Usually it's hard to rebuild playlists manually but you can do it by following these step easily.
Step 1. To rebuild you iTunes playlists, first of all please start your window and open iTunes by double clicking on the iTunes icon.
Step 2. Once iTunes user interface is in front of you, you need to move your cursor on File > New > New Playlist. Click on new playlist.
Step 3. Once you have clicked on new playlist and the you need to give a new name to this playlist any name which you can remember easily. This suggestion is for those users who have a lot of playlists. Like here we are giving name Running Music.
Step 4. After creating this playlist and giving a different name. Right click on playlist name and click on Edit Playlist.
Step 5. Now you cannot leave your playlist black so you need to add some music files to this playlist to listen music from this playlist. To add songs click on Add music from the upper right corner.
Step 6. Once you have added your favorite songs to the playlist, then click on the Done button to finish playlist creation.
iTunes match is a icloud based web music service which is available for iOS users. iCloud allow users to store up to 25000 songs of their iTunes music library. You can use this music library anytime and anywhere with the help of iTunes match. So now you don't need to worry about losing of your favorite songs because you can directly store it in the iTunes match. iTunes match costs their user to get these services. This cost is 24.99$ per year which allows user to add up to 25000 songs of their iTunes library. If you want you can directly stream songs in the iTunes match or download them again to your ios device also.
How to transfer iTunes playlists to New Computer with iTunes Match
iTunes match allows users to transfer their favorite iTunes playlists to the new computer also from old computer. We are going to tell you that how you can do it with iTunes match.
Step 1. If you want to transfer your iTunes playlists to new computer with iTunes match, first you need to sign up for iTunes match services. It costs 24.99$ per year. iTunes match store all music files and playlists even CD or any sources playlist directly with the help of iCloud. This service is really very good is have not purchased music from iTunes.
To sign up first of all "Turn on iTunes Match".
Run itunes and turn on iTunes match by going in iTunes store.
Enter you Apple id and password where asked to enter.
Now click on Add this computer.
From this page enter you card details and purchase paid membership of this plan. iTunes match is able to recognize duplicate files so it will only upload unique which is not available previously in iTunes match.
Step 2. After purchasing it, scan your iTunes library. Once it is finished matching songs and detecting duplicate it will upload remaining songs to iCloud. It allows you to store up to 25000 songs without any problem.
when you have clicked on Add this computer then you will see a same screen like the below screenshot. Now click on Done option. This screen means that your songs are available in the iCloud library now.
Step 3. Once iTunes match have matched and uploaded all of your music then you can see an icon of iCloud in the front of every song. Now you can listen your all songs directly from here or if you want you can download them on your new computer or phone. To download them to new computer, you just need to click on the iCloud icon in the front of song. Now you can access your entire library here directly.
You can download these songs on your computer by clicking on download button which songs you want to download by selecting your songs.