This guide will show you how to merge two iTunes libraries as easily as possible, either between users or same, with Mac OS X (MacOS 10.12 Sierra, Snow Leopard, Lion included). This can be very useful for those who have one iTunes library at home Mac, say iMac, and a MacBook for work, for example. If you happen to have troubles like this, you can:
Get access to your whole iTunes library with any Mac
Download movies, music on the go with your potable Mac
Organize all your iTunes music, movies and more in one iTunes library
Sync your iTunes library to your iPod, iPhone or iPad anytime you want
Part 1. Merge Two iTunes Libraries with Mac by iMusic
iMusic can be the best helper for you to download music from Tubidy.com. It is specially designed for people to download and record music from any music sharing sites. It's able to download music from more than 300 music sites by a single click, and record music from unlimited music sites and radio stations. To put it in a word, with iMusic, i'm sure you'll get the music you like. You can download it. If not, then you can record it. Solutions are always at your hand.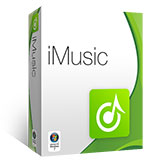 iMusic -All-in-one Tool: Download, Record, Transfer and Manage Music
Download music from more than 300 music sites, including YouTube, by copying and pasting the URL.
Record unlimited music from any website or any audio or video playing in your computer with just one click.
Built-in music library let you browse and preview the lattest and hottest music from popular music sites.
Automatically save downloaded/recorded music to library for management and easy transfer.
Identify and tag music with artist, title, album, genre, and more with the latest ID3 tag technology.
1 click to transfer downloaded music and playlist to USB drive to enjoy in car.
Ability to burn downloaded songs and playlists to CDs easily.
Step-by-step for combining iTunes libraries in Mac OS X with iMusic
Step 1: iMusic has versions for both Windows PC and Mac. Install and launch it. Now click "TOOLBOX" menu on the top of the software. Then, click "BACKUP/RESTORE ITUNES LIBRARY".
Step 2: Click "Backup" option in the new pop-up window. Then check file types you want to backup in the next window and set up the destination for your computer to save the backup file. Click "Backup".
Step 3: When the backup process is done, you can see the message "Congratulations! Your iTunes Library is backed up". You can you enjoy the content from your iTunes on your Mac anytime!
To backup other iTunes to your Mac, you can repeat the process above so that files from different iTunes will be available on your Mac. Now you can find the files and combine them! EASY JOB!
Video Tutorial: iMusic- How to Backup iTunes with Simple Clicks
This method is a bit complicated. You need to export your library from the first computer , and import it into the second computer as its final destination.To merge your iTunes library without losing metadata, go with the following steps:
Note:Please make sure that all of the media files from both libraries you're combining are in their correct folders.
Step 1: Launch iTunes, to to "Preferences", choose"Advanced".Select " Keep iTunes Media folder organized "and "Copy files to iTunes Media folder when adding to the library". Next click OK.
Step 2: Find "File" , choose"Library", further select"Organize Library". Choose both Consolidate Files and Reorganize files in the folder 'iTunes Music'. If you cannot select "Reorganize files in the folder 'iTunes Music", it means that your computer has already done this. Then select "OK".
Step 3: Next go to "iTunes", find "Preferences", choose" General". Make sure all of the file types you'd like to export are checked off, such as Movies, TV Shows, Podcasts, iTunes U, etc. Choose "OK".
Step 4: Now share the hard drive of Computer A. In iTunes on Computer B, go to "File", choose"Add to Library". Navigate to the "User", find"Music", choose "iTunes folder" on Computer A's hard drive. Select the file ending in .xml (in my case, "iTunes Music Library.xml") and click "Open".
Step 5: Connect the external hard drive to Computer A. Go to "iTunes", find "Preferences", choose"Advanced". Where it says "iTunes Media folder location" select Change. Select (or create) a folder on the hard drive, and select "Open". Go to "File", find "Library", choose"Export Library". Navigate to the hard drive and select "Save".
Step 6: Connect the external hard drive to Computer B. In iTunes on Computer B , go to "File", find "Add to Library". Navigate to the external hard drive. and select the file you've just saved there ending in .xml. Click Open.
That's it ! You've merged your library for FREE.
For both methods to merge two iTunes library, we strongly recommend you to use iMusic to consolidate two iTunes library on Mac . Which is easy and fast !