I just lost my iTunes library, and I need to restore iTunes library with songs from iPhone, can anyone recommend some best solutions?
The best way to compile your favourite songs, videos and photos is by iTunes. But there are chances of losing of data or the entire collection. So, here's a good idea to take backups of your iTunes Library periodically. There may be the situation like Sync data, install/upgrade a new system, Factory reset iPhone or hard drives get crashed and library is lost where you want to restore the iTunes library. iTunes would erase all the current content and replace it with items from the new library. As we know that iTunes is used to transfer the data to their devices and is not ideal software to use for restoring iTunes library. We are here to resolve your issue by using our iMusic software and other software which will handle and interact with your device and help to restore iTunes library from iPhone.
Part 1. How to Restore iTunes Library from iPhone with iMusic
iMusic will help you to export all media on your iPhone to iTunes Library and also recover back to your iTunes library from iPhone. iMusic comes with the star features like it would be able to intelligently recognize the duplicate files and transfer the one which is unique. It has ability to transfer the entire playlists at one time. Also it can recover back your data in just one click. Have a look how with simply easy steps we can recover back our iTunes Library from iPhone.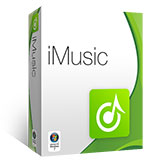 iMusic - Fix iTunes Library from iPhone with Original Quality
Download music from more than 3000 music sites such as YouTube, Dailymotion, Vimeo, Vevo, Hulu, Spotify, and much more through copying and pasting the URLs.
Transfer music between a computer, iPhone, iTunes Library, iPad, iPod and Android phones making it easy to share songs.
Record music from radio stations and streaming sites and gets the identification of the songs including the title, album artist, and genre.
Manage iPad, iPod, iPhone and Android phones iTunes Library through options like backup iTunes, recover iTunes Library, fix iTunes music tags and covers as well as remove music DRM protection.
1 click to transfer downloaded music and playlist to USB drive to enjoy in car.
Ability to burn downloaded songs and playlists to CDs easily.
Steps to Restore iTunes Library from iPhone by iMusic
Step 1:

Launch iMusic

Download, install and launch iMusic software on your PC.
Step 2:

Click Toolbox and then Backup/Restore iTunes

Click Toolbox option on the main interface page, and then click Backup/Restore iTunes.
Step 3:

Click "Restore"

Click the option of "Restore" to start the process.
Step 4:

Select the backup file and the items to restore.

1. Click "Choose" to find and select the .tg file.
2. Select the items that you wish to restore like Music, Movies, Home Videos and others, uncheck the one which you do not want to restore.
3. There are two Restore models.
• Restore iTunes Library based on the old one (the old iTunes library will not be deleted.)
• Delete the current iTunes Library and restore a new one.
There is an option of "Delete current iTunes library before restoring from the backup". You can select it if you wish to delete the current library. Next, click "Restore".
4. A page will appear to ask you if you are sure to restore library. Click "Restore" if you are sure.
Step 5:

Restoring iTunes succeeds

Once the library is restored, Congratulations message will appear and you will be asked to restart iMusic to get the updated iTunes library.
Video Tutorial: iTunes Backup and Restore by iMusic
iTunes keeps a track of your content and playlist in a library file. iTunes would immediately update your library soon after the iTunes update. But if any files are missing in your library iTunes would restore them back to your library. Follow the below simply steps by which you can recover your data back in your Library.
Step

1: Launch iTunes

Upgrade to the latest version and ensure your iTunes library is empty so that you won't have the same songs twice.
Step

2: Recover the data from iTunes

Remove the hard drive from your computer

Install that hard drive into an external hard drive that you need to put on your PC

Open My computer and navigate to hard drive which has your files
Step

3: Search and copy

Explore hard drive and search for your music

Copy the XML file
Step

4: Paste and Recover

Paste the file on your desktop
Step

5: Import iTunes files

Return to iTunes

Find the import in the file menu and click on it

Navigate it to save into the new iTunes Music Library , your new recovered iTunes Library is imported
You can easily restore your backed up iTunes Library to external drive or iCloud, but the problem comes when you haven't taken backup. No worries we have resolve this issue by downloading AnyTrans on your PC. With AnyTrans you can easily recover your iTunes library by importing from iPhone.
You just need to install and run AnyTrans on your computer then connect to iTunes. Next select the items that you need to transfer from the Device to iTunes Library and start transfer to recover your data. Click iTunes Library to recover the items. That's it you'll recover your lost data and files in your iTunes Library back.
There is an Auto Transfer feature available in iExplorer from which you can easily recover from your device to iTunes. For that you need to open iExplorer on your PC and connect with your device via USB. iTunes will prompt you to sync the device, click on cancel and we recommend to avoid syncing the device to iTunes. Doing this may result in permanent loss of the data.
Here iExplorer will give you the overview screen next click on Auto Transfer. iExplorer will track all your files and playlist will be appeared. Select the files you need to transfer by default all the files are marked as checked, after selecting and checking the files click on start Auto Transfer. Within a few minutes your all files and items will restored in your iTunes Library.
CopyTrans comes with a smart backup feature which carries the easiest way to transfer all the media files to your iTunes Library. CopyTrans knows which songs are in your iTunes library and which file is missing also it includes 100% free from duplicates. It can restore iTunes Library from iPhone, iPod or iPad. Simply you need to download CopyTrans on your PC with empty iTunes Library.
Install and run the program make sure your iTunes is closed at the time of installation. Plug in your device and the program will list all your files and playlists. Click on the start backup to restore the files. CopyTrans will match all the contents of iTunes on your device and will add only the tracks and playlist that is needed to you. As Soon as the backup is completed your iTunes Library is restored back to its place.
According to the above post, the conclusion is very clear where iTunes is a great way for compiling your important data using one of our best software like iMusic. However, the process of restoring your data and files is fairly simple and is detailed in this article.