Is your iTunes Library broke ? How do you usually rescan and fix iTune library ?
Have you ever lost your iTunes library? Maybe it went missing right after you had upgraded your iOS device. I can tell you that you are not alone as many of us have faced this situation. Just a simple Google search would make it so clear that no one really knows why or how it happens but for sure there are many who have lost their entire iTunes library. Some say that it had happened after they upgraded their iTunes itself. Well, nonetheless, I am going to tell you that your days of worrying are over as I am going to share with you the best ways of bringing back your missing iTunes library to the maximum extent possible.
Part 1. Rescan using iMusic from Aimersoft
To begin with you will have to download and install this amazing tool called iMusic from on to your computer.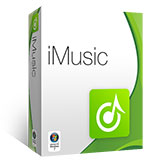 iMusic - All-in-One Music Downloader and Management Tool
Download music from more than 300 music sites by copying and pasting the URL.
Record unlimited music from any website for playback in your computer with just one click.
Built-in music library let you browse and preview the lattest and hottest music.
Automatically save downloaded/recorded music to library for management and easy transfer.
Identify and tag music with artist, title, album, genre, and more with the latest technology.
If you had not updated your iTunes library since adding the last bunch of song tracks to your iTunes library and had synced your Apple devices such as iPhone, iPod, iPad etc. with these tracks then instead of using any other method, I would strongly suggest you to use iMusic from to get your missing iTunes library back. Why? The reason is that the old iTunes library since not updated doesn't contain your latest music, videos and apps that you must have added before losing the library and that's where the tool iMusic comes to your rescue as it lets you transfer music, playlists, videos etc. from your iOS devices to the iTunes library, making the missing library a complete one instead of just recovering it. The process involves 3 simple steps.
Step 1: Install iMusic on your computer and connect your iOS device - iPod, iPhone, iPad etc. with your computer using the compatible USB cable.
Step 2: Now, iMusic should detect your iOS device and display it in its main window. And then, click on the option "device" and select "Transfer music to iTunes" so as to begin the exporting music from your iOS device to the iTunes library.
Step 3: For fixing purchased items, you will have to launch iTunes and then click 'Edit' > 'Preferences'. After that, click on the tab for 'Store' and check the option for 'Download pre-orders when available'.
iMusic for Windows supports exporting of music and videos directly to your iTunes library. However iMusic for Mac only allows you to export music to iTunes library at present. For videos, use the app to export them to your Mac first and then import to your iTunes library later.
Step 1: Quite from iTunes, find your iTunes library and then drag it to your desktop. The location in most cases would be the following.
Step 2: In the 'Previous iTunes Libraries' folder in iTunes folder, drag the latest iTunes file which should be named as iTunes Library YYYY-MM-DD.itl. Delete the date in this file. Copy it to the folder where you find the iTunes Library.itl.
After replacing the broken iTunes Library.itl file with an older one, you can see now that your missing iTunes Library is back.
You can re-fresh individual files by playing them in iTunes. If you have used an external program to change data and you don't want to have to play each song to get it to update then this method will show you how.
Step 1: Open iTunes.
Step 2: Click on 'File' > 'Add to library'.
Step 3: Pick the location of your iTunes library (the 'iTunes' folder).
iTunes will then re-add all the files you already have in your library. iTunes won't create duplicates. Rather it will re-scan each file and will alter the metadata for the existing entries in your library.