Want to learn how to put a song on iTunes? Why stop at one? You can create an entire library of music on your iTunes library that can be synced to your devices, played on your PC, stored in USBs, etc.! It's a wealth of opportunity that will allow you to keep your precious music stored and organized in a singular location. So, keep reading to learn all the different methods of doing this. Including a tip on free DRM removal!
For this first portion, we're going to start with something that is a bit of a classic — not many people have CDs these days. However, if you were the type to create mixtapes to play in your car, CD player, etc. then you might be interested in learning how to put songs from a CD to your iTunes library. For this, we're going to be using a very convenient data transfer program called iMusic. Which you can use to very easily extract data from your CDs and automatically transfer them to iTunes! Continue reading if you want to learn it.
Tutorial to Put Music on iTunes from Computer CD Drive
Step 1

— Insert Disc

First, you will need to insert your disc to your PC's CD/DVD driver (if your laptop doesn't have one, consider purchasing a CD/DVD external driver.) When your CD is inserted to your PC, you should be able to see it on the This PC page on Windows Explorer.
Step 2

— Launch iMusic & Add

Launch iMusic and go to the ITUNES LIBRARY (shown in the image below.) This is the page where you can indirectly access and manage the iTunes library on your PC. To move the songs from your CD to here, click the Add Item button in the middle of the screen or the "+" icon in the upper-right hand corner of the screen.
Step 3

— This PC > CD Drive

Browse for your CD (remember that it should be under This PC) and select it to open it to view its contents. All you have to do next is select the items you want to transfer and click OK! That's all it takes to transfer CD music to your iTunes using iMusic!
For this next portion, we're going to go ahead and introduce you to a method of putting free DRM songs from websites like Spotify and transfer them to your iTunes library! We're going to be using iMusic again for this demonstration, as it has a very helpful DRM removal and downloader feature that you can use in order to get a non-protected copy of the song that you want to download and include it to your library of other songs! Other tools available on iTunes include the following: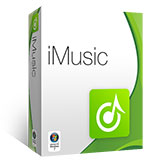 iMusic - Efficient Tool to Put Free DRM Removal Songs on iTunes from Computer
iTunes to USB transfer (for listening to your music on your car!)
Full-blown library manager for iTunes and iOS/Android devices.
Device to Device transfer (for transferring music from an old phone to a new one!)
Bi-Directional automated and manual transfer of music between devices, PC, and iTunes.
iTunes/Device library manager.
Remove music DRM protection and convert downloaded M4P music files to MP3 format.
1 click to transfer downloaded music and playlist to USB drive to enjoy in car.
How to Put Free DRM removal Songs on iTunes from Computer by iMusic
Step 1

— Launch iMusic Toolbox

First, you'll need to launch iMusic and move to the TOOLBOX tab (shown in the image below.)There, you'll find the "Remove DRM" tool. Select that in order to proceed.
Step 2

— Search

iMusic should automatically scan your computer for all DRM music available on your computer (you can preview them from the window that appears — refer to the image below.) The next step is to simply click the Search button. This will prompt iMusic to automatically search for non-DRM copies of the music in question (on websites like YouTube.)
Step 3

— Download

Once iMusic has finished identifying FREE versions of the DRM music on your computer, you can press the Download button.
iMusic will ask you again if you want to download the free music from YouTube. Simply click Download to proceed.
Step 4

— Download Processing

You can see the progress of the downloads on the download tab that pops-up on the right side of your screen (refer to the image below.)
Step 5

— ITUNES LIBRARY

All you have to do now is move to the ITUNES LIBRARY tab, select the download icon (in order to sync the finished downloads), and you'll find the free DRM music on your iTunes library!

That's it! You should now be able to manage these songs directly on iMusic or even your actual iTunes library!
We're going to step back from iMusic a bit by talking about how you can put music on your iTunes directly by using the iTunes store feature! This will require that you have a working Apple Account or ID — along with working payment details. We won't go too terribly deep on that, just how you can use the desktop version of iTunes in order to buy music for your library!
Steps to Put Your Music on iTunes Through Purchasing
Step 1

— Store

First things first, you need to launch iTunes. Once that is done, you'll need to move immediately to the Store tab (shown below.) On here, you can browse from the available albums, genres, etc. Just pick or search for the song you want to purchase and proceed!
Step 2

— Download!

This part is fairly intuitive, but iTunes gives you two different options when it comes to purchasing albums and tracks.
1. If you select this option, you will be buying the whole album.
2. If you select this option, you will be buying only that one track.

Either way, select the option that works for you, and you'll be led to a screen where you can plug in your payment details, and that's it! The song should now be on your iTunes library.

Now, if what you want to learn is how to put music on the iTunes Store itself, then perhaps you're interested in the sell your music feature! Of course, this feature is not for everyone, and it will require quite a bit of work, but we can introduce you the basic of what you're going to need in the breakdown below. As a bonus tip, before we proceed, there are services available online that will act as a "supporting company" of sorts by backing your music and doing most of the work for you. However, those often will end up in a big cut on your profits and should only be consider by those with a big enough audience.

Steps to Put Music on iTunes Through Selling Your Music on the iTunes Store

Step 1

— iTunes Music Aggregators

The supporting company we mentioned are called "Aggregators" by iTunes. A master list is available for different countries on the Apple website. Again, these people will manage most of your content — in exchange for a cut of the profit.

Browse through the available aggregators and check out which of them offer the type of service that would work best for you!

Step 2

— iTunes Connect

Outside of considering Aggregators, the only other major thing that you'll also need is an iTunes Connect account in order to manage or sell your music!

Before we end this tutorial, let's first talk about a couple of things that you might want or need to know before putting music on your iTunes device! This can range to potential issues that you might run into before or after the music is on your library, so bear with us!

1. iTunes & iOS Device

One of the best reasons to put music on your iTunes is if you have an iOS device. You shouldn't have a problem when it comes to syncing your music to your device either! Unless you have non-Apple music on your device's library. If this is the case, then things might be difficult (with the music on your device being permanently deleted.) Before that happens, make sure that you have transferred all the important audio files on your device to your PC (or backed it up in some way!)

2. iTunes & Android Device

This is when you really start to run into problems. Android devices are incompatible with iTunes. So, you won't be able to sync music from your iTunes library to your Android device. That doesn't mean you shouldn't still put music on iTunes though! After all, there are programs like iMusic that can be used to transfer music from iTunes to Android. It's just something to consider.

3. Incompatible Formats

If your transfer isn't going so well, then the reason might be because the song that you're trying to put on your iTunes is of the wrong audio format. To be safe, convert your songs prior to transferring (into something common like MP3.)

4. DRM Music

As was discussed in part 2 of this tutorial, DRM music cannot be directly transferred to your iTunes device. Instead, you'll have to find a FREE non-DRM version of the song that you want to transfer and download it (which you can do fairly easily with a program like iMusic.)

5. CD Music

As for the first part of this tutorial, we introduced how you can use iMusic to transfer songs from your CD to iTunes! This cannot be done directly from the iTunes software itself, so the best way to do this is to use iMusic as we had demonstrated.

Conclusion: That concludes our rather lengthy tutorial on "How to Put a Song on iTunes"! The methods that we introduced were certainly of a mixed bag, but hopefully, one of them can prove useful to you in the long run. If you want a quick tip though, the easiest and most effective way to transfer songs to your iTunes library is no doubt through iMusic! With it, you can ease all your worries and fly through the process relatively stress-free!