Looking for a good YouTube music converter for your Mac or Windows PC? We have a couple of suggestions on-hand for you! In fact, we've decided to cover a bit of everything by providing a separate list of desktop YouTube music converters and online YouTube music converters! These programs won't necessarily work the same but are more than capable of being a good solution to your YouTube Music Converter issues.
For our first undisputed favorite, we have iMusic. It isn't strictly a video converter, but it does provide downloading YouTube videos and MP3 conversion as one of its many features. That's the feature that we're going to be showing off today. However, if you want to try out or explore iMusic's other options. Then you should check out the FREE trial that they have available on the iMusic official website! By doing that, you'll be able to do the following: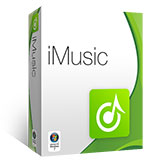 iMusic - The Best Music Converter to Convert Video to MP3 Easily
Convert Videos to MP3 without Any hassle.
Transfer iTunes library to Android and iPhone Mobile Devices/Tablets.
Manage your iTunes library — clean up tags, delete duplication, etc.
Burn a CD, Transfer Library to Disk, Create Library Backup, and more.
Enjoy a stylish and easy to navigate interface made for maximum convenience .
Remove music DRM protection and convert downloaded M4P music files to MP3 format.
How to Use the Best Music Converter for Windows and Mac -iMusic
Step 1

— Get Music

The most important feature of note when you're looking to download and convert YouTube videos is the Get Music tab. Here, you have three different options:
1. Discover: Browse 3000+ compatible websites for audio/video.
2. Download: Copy & Paste a link for an automatic download.
3. Record: Play and Record audio.
For our sample, we selected the Download option and pasted the link of the audio that we wanted to download and convert to MP3..
Step 2

— Download

On the Download page, your YouTube video should be available (like the one shown below.) In order to download and convert it to MP3, do the following:
1. Click the Download icon at the top left-hand corner of the screen.
2. Select the MP3 file format.
3. Then, click Download.
Step 3

— Download Progress

You can view the download/conversion process of the video that you selected by clicking the Download icon on the top right-hand corner of the window — it will open up the on-going download tasks, as is shown below.
Step 4

— Transfers Automatically to iTunes

As a convenient feature, once the download is done, it will automatically be transferred to your iTunes library. Which you can view and manage under the ITUNES LIBRARY tab (shown in the image below.)
Video Tutorial: iMusic- Add Youtube Songs from PC/Mac to iTunes Library
So, that's our current favorite YouTube Music Converter for your Mac and PC. However, there are a couple of other programs available in the market that you might be interested in as well. We'll introduce you to a couple in the software list below. This will be an in-depth compilation and will include where you can find the program, how much the program costs, how the program works, a screen capture of how the program looks like and even the pros and cons of using the program in question.
1. Gihosoft TubeGet
URL: https://www.gihosoft.com/free-youtube-downloader.html
Price: Personal Edition - $29.95 or Family Edition - $75
For our first YouTube Music Converter, we have Gihisoft's TubeGet. There is a FREE version available for this program — although some of its features are locked after a certain amount of use (requiring that the premium version is purchased.) As for its capabilities, they're pretty straightforward. Basically, it's main use is to download and convert YouTube audio for you — specifically in MP3 format (although you can download the YouTube audio in its original format as well.)
Pros:
One-Click YouTube Download.
Music to Phone Transfer Available.
Automatically Converts audio to MP3 format.
Cons:
FREE Trial is limited to a certain amount of uses .You can only use it to download 5 unique YouTube videos before you'll need to pay for the premium version.
Doesn't offer as many features as iMusic.
Premium version costs $29.95.
2. Freemake Video Converter
URL: https://www.freemake.com/free_video_converter/
Price: [GoldPack] $0.95 per month or $59.95 (one-time payment) [MegaPack] $29.95 per month or $169.95 (one-time payment)
Much like the previous program, the FreeMake Video Converter was created specifically for the conversion of YouTube videos and audio. Because of that, its features are primarily centered around it, allowing you to download the audio/video directly from YouTube and save it in whatever format you wish to save it in (the default for audio is MP3.) You do also get a FREE trial with this, but again, the premium version must be purchased in order to use it to its fullest.
Pros:
Automatically converts download audio to MP3.
Can be used to download YouTube Videos in one-click.
Exporting downloaded/converted files is easy .
Cons:
The FREE trial that is available for download is extremely limited.
Has very specific use, and thus, is missing certain features available in other programs .
The premium version of the software is subscription based ($0.95 per month) or the full one-time payment of $59.95.
3. aTube
URL: http://www.atube.me/
Price: FREE
With our third program, we have something that is completely FREE, but it's also significantly harder to use because of it. Now, that doesn't mean that it doesn't offer great features — it does. There's a variety of things that you can do with the aTube YouTube Downloader. However, as an open-source program, it isn't as sleek as it could be. Neither does it get the attention that it deserves as far as updates and bug fixes go.
Pros:
Downloads and Converts Video from YouTube.
Can be used as a Screen Capture program.
One-click Download Available.
Cons:
Isn't updated as often as it should be.
Interface is confusing.
Lags, bugs, and crashes are normal — as with many other FREE programs.
4. 4K Video Downloader
URL: https://www.4kdownload.com/
Price: FREE
With our 4th desktop YouTube Converter, we have the 4K Video Downloader. It's the least feature-rich, but that isn't necessarily a bad thing. You might prefer it if all you want to do is download a bunch of videos and audio all at once. The file download is fairly high quality as well — which a lot of people enjoy. All in all, when you consider the fact that the program is completely FREE, it's not a bad option to have.
Pros:
Available for Windows, Mac, and Ubuntu.
High-Quality Audio Download.
One-Click Audio/Video Download Available (MP3/MP4 format)
Cons:
Limited features.
FREE version will not allow you to access all of its features.
Because it is a FREE program, bugs and crashes should be expected.
5. ClipGrab
Price: FREE
Again, we have another FREE program that has a very specific use with ClipGrab. Of course, just like we described with the previous software, this isn't necessarily a bad thing. After all, you will still be able to download and convert your Audio and Video from YouTube (and a number of other compatible sites.)
Pros:
Multiple website compatibility.
One-click Download Available.
Downloads both Videos and Audio.
Cons:
Made for a very specific use and thus has limited features.
Contains lots of unwanted ads.
And, of course, just like with any FREE program, bugs and crashes should be expected.
Now, moving away from the desktop YouTube Music Converters for a bit, let's discuss a couple of online song converters that you can use. This compilation will be very similar form the previous. We'll still be introducing where you can find each of the converters mentioned, how they work, what the general interface looks like, and a couple of pros and cons that you might want to consider.
1. OnlineVideoConverter
URL: https://www.onlinevideoconverter.com/mp3-converter
For the very first online YouTube Music Converter on this list, we have the Online Video Converter. It is, as the name would suggest, and online video converter! Not just for YouTube, but a variety of other websites (a couple of the most popular including websites like Instagram, Twitter, FaceBook, etc.) Along with the download feature, you will also be able to decide the format of the audio/video — allowing you to easily convert YouTube videos to your desired MP3 audio file.
Pros:
Downloads Videos/Audio from tons of popular websites (Included YouTube)
Conversion feature available for choosing what format to download your audio/video to.
Completely FREE YouTube Online Converter.
Cons:
Contains lots of ads.
Considered as un-safe by most of its users.
Pop-up ads will open up on another window/tab after every download.
2. SaveClipBro
URL: https://www.saveclipbro.com/
For our second FREE online YouTube Music Converter, we have ClipBro. Again, it offers a download and conversion tool for most of the popular online websites (including YouTube of course.) Much like with most other converters, all you need in order to use it is the link of the video/audio that you want to download. Which is pretty convenient, especially if you're only looking to download a single video.
Pros:
FREE Online YouTube Music Converter.
Converts and Downloads audio/video from most of the popular websites.
You can save converted YouTube music to your PC or send it to your mobile device with the use of a QR code.
Cons:
Is not as feature-packed as other online video converters.
Can only convert one YouTube Music Video at a time.
Contains Ads.
3. Yoo Download
For the third program on this list, we have Yoo Download. It isn't as versatile as the other many other options available in the market, but that doesn't mean that it's less effective. You should still be able to use this to download short music clips and tracks from YouTube — in whatever format that they offer (MP3 is compatible.)
Pros:
FREE Music Converter for YouTube.
Compatible with other websites.
Offers different audio and video formats for conversion.
Cons:
Time-limit (Only Songs or Videos under 20 minutes can be downloaded)
Is not compatible with some of the more uncommon audio/video output formats.
Limited in terms of features (downloader and converter only)
4. Y2Mate
URL: https://y2mate.com/
With Y2Mate, you can immediately tell that it was made primarily to download and convert YouTube videos and audio (although it is compatible with a handful of some of the more popular song and movie streaming sites as well.) As far as extra features go, you might like the fact that it can also be used to download music files to your DropBox or Google Drive.
Pros:
Created specifically for downloading and converting YouTube Videos.
FREE to Use Online Converter.
Downloaded files can be saved on your PC or uploaded to DropBox/Google Drive.
Cons:
Only capable of downloading video and audio from a handful of websites.
Limited output format compatibility.
Specific-use only.
5. YTMP3
URL: https://ytmp3.cc/
Again, we have another basic YouTube Song Converter with YTMP3. It was made specifically for downloading YouTube videos (and YouTube videos only.) So, it cannot be used to download from other websites. It's also limited to just MP3 and MP4 conversions, but you can publish YouTube Videos up to two hours long without any issues, which not even some of the fancier YouTube online video converters can do.
Pros:
Downloads YouTube Videos.
Converts to both MP3 and MP4 Files.
FREE Online converter.
Cons:
Cannot be used to download from other sites.
Accepted formats are only MP3 and MP4.
2-Hour File Conversion limit.
6. AmoyShare
URL: https://www.amoyshare.com/video-to-mp3/
For our last FREE online YouTube Music Converter, we have AmoyShare. It's actually not that bad of a converter. It's only number six on our list because of certain missing features. However, it can definitely be used for YouTube Music to MP3 conversion and that is the most important feature. It can also be downloaded as a desktop software — if you're not interested in the online version.
Pros:
Can be used to download a YouTube Playlists.
Supports other popular websites.
FREE Online Converter for YouTube.

Cons:

Single File Converter only.
Not compatible with certain output formats.
Not as fast as other online converters.

| Features | iMusic | TubeGet | Freemake | aTube | 4K Video Downloader | ClipGrab | Online Video Converter | SaveClipBro | Yoo Download | Y2Mate | YTMP3 | AmoyShare |
| --- | --- | --- | --- | --- | --- | --- | --- | --- | --- | --- | --- | --- |
| Download & Record Music with 1-Click | Yes | No | No | No | No | No | No | No | No | No | No | No |
| Transfer Music from iTunes to Android Phones | Yes | No | No | No | No | No | No | No | No | No | No | No |
| Transfer iTunes Music or Playlist to iOS and Android | Yes | No | No | No | No | No | No | No | No | No | No | No |
| Clear Up iTunes Library | Yes | No | No | No | No | No | No | No | No | No | No | No |
| Remove DRMO | Yes | No | No | No | No | No | No | No | No | No | No | No |
| Transfer Playlists to USB to Play in Car | Yes | No | No | No | No | No | No | No | No | No | No | No |
| Burn Music to CD | Yes | No | No | No | No | No | No | No | No | No | No | No |

Conclusion: That's it for our Top 12 most recommended YouTube Music Converters! Each one is unique but all of them can be used for downloading and converting your favorite YouTube videos and songs. As for which program you should try out first, we definitely recommend checking out the iMusic desktop software first. It is, out of all available options, the most convenient and intuitive. Allowing you to get your videos and audio quickly and easily.