Want to learn how to add music to iTunes? It's a lot easier than you'd think! Down below, we've compiled a set of PC to iTunes transfer methods that you can try out. Starting with the FREE manual method, a premium data transfer software method and an extra tip for extracting music from a CD. So, if you want to be able to compile and organize all of your favorite songs on your iTunes library, make sure that you keep reading till the very end!
As mentioned, this first method will be a manual method. It is FREE because we're going to be taking advantage of the built-in drag and drop feature that is allowed by iTunes. Wherein you can import and export songs directly onto your library. Of course, so long as those audio files are compatible with iTunes and available on your PC! All in all, the reasons that this method might not work for you include:
Conversion Required: iTunes accepts most of the common audio files and convert others, however, that doesn't mean that it will accept all types of audio. If this is the reason your transfer failed, then you'll need to convert the music before transferring.
Re-Download Required: Another reason is that the music that you're trying to extract or import is DRM protected. If this is the case, then it would be much easier to just download an unprotected version of the song. (iTunes has its own version of protected-music, and these you also cannot transfer out of iTunes unless you use a special program or tool.)
Steps to Add Music to iTunes for Free
Step 1 — Prepare Music
The first thing that you need to do is prepare the music that you want to transfer. As mentioned, there are certain reasons why you might not be able to transfer your files — incompatible format or data protection. Fix these issues now, before proceeding!
Step 2 — Drag and Drop Method
Now, in order to import songs from your PC to iTunes, you'll need to use the drag and drop method! This is pretty easy, just…Select the items that you want to import to iTunes, drag items to the iTunes window, and then drop them onto your library!
Step 3 — Success!
If the transfer is successful, you should be able to see your transferred audio on your iTunes library! If not, refer back to the issues and solutions we mentioned in the beginning, or try out the alternative that we're going to be introducing next!
Now let's talk about how you can go about doing something very similar but on a Mac PC! To make things even more interesting, we're going to be using a premium data transfer tool called iMusic. Which, if used to its fullest, can be a music downloader, library manager, transfer tool, and more all at once! What we're going to be displaying today is going to be a pretty basic feature, but if you want to check out the program yourself, you can always download and install the FREE trial version from their official website!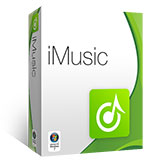 iMusic - Add Music to iTunes on Mac Easily and Safely
Variety of transfer options between mobile devices, your PC, iTunes, USB, CDs, etc.
Full-blown library manager for iTunes and iOS/Android devices.
A specialized toolbox filled with convenient convert, transfer, removal, etc. options!
Bi-Directional automated and manual transfer of music between devices, PC, and iTunes.
Premium toolkit filled with ingenious transfer and conversion tools.
Steps to Add Music to iTunes on Mac by iMusic
Step 1

— Library

First, you will need to launch the iTunes program. Now, there are four main tabs available on the top menu bar — to keep things simple. Including Get Music, Library, Device, and Toolbox. The one that we're going to focus on is the Library! This is where you can manage your iTunes library indirectly. Be it adding, removing, editing, etc.
Step 2

— Add

Next, once you're on the library tab, click the "+" icon on the top right-hand corner of the screen (marked in the image below.)
Step 3

— Browse!

A pop-up will appear on your screen prompting you to choose a file or folder to extract the music from. For our sample, our music was under the Music folder. So, we select the Music folder and then click the "Open" button!

That's it! After this, music should have been uploaded directly onto your iTunes library.
For this very last tutorial, we're going to go the extra mile by teaching you how to Add MP3 to iTunes from PC with a CD! Of course, for this, you'll need a CD to extract data from. Same as before too, we're going to be using iMusic and iTunes (so both will need to be installed on your computer.) As for everything else that you will need to do, that will be introduced and explained in the step-by-step breakdown of the transfer process!
Steps to Add MP3 to iTunes from PC with CD
Step 1

— CD Drive with MP3

As mentioned, you're going to need to have a CD to extract music from, and the first step — is to insert this CD to your PC's CD drive (or to a connected CD drive.) You should be able to see your CD under This PC on Windows explorer if it is connected properly.
Step 2

— Add or Add Item!

Next, we're going to launch the iMusic software, and like before — move to the ITUNES LIBRARY page. There, we can manage what goes in and out of our iTunes library. Of course, to import data from the CD, we're going to have to select either the "Add Item" button or the "+" icon!
Step 3

— Open

On the window that appears, browse for your CD (it should be under This PC. If you select your CD, you'll be able to see all the MP3 audio inside of it (as is shown in the image below.) Select all the audio files on your CD! Then, all that is left to do now, is to press the "Open" button in order to finish transferring these audio files to your iTunes library with iMusic!
Conclusion: And so, we conclude our "How to Add music to iTunes from PC" tutorial! Today, we introduced you to the manual method and the premium method (with iMusic) of moving files to your iTunes library. Although the manual method is more commonly used, there is no denying that there are plenty of benefits with using a program like iMusic. After all, not only do you get more options, but everything is a lot easier as well — as we demonstrated with our CD to iTunes tutorial.