Apple is very strict about its products. That is why it is very difficult to get apple music on a computer. If you want to know how to get Apple Music on Mac or even Windows, then we have tutorials that you can follow down below. We'll be teaching you how you can use the built in "iTunes Media" feature on iTunes in order to get your music. As well as teaching you how you can use a third-party program called iMusic to do the same thing, but much easier (by downloading your Apple Music directly from FREE resources.)
Okay, but before we get to the actual tutorial. Let's do a quick breakdown on why you can't just directly download your songs from Apple Music to your computer. We mentioned this briefly in the introduction, but it has a lot to do with Apple's limitations and restrictions regarding its products and contents. They're very protective of it, so, they do the following:
DRM Protection: If you weren't already aware, a lot of Apple's music are DRM protected. That means, that you won't be able to just download or transfer them at will. Again, they do this to protect their content from potential piracy or overshare.
AAC Encoding: Another reason that you cannot just download and listen to your music is because of how the audio is encoded. See, when you first buy your iTunes music, they are automatically in AAC format (which you will need to convert if you want to use it properly.)
Okay, first, let's talk about how you can get Apple Music on Mac directly from iTunes itself. Again, this is a fully manual method. So, it's a bit convoluted. However, we did our best to summarize all the different steps as best as we could. Now, with this method, all your Apple Music (except for those that are DRM protected) should be transferred to your iTunes Media folder — where they will be organized by Artists/Album. From there, you'll be able to use them or move them to somewhere else if you want to.
Steps to Get Apple Music on Mac Directly
Step 1

— Preference

The first thing you have to do to move your Apple Music on Mac, is to change the preference settings on your iTunes software. We're going to make it so that iTunes automatically downloads all of our old, new, and future iTunes Media onto a folder on our computer.

To change the preferences settings. Select the iTunes tab and then choose the Preferences… option (shown below.)
Step 2

— Advanced

Next, on the Advanced tab of the Preferences window [1], you need to make sure that the following options are enabled.

Enable both the "Keep iTunes Media Folder Organized" option and the "Copy files to iTunes Media folder when adding to library [2.]"Of course, you'll also have to make sure to save your new Preference settings by then clicking the OK button at the bottom of the window [3.]
Step 3

— Organize Library

Next, we're going to make sure that if we got a song from another source and then dropped it onto our library, that it will also be included to our folder. For that, we'll need to consolidate our files to the iTunes Media folder.

To consolidate files, select the File tab > Library > Organize library.
Step 4

— Organize Library Window

An Organize Library window should then appear on your screen (refer to the image below.) On here, you'll need to select the Consolidate files option — details are provided in the image below. Of course, once again, save your settings change by clicking the OK button.
Step 5

— iTunes Media Folder

Now, if you look at your iTunes Media folder, your iTunes media should now be available for your use. The iTunes Media can be located under: This Mac > Music > iTunes.]
Now, for this next part, we're going to be showing you practically the same thing. However, we're going to be focusing on the Windows end. The process isn't all that different between one and the other. However, because it is such a complex process, the differences between how it is done on Windows and how it is done on Mac might confuse some beginners. So, if you're on a Windows computer, make sure to follow this tutorial instead!
Guide to Get Apple Music on Windows Computer Directly
Step 1

— Organize Library

For this tutorial, we're going to be starting with organizing our music library. This part is pretty much the same as what we described initially for Mac. Again, we're going to be consolidating files by…. Selecting the File tab, choosing Library > from the drop-down menu, and then finally the Organize Library… option.
Step 2

— Organize Library

Make sure to enable the Consolidate Files option on the Organize Library window that appears. This is, again, so that all the media that you transfer to your iTunes library can be transferred to the 'iTunes Media' folder.

Once you've enabled the new options, save your changed settings by clicking the OK button.
Step 3

— Preferences...

Now, we're going to be editing our Advanced Preferences! For this, you need to either click the Edit tab then the Preferences… option OR you can press the Ctrl + , keys on your keyboard.
Step 4

— Advanced Preferences

Again, go to the Advanced menu on the Preferences window and then enable the same two options from before ("Keep iTunes Media Folder Organized" and "Copy Files to Media Folder when adding to library.")You should then save your changed settings by pressing the OK button.
Step 5

— iTunes

This part isn't all that different from before. Now that we've consolidated your iTunes media and changed your preferences, all of them should now be available in a single folder — which you can find under: This PC > Music > iTunes.
For this last tutorial, we're going to be teaching you how to save Apple Music songs to your computer without using iTunes! The method down below will work for both Mac and Windows as well, so you won't have to worry about following a different tutorial based on your needs.
Before we proceed, let's first take a quick look at the third-party program that we're going to be using to do this. It is called iMusic, and it is a multi-versatile program to do practically anything. What can it do for you? Well, here's a few of its key features.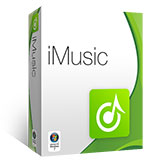 iMusic - Save Apple Music Songs to Computer without iTunes
Best iTunes alternative to transfer Apple music songs to computer .
Song Tag Manual and Automatic Editor.
iTunes Library transfer to iOS and Android phones.
DRM Removal for automatically downloading Apple Music songs.
Extra CD burning, Flash drive transfer, and other tools.
Music Downloader and Recorder (tons of websites supported)
Rebuild/Backup/Fix iTunes library without erasing data.
How to Save Apple Music Songs to Computer by iMusic
Step 1

— Toolbox

In order to directly download DRM Music onto our PC with iMusic, we need to be on the Toolbox menu (which is the circle icon furthest to the right — at the top of the iMusic window.)Under this Toolbox page are several tools and options that you can use. The one for us today, is under iTunes Toolkit, called Remove DRM.
Step 2

— Search

After selecting the 'Remove DRM' option, a window should appear to notify you that iMusic has begun scanning your iTunes library for DRM Music. In order to download your DRM music to your PC, you'll need to click the Search button (doing this will prompt iMusic to begin searching the net for a FREE copy of your iTunes music that you can download and use.)
Step 3

— Download

iMusic will look for FREE non-DRM protected versions of your songs on popular websites like YouTube. Once it's found a non-DRM version of all the songs on your library, you'll be given the chance to download all of them at once by clicking the Download button.
Step 4

— Download

Again, click the Download button in order to confirm the start of the download.
Step 5

— Download Progress

If you want to view how your downloads are going, you can click the Download icon at the top right-hand corner of the window and a drop-down menu (shown below) should appear.
Step 6

— Download Location

After the files have been downloaded, they will automatically be transferred to your iTunes library. You can also use iMusic to transfer these newly downloaded songs by going to the ITUNES LIBRARY tab [1] and then clicking the downloaded songs [2.] You should be able to see them, edit them, transfer them, etc. from there [3.]
Conclusion: Apple has a tendency of complicating its programs. For them, it's a tactical move — as it ensures that their clients get maximum protection, and it also boosts their sales overall (by persuading their customers to buy only their products from their stores.) This is good in some ways, and not so good in others. Now, if all you want to do is listen to your purchased Apple Music on a non-Apple device, then the iMusic software is definitely one that you should try. It's highly intuitive, and it will allow you to bypass all of iTunes' restrictions easily — without any added stress on your end.