Want to learn a sure-fire method of moving songs from your iTunes library to your PC? We're going to be introducing two main ways of doing so, including a quick brief on how you might want to do the opposite (move music from iTunes to PC.) So, if you want to learn how to export Music from iTunes to computer, continue reading!
The first, and arguably, easiest and most effective way of exporting songs from iTunes to PC is to use a data transfer tool. There's a lot available in the market these days, but none that can beat the effectiveness of the iMusic software. With iMusic, not only will you be able to export your music, but you also get a ton of extra premium features that you can use in case you want to do other types of transfers. A couple of examples of these extra features include: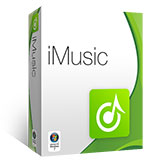 iMusic - Add Music to iTunes on Mac Easily and Safely
Two-Way transfer music between iTunes and iOS/Android device.
Automatic Sync between Device to Device.
Premium error detection system for maximum efficiency.
Advanced toolkit for heavy duty transfers (to USB, to CD, etc.)
Built-in Music Downloader for maximum convenience.
Burn music to CDs in one click.
Remove music DRM protection and convert downloaded M4P music files to MP3 format.
How to Export Music from iTunes to Computer with iMusic
Step 1

— Launch > Library

First, of course, you'll need to start up the iMusic program. Once the program has been opened, you're going to immediately click the ITUNES LIBRARY tab (which is circled in the image below.) You should be able to find it on the top-menu bar.
Step 2

— Select Music

The ITUNES LIBRARY tab is literally a copy of the iTunes library connected to your PC. On here, you can make changes (add, remove, edit, etc.) and those changes will be replicated on your actual iTunes library.

We're not focusing on that today, however, for now. Just select the music that you want to transfer by ticking the boxes provided on the left side of the screen OR you can bulk-select all of the items on your library by clicking the Select All box.
Step 3

— Export!

Once you have the files that you want to transfer selected, you'll need to select the Export icon and then choose the "Export to My Computer" option.
Step 4

— Browse & Export!

All that is left to do is browse for the folder that you want to keep your iTunes music in (we selected our PC's "Music" folder), and then click OK. Depending on how many files you selected, the transfer might take a couple of minutes.
This next part will be on the more conventional method of exporting music from iTunes to Computer. That is, by using iTunes itself! We're only going to be demonstrating the simple, but manual drag and drop method today. However, it should be noted that this method is highly limited. Using it to export purchased Apple Music, for example, is impossible — you'll just get a failed transfer. However, it's still a useful method to have under your belt!
How to Export Music from iTunes to Computer for Free Via iTunes
Step 1

— Create a Folder

The first thing you will need to do is create a folder to store the music that you're going to export from iTunes. This is something practically everyone should know how to do… Just right-click on an empty spot on your desktop and select New Folder…

You can name your folder whatever you wish. For our example, we named our folder iTunes Music!
Step 2

— Drag and Drop

For the final step, you will need to launch the iTunes desktop program. Make sure that you're on the Library tab and then select the music that you want to export to your PC!

Once you've selected the files, drag them off the screen, and drop them onto the iTunes Music folder! This should work with FREE music (non-purchased music.)
Now, just to make sure that you don't leave without knowing how to do the opposite of what we've just taught you, let's go over how you can move music from your PC to your iTunes library! Again, we're going to be using the premium data transfer software called iMusic, for this demonstration. Specifically, we're going to be using its iTunes library management feature — which allows you to connect directly to your iTunes library.
Steps to Move Music from Computer to iTunes by iMusic
Step 1

— ITUNES LIBRARY

Launch iMusic and go to the ITUNES LIBRARY tab (circled in the image below.) This is where you can find the iTunes library management features that iMusic offers! On here, you can add, remove, edit, export, download, etc.!
Step 2

— Add!

All other features set aside for now, we're going to be focusing on the "add" feature.

If you want to add music to your iTunes library with iMusic, all you have to do is click the Add Item or "+" buttons! Either one will work.
Step 3

— Browse & Add

After selecting the "add" button, a pop-up will appear on your screen asking you to look for the source of the music that you want to transfer. For our sample, we selected the iTunes Music folder that we prepared with the songs we want to transfer to our iTunes library.

Once you've selected the folder you want to extract audio files from, click OK and iMusic will automatically scan and move those songs to your iTunes library!
Conclusion: And so, we finish our "How to Export Music from iTunes to Computer" breakdown! There are many different methods that you can try out there. However, the two that we introduced to you today are definitely the best! Especially iMusic, which is convenient, efficient, and very feature-rich. It's a premium software, that costs a premium price, but we advise trying it out for yourself anyway with its FREE trial version — available on both Mac and Windows! See just how easy it can be!