Do you want to learn how to get music on iTunes? It's a pretty vague query, but we have all sorts of available options prepared for you down below. We've even included a quick introduction on why you might want iTunes to be your music storage location — which we'll talk about more later. So, make sure to stick around till the very end to learn all that you can about how to get your music on iTunes!
For our basic introduction, we're going to be discussing why you might want your songs on iTunes. This implies that you already know what iTunes is and how it works but are probably unsure why you would even bother using it. After all, everyone knows that iTunes is very complicated. For one, you can't use it for Android devices (only iOS) and it's filled with all sorts of restrictions and unspecified features that are just too plenty to keep track of. Despite all its shortcomings, however, there are a couple of reasons why people need/want to store music on iTunes. These include the following:
Cloud Sync and Storage: If you want to be able to use Cloud, then iTunes is necessary for the management of it.
iOS Devices: Another key reason is iTunes direct relation to your iOS devices. Because of how the system OS is built, direct access to your device's storage data is impossible without iTunes.
iTunes Store: With the iTunes software, you can directly access Apple Music (and more.)
Outside Music: Although sometimes difficult, you can also store music from other sources in your iTunes library (it just has to be in proper format.)
Common: And finally, most people use it because it's the most common audio library software available and its compatible with a lot of other apps and desktop tools that one might want or need when it comes to managing their data.
For our first tutorial, we're going to be showing you the basic way of getting music on iTunes without actually using the iTunes software. For this, we have the iMusic program. It functions as a highly intuitive iTunes management program, allowing you to import/export and edit your iTunes library at will. It also comes with tons of convenient features that help null the actual restrictions and limitations that one is forced to handle when it comes to dealing with Apple tools in general. The main characteristics of this program include the following: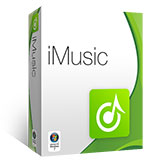 iMusic - Get Music on iTunes for Free With one Click
iTunes library management for editing and importing.
Intuitive and sleek interface for maximum ease-of-use.
DRM removal tools for accessing all types of music.
Functioning Music Downloader and Recorder (compatible with 3000+ websites)
Record music from any radio stations with music tag, covers, album name attached.
Premium Toolbox with easy-to-use device, PC, etc. data management tools.
How to Get Music on iTunes for Free by iMusic
Step 1

— Drag and Drop Here

We're going to be covering two ways of importing music to your iTunes library with iMusic. First, is the drag and drop method. For this, you must be on the LIBRARY page (shown below.)
Once there, you can drop your audio files anywhere on the white screen (as pointed out in the image below.)
With iMusic you can import all sorts of music without having to worry about format — which is something that you cannot do with iTunes (as it is very picky about the audio formats that it accepts.)
Step 2

— Add Button

Another option that is available is manually browsing your desktop for the files that you want to transfer your iTunes library. Again, for this, you will need to be on the LIBRARY page.

Once there, locate and select the "Add" button.
Step 3

— Browse for Music

After clicking the "Add" button, you will be able to browse your computer for the files that you might want to import. For this, you can choose to either…
Import an entire folder by selecting the whole folder.
OR import audio files by individually selecting audio files.
In either case, you will need to click the Open button in order to officially begin the upload process. Again, iMusic is compatible with all formats, so you won't have to worry about that.
Step 4

— LIBRARY

Once the music is on the LIBRARY page of iMusic. They will automatically be transferred to your iTunes library. See for yourself! It really is fairly easy to use.

Tip: We previewed the Mac version in this tutorial, but iMusic is also available for Windows (both are available for FREE trial here.) The same concept applies either way, except on windows 'LIBRARY' is called 'ITUNES LIBRARY.'
Now, for this second part, we're going to be showing you how you can transfer Spotify music to iTunes (which is near impossible because of restrictions and audio file protection.) Again, we're going to be using iMusic to simplify the process, allowing you to bypass all the restrictions that you would have had to deal with if you were using the iTunes software — which, in all likelihood, would have just led to having to pay for the music again. If said music is even available on the Apple Store (which not all are.)
Steps to Get Music on Spotify without Paying
Step 1

— Get Music

There's a lot of FREE songs on Spotify that you might want to have on your device or computer. iMusic offers a recorder feature for this very reason — which is what we're going to be teaching you how to use today.
First, launch iMusic and move to the GET MUSIC page, which is the first tab on the left at the very top of the window.

Second, below the circular tabs are three options — Discover, Download, Record. You can use any of these to 'Get Music,' but the option we'll be showing off is the Record option. So, select that to proceed.
Step 2

— Record

On the Record window, you should see something like this (refer to the image below.)

The only real option here is the record button at the very bottom. To use it, you will need to play your Spotify music and then click record.
Step 3

— LIBRARY

Once you're done recording, the song will automatically be moved to your iTunes library. You can view it for yourself under the LIBRARY tab > recorder (mic icon at the top left-hand corner of the screen.)
| Features | iMusic | iTunes |
| --- | --- | --- |
| Download & Record Music with 1-Click | Yes | No |
| Transfer Music from iTunes to Android Phones | Yes | No |
| Remove DRM | Yes | No |
| Transfer Playlist to USB Drive to Play in Car | Yes | No |
| 1 Click to Clear Up iTunes Library | Yes | No |
| Music Player | Yes | Yes |
| Website Download Capabilities | APPLE STORE ONLY | 3000+ COMPATIBILITIES |
Conclusion: And so, we conclude our "How to Get Music on iTunes for FREE" tutorial! For this, we ultimately recommend iMusic. Out of all the available options, it is undoubtedly the most convenient. Not only for its base features — which allows you to move music to your iTunes library hassle-free, but also its more special functions. Like the "Get Music" feature which allows you to download music from other sources and directly transfer it to your iTunes library. With iMusic, it really is all about convenience! Try it out for free and see how easier life can get.