Want to learn how to download music from iTunes to Computer? We have two good suggestions for you today! Starting with the most common method — which is to directly use iTunes and a more unconventional (but convenient method) through a premium data transfer tool! Also, make sure to stick around till the very end, for a quick Q&A on the most pressing questions or concerns that people might have when it comes to the iTunes to PC transfer process!
As mentioned, we're going to start with the conventional method of using iTunes to directly transfer purchased Apple Music to your computer! Just note that even the method that we're going to be demonstrating is not going to work on DRM-protected audio (specifically older ones that were published earlier than 2005.) For the most part, however, you should be able to use this method if you want to have a backup for your purchased audio files!
Steps to Download Purchased Music from iTunes to Computer
Step 1

— iTunes Store & Purchased

First, you need to launch iTunes and select the iTunes Store tab. This is the area where you can find all the music that Apple has for sale, but it's also where you can manage the music that you've purchased.

To do that, scroll down until you see the Music side-bar (shown in the image below.) On there, you'll need to click the "Purchased" option in order to proceed.
Step 2

— Download All

Under your purchased music is all the songs that you've bought with your iTunes account (as well as purchased movies, TV shows, apps, etc.)

Ignore all that and select the Download All button on the bottom right-hand corner of the screen. After clicking this option, iTunes will automatically download your purchased music to your PC.
Step 3

— iTunes

All you have to do in order to access your downloaded purchased music is browse for your iTunes folder > iTunes Media folder. This is where iTunes has automatically downloaded all your music!
Now, if you don't want to have to deal with the complication that is iTunes (and the potential limitations that come along with it.) You can always try out a premium data transfer tool called iMusic. With it, you can connect directly to your iTunes library and extract and download whatever you wish! We're going to be showing you just how easy this can be, using iMusic's intuitive library management tool.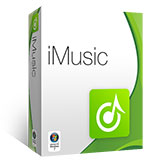 iMusic - Transfer All Music from iTunes to Computer Easily
One-Click Download of Songs (3000+ websites).
iTunes and Android/iOS music library manager.
iTunes to Android/iOS automatic bi-directional transfer for media files.
Premium DRM removal tools .
Sleek and Intuitive interface created for even the most inexperienced users.
1 click to transfer downloaded music and playlist to USB drive to enjoy in car.
Steps to Download All Music from iTunes to Computer with iMusic
Step 1

— iTunes Library

In order to download purchased music (and non-purchased music as well, of course) with iMusic, you will have to launch the program and move to the ITUNES LIBRARY tab.
Step 2

— Select All!

In the ITUNES LIBRARY tab is a library manager that connects to your iTunes library. Meaning, any changes that you make from this point forward (whether it be adding, removing, etc.) will be replicated on your actual iTunes library.

Of course, another important purpose is the transfer option.

Begin transferring by selecting the files you want to download to your computer or clicking the Select All option.
Step 3

— Export

Next, select the Export icon located on the top right-hand corner of the screen (marked in the image below), and choose the "Export to My Computer" option from the drop-down menu.
Step 4

— Browse and Transfer!

Unlike with the iTunes method, you have free reign as to where you want to download your music. All you have to do is browse for the folder where you want it stored and then click OK!
As promised, here's a breakdown of the most common questions people ask when it comes to downloading music from iTunes to a computer. Of course, we'll be introducing our tips and solutions that you can use in order to fix the issue as well!
1. Why Doesn't the Normal Drag & Drop Not Work?
One question you might have is why you cannot just use iTunes' drag and drop method in order to transfer your purchased music. Unfortunately, this really only works with non-purchased music. This is because iTunes has protections in place when it comes to their music. They want to limit the amount of potential of piracy and song sharing.
2. Why Does the Download All Option Not Work?
The only reason that the method above that we showed you will not work is because of rare cases of songs published on iTunes prior to their contract change (earlier than 2005.) If that is the case, then the only solution is to download a non-DRM protected version of the song that you want to download to your computer from another source.
3. DRM? DRM Removal?
We've been talking about DRM since the start, but if you don't know what it means, it's basically a term used to describe iTunes protected music. Most purchased songs will have this fail-safe restriction. If you're really desperate to get those songs to your PC, we recommend using iMusic's DRM Removal option in order to automatically search and download non-protected versions of the music you want to store.
Conclusion: iTunes can get a bit complicated and even frustrating to use at times. Especially with all the restrictions and limitations. It's definitely not a beginner-friendly software, so you'll need to know all the tips and tricks in order to be able to actually use it for things like downloading purchased music to your PC. Fortunately, we have iMusic, which is an intuitive tool that even absolute beginners can use. Consider checking out the software yourself and see how good it can be at fulfilling your needs — whatever they may be.