Playlist, as indicated by 'Play + List', is simply a list of songs which could be played one after another, sequentially or shuffled. You can consider a playlist as your own music compilation. iTunes playlists is the same concept to organize music, but in a more advanced way.
There are actually two different types of playlists in iTunes; namely the 'Playlist' and 'Smart Playlist'. You'll need to manually add songs or tracks to make up your own playlist. While for the latter, it'll automatically sorts out your songs into different playlists. Both varies in their own way and for more detail, carry on reading them in their separate headings below.
iTunes Playlist
It's easy to create a general playlist in iTunes. Simply hit on the + sign in the bottom-left corner of iTunes or hold onto 'Command + N' from File > New Playlist. Then give it any name you want. But the newly created playlist is still empty. You'll need to add songs to specific playlist after selecting them in the Library Music or the existing playlist.
To select multiple songs at once, click on the desired tracks while holding down the Command or CTRL key (Mac or Windows). Subsequently, drag-and-drop them into the playlist. A green plus sign and the number of selected tracks will appear.
iTunes Smart Playlist
Smart Playlist is a dynamic and search-based playlist. It perform searches continuously on your music library for updates. That also means you can't add songs to the Smart Playlist manually. iTunes gives you conditions to set as criteria for the Smart Playlists, including Artist, Album, Year, Song Name, (Date) Last Played, Date Added, Genre, Composer, My Rating, Play Count and much more.
The steps to create an iTunes Smart Playlist is similar to the standard playlist. Choose New Smart Playlist from the File menu. The following window (as illustrated in the screenshot) will appear:
Carry on to select or define your criteria. For example, you may want to have all your songs sorted out by Britney Spears. The Smart Playlist will then collect every new song by her and continuously add it to the playlist (if there's no item limit set and the Live Updating is checked).
iTunes Playlist and Smart Playlist are both song lists, but the way they are generated is totally different. Other than this, they are totally the same. You can use the same method to back up, import or export an iTunes Playlists and Smart Playlists.
You can also convert a Smart Playlist to a standard Playlist by first exporting Smart Playlist and manually importing it onto iTunes again.
After knowing of iTunes playlist, Do you want to organize it and transfer playlists from iOS device or Android to iTunes? You can use iMusic. It can organize your entire music library and transfer music without device limitation. Below is the detailed steps how to transfer playlists from iPhone to iTunes.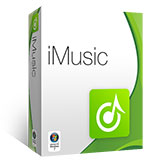 iMusic - Most Excellent iTunes Playlist Player and Downloader
Download music from more than 3000 music sites such as YouTube, Dailymotion, Vimeo, Vevo, Hulu, Spotify, and much more through copying and pasting the URLs.
Transfer music between a computer, iPhone, iTunes Library, iPad, iPod and Android phones making it easy to share songs.
Record music from radio stations and streaming sites and gets the identification of the songs including the title, album artist, and genre.
It acts as a management toolbox that lets you manage iPad, iPod, iPhone and Android phones iTunes Library through options like backup iTunes, recover iTunes Library, fix iTunes music tags and covers as well as remove music DRM protection.
1 click to transfer downloaded music and playlist to USB drive to enjoy in car.
Ability to burn downloaded songs and playlists to CDs easily.
Steps to Transfer Playlist From Device to iTunes
Step 1. Download and install iMusic. After launch it, connect your iPhone to computer. Click "Device" on the top of the interface. Then select "Transfer Music to iTunes".
Step 2. Click "Start" button to go ahead with the process.
Step 3. To only transfer playlist, just select the playlist options.
Step 4. Click "Copy to iTunes" that will start transfer playlist to iTunes.
Video Tutorial: iMusic- Transfer Music from iPhone/iPod/iPad to iTunes