Have you ever found yourself accidentally deleting your iTunes purchases? It happens to me all the time, and it can get pretty tricky to figure out how to get it back. That is why, today, not only are we doing to be teaching you how to view your iTunes purchases but also how to report an issue that can help you retrieve those purchases! Apple has this process pretty much on-lock, and there are various methods of doing it — whether you're on your phone, iTunes, or even on the Apple website. We're going to be showing you all of the above of course.
What can you see in the view iTunes purchase page? Well, it's actually the full-spectrum. Basically, all the things that you've purchased from Apple. Be it music from Apple Music, audiobooks, apps, and so much more. Of course, not only your actual purchases, but you'll also be able to view your purchase details, which is something you might need to do when you're reporting an issue about a lost product or app.
A note, this is only for purchases made for the last 90 days. So, if you have any issues with older products, then you will not be able to see your purchase history for it.
The first thing that we're going to be doing, is checking out iTunes purchases on our iPhone/iPod/iPad. The process is the same — no matter the iOS device that you use. This is a built-in feature for your iOS devices too. So, you won't have to download anything extra. All you need to do is go to the Settings menu of your device. We'll show the rest of what you need to do from there.
Steps to Check iTunes Purchase on iPhone/iPod/iPad
Step 1

— Purchase History

As mentioned, it all starts in the Settings of your iOS device. If you give it a bit of a scroll, you should be able to locate the Account settings — the page of which we have shown down below. Now, under this Account Settings page, you have a couple of things that you can change depending on your preferences. We're going to be ignoring all of that, however, and going straight in by clicking the Purchase History option.
Step 2

— Purchase History

When you click the purchase history page, you'll be able to see all the different purchases that you've made. Be it an app, a service (like the Apple Music Membership), an album, a song, an audiobook, etc.

Tip: Now, if you click one of the purchases, you'll be able to see the details of that specific order.
Now, for this next one, we're going to go ahead and show you how you can use the iTunes program (either on your Mac or Windows PC), to do practically the same thing. For this, we're going to be showing you iTunes music purchase history, specifically. However, the same methods apply whether you're checking out your apps, audiobooks, etc. history — all you need to do is change what library you are on.
Steps to View iTunes Purchase on Mac/Windows PC
Step 1

— Purchased

To use iTunes to check your iTunes purchased (specifically from the iTunes store.) You'll need to select the iTunes Store option [1.] Once there, if you scroll down a bit, then a sidebar should appear on the right-hand side of the screen — shown below.

On this sidebar, you'll notice that you can select the Purchases option [2.] Do so, in order to view your purchased iTunes music.
Step 2

— Purchased

Literally, on this purchased page, you can see all that you've purchased with your iTunes account. Be it your music, movies, TV shows, apps, audiobooks — the options are all on the upper right-hand corner of the screen.
For this 4th portion, we're going to be heading straight to the web and making use of Apple's website in order to view our iTunes purchases. Now, as a note, we are going to be addressing something specific on this particular tutorial. If you remember, in the first part of this article we discussed what you can see on your iTunes purchases page, and we mentioned that you can only see the things you've purchased the last 90 days — which means, if you purchased anything before that, you won't be able to see anything at all.
Steps to View iTunes Purchase Through Web Browsers
Step 1

— Report a Problem

First and foremost, you're going to need to go to the following page.

URL: https://reportaproblem.apple.com

After doing so, you'll be asked to sign in to your Apple account. Do so, if you're not already signed in, and follow the authentication process if you're asked to authenticate your account. Now, after the sign in, you should then see a page as we have in the image below.

As you can see, this page is empty for us. Why? It's because we haven't purchased anything in the past 90 days — and it won't be showing you anything past that.
Step 2

— Receipt

Now, if you had purchased something in the past 90 days, you will be able to select it in order to view a receipt (like the one we have below.) On there, the details of the purchase will all be laid out, and you can use it in order to report a purchasing issue.
Now, if you're facing the issue that we discussed just now — where the purchase that you want to get back is from way past the 90 days, then a solution to your problem is to use a restore backup option. For this, we're going to be using a product called iMusic, which you can use to not only create backups for your iTunes library, but it also doubles as a restore tool — allowing you to use that backup easily and quickly. That's what we're going to be showing you today, but it should be noted that iMusic does have other options available for you. Including the following: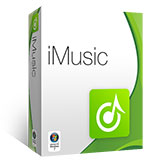 iMusic - Backup iTunes library with Fast and Easy One Click
Backup and Restore feature that will allow you to backup and restore your iTunes library easily and efficiently.
Rebuild iTunes feature — which you can use in order to rebuild your iTunes library using your iOS or Android device. So, if you need to move your iTunes library to your PC, you can use your phone in order to rebuild your library without having to do it by scratch.
Transfer iOS/Android feature — not only can you use iMusic to rebuild your library, but you can also use it in order to transfer the contents of your iTunes library to your phone (and vice versa.)
Download and Record feature is also available for sites like YouTube, Deezer, and thousands of other compatible websites.
iTunes management tools are also included for editing ID3 tags — adding Album covers, changing song title, artist name, genre, etc.
Step by Step Backup iTunes Library to be Normal by iMusic
Step 1

— TOOLBOX

For this tutorial, we're going to be assuming that you've already backed up your iTunes library. Although, either way, it's pretty simple to do! The options for backing up and restoring are also located in the same area. That is the TOOLBOX tab [1.]

Now, on the TOOLBOX tab, select the BACKUP/RESTORE ITUNES option in order to get access to iMusic's backup and restore features.
Step 2

— Restore

This window should now appear on your screen. As you can see, there are two options here. Either you backup or you restore. A good practice is to always back up your iTunes library (especially when making big changes.) This is a very easy process with iMusic. So, we're going to be going straight to the available restore option.
Step 3

— Restore

If you click the Restore option, then you'll see this window. At the top is where all your backups will be located. All you have to do is select the one that you want to restore, and iMusic will show you everything in that backup (be it music, apps, videos, etc.)

Once you are certain that it is the one, then click the Restore button at the bottom of the screen in order to restore all the items on that backup!

Note:If you want iMusic to delete all the contents of your iTunes library and then restore, then click the little box icon at the bottom of the screen!
Part 6. [Extra Bonus] How to Get a Refund Using iTunes on Mac or Windows PC
For this last bonus section, we're going to be discussing something that we kind of hinted throughout this tutorial, and that is how you can get a refund using iTunes! Why would you want something like this? Well, it depends on the issue, and you can tell Apple all about it! These are the steps showing you how to get to that stage. Although, of course, we're going to be leaving out all the logging in details (like we've done with most of the other tutorials before it.)
Guide to Get a Refund Using iTunes on Mac or Windows PC
Step 1

— Account

To start, we're on the iTunes software on our Windows computer. Now, for this, we had to go to the actual iTunes Store. Because that's the easiest way to access your account's details. See, if you scroll down the store, you'll notice that there is a little sidebar at the right-hand side of the screen (shown in the image below). On that sidebar, select the Account option in order to move forward.
Step 2

— Account

Under your account details, there will be a bunch of acknowledgments on the state of your account. We're going to ignore most of that and go straight to the Purchase History section. There, you'll see that there is a See All button available. Click that in order to see a list of your latest purchases. On that page, you'll need to also locate and select the Report a Problem button!
Step 3

— Report a Problem

By clicking the Report a Problem button, you will be transferred to the report a problem page that we featured in one of our earlier tutorials. Why are we here? Well, this is where you can send Apple a report on why you might want to refund the product (or report any issues that you might have had with the product, etc.)

So, again, we're going to be clicking Report a Problem and a contact us form should appear where you can describe the details of your issue.

Note: If your issue is serious, or incidental, then you might be able to get a refund. However, there are times when – even if you do report it, that you do not get a refund. It all depends on the situation.
Conclusion: Apple has a tendency of overcomplicating their processes, but they do try to make it so that you have access to things like this — especially when it comes to protecting their clients. Still, it is difficult to get full coverage from iTunes either way for a multitude of reasons. So, if you want to make sure that your purchased media is protected at all costs, then keep backing up and restoration in mind. For that, we recommend iMusic — because not only will it back up and restore your iTunes purchases, but it can back up and restore non-Apple music purchases too! Try it out, it's very intuitive and perfect for managing your iTunes library.