Is FrostWire good for downloading music?
FrostWire is a perfect program to help download music for your offline uses. The tool gives you an opportunity to preview the song before you download it to ensure that you get what you want. It supports download of multiple songs at a go, and you do not have to pay to get the music on your computer or your mobile device. Besides, the app helps you create a playlist to help listen to the downloaded music anywhere using the built-in gesture based audio player for Android. Due to its multiple features and being free of cost, FrostWire is an excellent tool for downloading music.
FrostWire is a free multi-platform app which aims at bringing the functionality of a music player, search engine, and BitTorrent client together in one. You can use FrostWire to search from millions of video and music files, download them directly to your device and then use the same app to play media back. Its advanced features and the easy to use interface makes it top the market favorites. The interface is clean and orderly and finding and downloading files in one is a time saver. FrostWire delivers enough music to last a lifetime, thanks to the advertised millions of royalty free artists. What makes FrostWire shine is its attention to details. The ability to download straight from YouTube is fabulous especially for the rare songs or large video files. Lastly, it has a one-click filling system thus no worries about file extensions.
Detailed guide to download music from FrostWire to iPhone
Step 1: Start FrostWire on your iPhone and proceed to the next step.
Step 2:On the left corner of main UI, click "Audio" below the "Select Search Type." The on the key box, type the keyword of the song that you want to download. After typing the keywords, click "Enter".
Step 3: FrostWire will search for the song from the internet and return with the results. A list of songs bearing the keyword you typed will be displayed. Find the song you want from the list and double click it.
Step 4: FrostWire has a built-in audio player on the right corner, and therefore you can preview the song before you download it. More so, FrostWire supports batch download, and you can search for more other songs and download them at the same time.
Step 5: Once you double click on the song, the download will begin automatically, after the download is finished, FrostWire will pop up a small hint window. You can click "Show in Library" to locate the downloaded songs on your iPhone's hard drive.
Part 2. Recommend FrostWire Alternative - iMusic
iMusic is the best music downloader which allows users to download music from more than 3000 music sites. The download is simple, and you just need to copy and paste the URL for the song from these sites and let iMusic do the rest for you. For the music played on the radio, iMusic can help record them and get the music tag and covers automatically. iMusic is just the best music tool, and it helps manage your music library with ease. You can use it to download the song and transfer them to your iPhone, iPod, iPad and Android devices for playback. The transfer feature makes it easy for you to share songs and if you have any song stored on your computer, you can move it to your device easily using iMusic. If you want to get hold of the latest songs without any cost, then iMusic is your best option. Its features are more than enough for you to enjoy music download, recording, and sharing.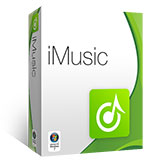 iMusic - Best Alternative to FrostWire Music Downloader
Download music from more than 3000 music sites such as YouTube, Dailymotion, Vimeo, Vevo, Hulu, Spotify, and much more through copying and pasting the URLs.
Transfer music between a computer, iPhone, iTunes Library, iPad, iPod and Android phones making it easy to share songs.
Record music from radio stations and streaming sites and gets the identification of the songs including the title, album artist, and genre.
It acts as a management toolbox that lets you manage iPad, iPod, iPhone and Android phones iTunes Library through options like backup iTunes, recover iTunes Library, fix iTunes music tags and covers as well as remove music DRM protection.
Batch download of files is supported where you can download up to 100 songs at the same time.
1 click to transfer downloaded music and playlist to USB drive to enjoy in car.
Ability to burn downloaded songs and playlists to CDs easily.
How to Download Music to iPhone with FrostWire Free Music Downloader Alternative:
Step 1:Launch iMusic. Once you have successfully installed iMusic, open it and click the "GET MUSIC" tab on the top part of the software.
Step 2: Download songs within iMusic. You can download songs within iMusic by clicking the "DISCOVER" option in the "GET MUSIC" management window. A new pop-up window will show a couple of hottest songs, artists and top lists of songs. You can search and for the music you want by typing it into the search box. Once you locate the song, just click the Download button to download the song.
Step 3. Download music from 3000 sites. Click the "DOWNLOAD" tab in the "GET MUSIC" window. In the pop-up window, copy paste the web address of the song you want to download and click the "Download" button to download it.
After getting all songs on the music library, you can connect iPhone to the program. Then iMusic will help transfer download music to iPhone with ease.