I use the LoudTronix to download free MP3 songs always, but these days I'd like to know more such tools for better choice, can anyone recommend some good loudtronix downloader alternatives?
LoudTronix website is a free MP3 music downloader website that allows one to search for music file or paste the YouTube URL on it. LoudTronix user interface is friendly thus making it easier to download music files. With LoudTronix you can also convert the YouTube music files to MP3 format. You can also opt to play the music online or share the music file to social media platforms. You may have heard or be looking for a way to download music with this site. In this article, we will show you how to achieve LoudTronix MP3 download and the best LoudTronix alternative for desktop.
How to Download MP3 on LoudTronix ?
Step 1. Launch your web browser on your computer and visit https://www.loudtronix.co/ website or https://www.loudtronix.me/ site, actually they've merged the two Loudtronix sites and you can go to either one to search for Loudtronix MP3 songs.
Step 2. Now, head to the search box on the website and enter the texts of the song that you want download. For this case we will search for Pitbull song "Options" featuring Stephen Marley and hit on the "Search" button. The website will begin to load the song, this may take a while depending on the strength of your Wi-Fi.
Alternatively, you can search for the song on YouTube, copy its URL and then paste it on the search box of LoudTronix before clicking on the "Search" button.
Step 3. The website will then display the search results below the search button. This website shows the source of the song below the music title.
Step 4. Now, click on the music file and it will open on new tab. On the new tab click on "Download" button to begin downloading the music file to your computer.
Well done! You have now downloaded the music online to your computer freely.
Part 2. LoudTronix MP3 Music Free Download using the Best Music Downloader-iMusic
Downloading free MP3 music from LoudTronix might be a bit slow and the website has too many ads that seems to be malware. In addition to downloading MP3 music using LoudTronix, you can also try iMusic, which is the best LoudTronix alternative.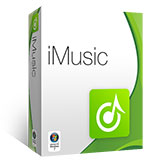 iMusic - iMusic - Download, Record, Transfer and Manage Music
iMusic is a music downloader that supports over 3,000 media sharing websites.
Allows you to download from music from this music websites either in MP3 or MP4 format.
With iMusic software you will be able to play, manage, record and transfer music files between any devices effortlessly.
You can also record music online and this program will add ID3 tags to the recording.
The music toolkit enables you to burn the music iTunes Library to CDs.
This LoudTronix downloader can also transfer music files from iTunes Library to your USB drive so that you can play them on your car.
How to Download MP3 using LoudTronix Downloader
With iMusic you can download MP3 music either from inbuilt music library of from preferred music site.
Step 1.

Open the LoudTronix music downloader

Open iMusic software on your computer either Mac or Windows and click on "Get Music" button on the home interface.
Step 2:

Download music from LoudTronix

Option 1: Next, click on "Discover" button. You can then browse and download music files according to artist, genres, most popular or playlist. Click on the song to download and besides click on "Download" button. To download a full playlist, click on "Playlist" and then click on "Download" button and you will have the option to choose "MP3" format. You can also download music in MP4 format if you wish.
Option 2: After clicking on the "Get Music" icon, please hit "Download" option. Then click on the music site that you want to download music from the list displayed such as YouTube, Spotify, Vevo or any other. Search for the music file, copy the URL, and then paste it on the iMusic Search box. You can also search for the music on music site just on the browser and paste the URL on the program. Next, you have to choose the output format, click on "MP3" format and then click on "Download" button.
Wait for the program to download the music file before viewing it on iTunes Library. From there you can manage the music file.