How can I download MP3 music for free?
Many songs are being released everyday and you may want to create your favourite playlist or just download a single MP3 song on your device freely. In this article we will introduce you to iMusic software, how to use it and other MP3 music downloader that you can install on your computer.
Top 10 Free MP3 Downloader
Best MP3 Music Downloader
iMusic is cross platform MP3 Downloader that supports Windows and Mac operating system. This software not only enables you to download songs from its in-built media player but also from more than 3,000 music sites supported by this website. It can also record music files and rebuild your iTunes library with ease.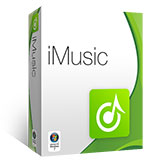 iMusic - Best MP3 Music Downloader
Download music from 3,000 popular sites, including YouTube, Dailymotion, Facebook, VEVO, etc.
Manage iTunes Library by removing duplicates, adding covers to music files and labelling tracks.
The music toolkit can enable one to convert music files to MP3 format, create car playlist and burn CDS.
iMusic create a backup of files on iTunes Library and restore them from iTunes library to your device.
Transfer playlist, iTunes U, podcast, audiobooks and others between iOS/Android devices and iTunes Library.
It allows one to create a playlist and transfer them to external hard drive.
How to Download MP3 Music with iMusic
Step 1. Open iMusic on your computer and click on "Get Music" icon on the home interface of iMusic.
Step 2. Click on "Discover" to download songs from the inbuilt media player. Choose the song that you want to download and click on the "Download" button.
Alternatively you can click on"Get Music" and select "Download" to download MP3 from music site. After that, choose the music site that you prefer and then copy the URL of the song and paste it the search box.
Media drug software is also a MP3 downloader that is well organized with different playlist. This software enables you to search for music files and download them with ease.
Pros:
• It allows you to customize playlist
• It is free
• It downloads music albums
Cons:
• It does not support many music sites
This is another tool that you can install on your computer and start downloading music from streaming sites like last FM, My FreeMp3, Ololo, Piratebay.to and others. It has a search engine that lets you search the title or artist of the music file.
Pros:
• It lets you preview music
• It is speedy
• It supports a number of music sites
Cons:
• You cannot download albums
• It lacks filter search
This software allows you to download music from YouTube and Facebook, Soundcloud and Archives to your computer freely. You can search the music file that you want to download according to artist, song title or albulm. Amoyshare AnyMusic software supports Windows and Mac OS.
Pros:
• It has an inbuilt player
• It lets you manage music files
Cons:
• It supports few streaming sites compared to iMusic
This software does not offer much but it is a trusted software when you want download MP3 music files from YouTube. It is easy to download and install on your computer.
Pros:
• It can convert YouTube music files to MP3
Cons:
• It supports YouTube only
NCH has developed an MP3 converter that can access different music sites and convert them to MP3 format on your Mac or Windows computer. It is also a media player besides being a music file manager. It supports different file formats like Mp3, AAC, AVI, MOV and others.
Pros:
• It allows you to download MP3 in a batch through conversion
• It lets you preview music files
• It can extract MP3 files from videos
Cons:
• It supports limited sites
With Media Monkey you can download MP3 music files to your computer with the aid of Podcatcher. After downloading the music files you can add image covers, remove covers and customize covers.
Pros:
• It can record music online
• It allows you to create playlist
• It can synchronize with iOS devices
Cons:
• It has lots of bugs
Mac Video Pro converter is well known for its conversion feature. However this software lets you download music file from more 300 websites to formats like MP3, AAC, WMV and others. You can also record music file and edit them.
Pros:
• It supports many music sites like YouTube, Facebook, Vimeo and others
• It has a user-friendly interface
• It can convert videos to MP3 files
Cons:
• It is not totally free
Looking at Frostwire software, it qualifies to be among our top MP3 downloaders. This software allows you to preview and download MP# music files from cloud. It search feature is robust since it can find the music files within seconds.
Pros:
• It is integrated with a media library
• It is built with a media player
Cons:
• It cannot transfer music files
BearShare software is a Windows MP3 downloader that allows you to download MP3 files and share your music library with your loved ones. It supports audio and videos download from its database.
Pros:
• It lets you download over 20 million songs
• It has latest music files
Cons:
• It does not have Mac version
MP3 music files can be downloaded from any of the above software but iMusic software is a straightforward tool that lets you convert music within a few clicks. You can get your music file from any website and then you can record or download it.