What are the best free music apps for iPhone and why ? In the following article, we will show you 10 of the free music apps for iPhone and 10 of the offline music apps for iPhone. Once you get music from these awesome music apps, you could try iMusic to manage and transfer music to other device easily.
Billed as 'the best place for people who care about music to make and discover refreshingly human playlists', 8Tracks Playlist Radio is an app that allows you to choose your perfect songs, from a library of almost two million playlists.
Pros: Contains no audio ads.
Cons: Not the greatest sound quality.
Price: Free
Download 8Tracks Playlist Radio
The App of the Year 2011 Runner Up, this app delivers one new artist a day, to help you discover the best new music. You can enjoy commercial-free and uninterrupted tracks from both the current day's band and an archive of previously-featured bands.
Pros: Helps you discover bands you'd never have found otherwise.
Cons: This one doesn't work with AirPlay and could do with a wider range of genres.
Price: Free
Daytrotter allows you to discover new indie music, by listening to live sessions from the best up and coming artists. Touring bands spent two hours in session with Daytrotter at the Horseshack studios in Illinois, playing live and recording tracks that are released for free through the app.
Pros: A great way of discovering new music.
Cons: Doesn't come with multi tasking functionality.
Price: Free
An essential guide to independent music, Pitchfork Weekly ensures you stay up to date with all the latest music news and tracks. Users can enjoy daily reviews and features, as well as tracks from up and coming bands.
Pros: Comes with some great podcasts.
Cons: Only available in portrait mode.
Price: Free
One of the most popular ways to listen to music on your mobile, search for any track or artist and listen to them for free. Discover readymade playlists that span all musical genres and build your own music collection from personalized recommendations.
Pros: A huge library, one of the biggest out there.
Cons: Track skips are limited unless you sign up for a premium account.
Price: Free
Ever had a song stuck in your head but can't remember the name? Feel the frustration no more, as SoundHound helps you discover the names of songs. Simply play the track, hum or sing and SoundHound will find the track details for you.
Pros: Comes with a great lyrics feature.
Cons: Only get five free IDs per month.
Price: Free
Wondering what the name of the song is from that advert you keep seeing? Wonder no more, as Shazam helps you identify music from the world around you. Just play a track and Shazam will pull up the song and artist details, as well as linking you to the YouTube video.
Pros: Has a huge library so can find almost anything out there.
Cons: Limited to five songs per month.
Price: Free
Blending music with social media, SoundCloud allows users to explore trending tracks and follow their friends to discover their favourite artists. A huge variety of genres are covered by the app, as well as podcasts, comedy and news.
Pros: Comes with great sound quality.
Cons: Doesn't allow you to create playlists.
Price: Free
TuneIn Radio contains over 100,000 real radio stations and lets you choose between sports, news, music and chat stations, so you'll always be able to find something for you. Favourite your top stations and podcasts and you'll see their updates displayed live in your feed.
Pros: A huge selection of radio stations and podcasts.
Cons: Does come with audio ads.
Price: Free
Ever missed the announcement that your favourite band is going on tour and ended up unable to get tickets? Never miss out on a gig again with SongKick concerts! The app helps you track your favourite bands so you get new tour announcements the minute they're released.
Pros: Very unique - one of the only apps of its kind.
Cons: Isn't formatted for iPhone 5s.
Price: Free
Description:Turn your iPhone into a recording studio with GarageBand, and create music wherever you go! Your iPhone can turn into tens of different musical instruments, allowing you to tap out drum kits and guitar beats and create tracks using only your phone. Add vocals into the mix by recording your voice and applying different sound effects.
Pros: You can share your projects between Apple devices with AirDrop.
Cons: Could do with an undo button.
Price: $2.99
Description: An internet radio station that contains more than 30 million songs and, best of all, no ads! You can even download your favourite tracks to listen to when you're offline.
Pros: Better sound quality than iTunes.
Cons: No repeat track option.
Price: Free
Description: Spawned from the blog of the same name, Hype Machine helps you discover the most discussed tracks from around the world. The app tracks 800 of the world's best music blogs and displays the most talked about tracks for users to listen to.
Pros: A simple, well-designed way to find the best new music.
Cons: Missing a 'Favourite Songs' option.
Price: Free
Description: Play YouTube music tracks and videos on your phone in an intelligent music player that even plays on lock screen mode. Enjoy your music in the background while you catch up on emails or texts and if you have that one particular song in your head you can listen to it over and over again with the 'repeat-one' feature.
Pros: Cached music means you can listen to it offline.
Cons: Known problems with creating playlists.
Price: Free
Description: Groove pays attention to your listening habits and creates playlists based off of your most listened tracks, so it works with your existing music library to organise your music and help figure out your musical preferences.
Pros: Helps you rediscover your music library.
Cons: No way to save playlists to iTunes.
Price: Free
Description: Rdio is a social jukebox with 25 million tracks ready to play. There are endless stations to listen to, ranging from artist-specific stations to genre stations, so you'll never run out of music to listen to - even if you're offline!
Pros: Offers one of the best music listening experiences you can get on iOS.
Cons: Need to upgrade to a paid subscription to unlock all features.
Price: Free
Description: Handcrafted radio stations to help you find the perfect music for your mood. Slacker's algorithm is different from most, as they have a talented team of human DJs to create playlists and stations for users to enjoy.
Pros: Has a great interface and wide variety of music.
Cons: Does contain video ads.
Price: Free
Description: Enjoy free music on your mobile, tablet and computer, and even enjoy your favourite tracks offline. Deezer combines smart algorithms and human recommendations to help you discover new bands and rediscover old favourites.
Pros: Excellent range of tracks and very high sound quality.
Cons: Could do with an equaliser.
Price: Free
Description: Music TV describe themselves as 'the only app in the iTunes Store that automatically scans your iPhone library and displays the corresponding YouTube music video', so they're certainly unique. In addition to the YouTube feature, you can also create custom playlists and enjoy background playing.
Pros: A great way to enhance your existing library.
Cons: Can take a while to load between songs.
Price: Free
Description: With Beats users can enjoy unlimited access to over 20 million songs and download tracks to listen to them offline. If you're not sure what you want to listen to then Beats has a team of in-house curators who can guide you to new music that you're sure to enjoy.
Pros: Ad-free!
Cons: Does have a substantial battery drain problem.
Price: Free
iMusic is a great tool that integrates all the features you need for getting and managing music. It is able to download and record music from music sharing sites, transfer music between computer and iTunes Library, iPhone, iPad, iPod, and Android devices. Here are its main features.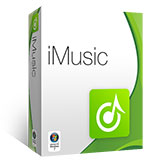 iMusic - Best Music Downloader and Transfer Tool
Download music from more than 3000 music sites to totally free.
Download YouTube music to MP3 and save to iTunes Library directly.
Record music from music sites, software that can play music on computer.
Transfer music between Mac, Windows, iTunes Library and iPhone/iPad/iPod and Android devices
Built-in "LIBRARY" gathers all the songs on your computer for further music fix and management.
1 click to transfer downloaded music and playlist to USB drive to enjoy in car.
Ability to burn downloaded songs and playlists to CDs easily.
Steps to Download Free Music to iPhone by iMusic
After installing the program on your computer, launch it. Then you can get an interface as below.
Step 2:

Download music to iPod/iPhone/iPad without iTunes

Check the "GET MUSIC" tab, here you have 2 options to download music. Now you can go to the "DISCOVER" tab and search for your favourate songs. Simply click the "Download" button and choose the output format to download music.
Alternatively, you can go to the "DOWNLOAD" tab to download music from 3,000+ popular sites like YouTube, VEVO, HULU, etc. Here you can copy and paste music URL to the box for downloading.
Step 3:

Transfer downloaded music to iPhone

To transfer downloaded music to your iPhone, please connect your iPhone to the program. Then Choose to trust this iPhone. There are also two options to transfer downloaded music to iphone without itunes.

Option 1: In the main window of "DEVICE", you could see an option "Transfer Music from iTunes to Device". Click it and then select file types you want to transfer. Check the file types and click "Transfer". Please note, if you have lots of music in iTunes Library, I suggest you option 2 – transfer selected songs.
Option 2: In "ITUNE LIBRARY" window, all songs in iTunes library are displayed there by default. From there, check the songs you want to transfer to the Apple device you have connected, then click the export icon on the top right of the window > choose "export to (your device name)".