Is there any way to download and transfer Spotify music to iTunes library? We all know that Spotify is a free music service providing us with a large number of songs. And the fact is that you can only access Spotify music online but can not purchase or download the songs. So how to download Spotify music to iTunes? No worry! Here are 2 best solutions for you.
Because Spotify is a streaming site, it does not have an option for downloading music. However, you can do it with iMusic. It helps you to download the hottest playlists and songs from Spotify and save them to your iTunes library automatically. Besides, all these music saved in iTunes Library can be transferred to your iPhone, iPod, iPad and Android phones without erasing the existing data.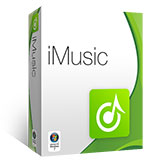 iMusic - Best Spotify to iTunes Transfer Tool
Transfer music from spotify to itunes on windows/Mac without erasing existing data.
1-click to backup iPhone/iPad/iPod/Android music to iTunes Library/Mac.
Download music from over 3000 music sites, including download YouTube to MP3.
Record music from any radio stations with music tag, covers, album name attached.
Built-in library collected thousands of songs to fix id3 tag automatically or manually.
Fix ID3 Tags like artist name, song title, year and genre.
Burn music to cds in one click.
Guide to Download Music from Spotify to iTunes by iMusic
Step 1.

Download and install iMusic

The first thing you need to do is to download iMusic and then open the installer and install it. Once the installation is done, you can then launch the program. Click the "GET MUSIC" tab on the top of the software. From there, you have 3 ways to download music from Spotify.
Step 2.

Download Spotify playlists via built-in music library

Click the "DISCOVER" option in the "GET MUSIC" window. From the top list or playlist, you can see the top 100 songs from Spotify. Before getting down to the download process, you can click to play it first. After then, click the download icon on the right side of the list, and choose the music format to download them. It only takes you a few minutes to finish the download process.
Step 3.

Download music from Spotify directly

Go to the "DOWNLOAD" window, you can copy and paste of the web address of the song from Spotify that you want to download to the box. Click Download to get it downloaded from Spotiy. Easy, simple and fast.
Step 4.

Check out songs in iTunes Library

All music downloaded from Spotify will be added to iTunes Library automatically. Click the "LIBRARY" tab on the top of iMusic to enter the management window. From there, click the download icon on the left side, then you can see all the downloaded songs from Spotify. Check any of them and connect your device with your computer via a USB cable, then you can transfer the songs to your device hassle freely.

iMusic could only download music from spotify to itunes, but also could help you to download or record Muisc from Youtube or Deezer so on other sites.
Why Choose Deezer Music Downloader Alternative
Support All Audio Websites
Download or record music from spotify ,Grooveshark, BBC Radio, BBC Radio Audio, Napster, iTunes Radio etc to iTunes easily. with 100% original quality.
Split tracks and filter Ads
Continuously record playing music and split tracks to separate music files automatically. Automatically filter out ads between tracks.
Identify and Get Music Info
Automatically get music information like Title, Artist, Album and Genre thanks to the industry-leading ID3 tag identification technology.
Transfer Music to iTunes
Directly transfer downloaded songs from spotify to itunes/Windows/Mac/iPhone/iPad/iPod/Android with one click.
Step1:First install iTunes on your computer, sign in Apple Music account, and then open iTunes, go to Menu bar -> File- > Add to Library" to import the Spotify playlists stored on your local computer.
Step2: When finish the importing process, your Spotify playlist will appear in the Playlist section within Apple Music and iTunes. Which means that you have finished the process to get music from spotify to itunes.
The only downside to Spotify is that you can only listen to the music through Spotify. If having a variety of music is your goal, then Spotify is the program for you. However Spotify is not compatible with any other music player. You cannot export music from Spotify to iTunes or any other music program. You can import your iTunes playlists onto Spotify, but you cannot export your Spotify playlists to iTunes.
The reasons for these restrictions has to do with Spotify's licensing agreements. Spotify operates by providing legal access to music and they do this by making agreements with the major record labels. These deals give Spotify access to an extensive music catalogue and they make sure that the artists are being fairly compensated for their music. Spotify pays royalties based on how many plays a song receives, which means they need to be able to keep track of the specific number.
This is why Spotify does not allow downloading of their music, because once the music is off of Spotify's server, they have no way of tracking the number of plays a song receives and making sure the artist gets fair compensation. Unlike music stores, Spotify does not offer artists a flat rate for their music, instead the artists get paid every single time a song is played. This is one of the reasons Spotify can give the listener access to so much awesome music, but it also the reason that Spotify is a streaming-only site.