Can I download music from SoundCloud to iPhone XR?
Downloading music from SoundCloud is not a hard task as some may imagine. With an appropriate download tool, this task becomes quite easy. Luckily, there are a number of excellent music download applications over the Internet that can help you download music from SoundCloud to iPhone XR.
Part 1. Simplest Way to Download SoundCloud Music to iPhone, iPod
iMusic downloader is a versatile music downloader that features an array of amazing music download capabilities. This tool can proof a perfect tool for music downloads. It can download videos and MP3 audios directly to your device, and it supports over 3000 sharing sites that you can stream music, record them or download them within a few clicks.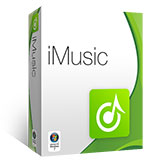 iMusic - Best SoundCloud Music Downloader to iPhone
Download music from an array of music sites including YouTube, Facebook, Vimeo, SoundCloud, and Spotify among others.
iMusic features a built-in music library that makes it possible to download and listen to most popular music from different genres, artists, scenes and moods.
It makes it possible to transfer music between Apple devices and iTunes without any device or computer legal limitations.
With this program, you can also record your killer songs whenever you feel like keeping it by clicking the RECORD button. This feature is essential where you are listening to radios.
It features an all-in-one powerful toolbox for managing music on iTunes library, iPad, iPhone, and Android phones.
1 click to transfer downloaded music and playlist to USB drive to enjoy in car.
Ability to burn downloaded songs and playlists to CDs easily.
How to Download Music from SoundCloud to iPhone or iPod in iMusic:
Step 1. Download and install the iMusic downloader on your device. Go to "GET MUSIC" option and then the "Download" icon. This would let you navigate to the download window.
Step 2. Open a browser in your device and find a SoundCloud song of your choice. Copy the respective web address and paste it into the download box provided in the application interface. Once this is complete, choose the right format for your song. It could be MP3 or MP4, depending on your interest. Click the "Download" button for the download process to begin.
Step 3. After the download, you can see the downloaded songs are added to your iTunes Library automatically. Now please go to the "Device" tab, and connect your iPhone to the program. Here you will be able to transfer the downloaded SoundCloud music to iPhone or iPod as needed.
Video Tutorial: iMusic- Transfer Music from iTunes to iPhone/iPod/iPad
Freegal Music is one of the best free music downloader apps capable of processing music downloads for iPhone or iPad. This program gives over 7 million different MP3 songs making it possible to get an array of music from different artists all over the globe.
How to Download Free SoundCloud Music on iPhone using Freelegal Music:
Step 1. Download and Install the application on your iPhone/iPad. You can get this software from iTunes store.
Step 2. Search the library for the song of interest and press the Download button to obtain the song in your library.
Pros:
• Freelegal Music has an intuitive interface that makes it easy to use.
• With this application, you can download a large number of music.
Cons:
• Some users have complained of frequent crashes.
Beats Music is an excellent choice of music downloader app if you want to experience amazing streaming and music downloads. With this application, you can access over 20 million songs from different genres. This is perhaps a great hit as you can explore as much music as you can.
How to Download SoundCloud Music to iPhone using Beats Music:
Step 1. Download and install Beats Music from the App Store. Choose the music you would like to listen from SoundCloud.
Step 2. Press the Download button to get the music downloaded.
Pros:
• This app has a large song database.
Cons:
• Its user interface is confusing.
This top notch music downloader app that not only provides music downloads but also video download, players, and photo viewer options. iDownloader also comes with a web browser and provides numerous management including sharing features. This ultimately proves a great addition to your device's app.
How to Download SoundCloud Music on iPhone/iPod using iDownloader:
Step 1. Download the iDownloader application from the app store and install it on your device.
Step 2. Search for your desired song and hit the Download button to commence the download process.
Pros:
• This application has got numerous features other than just being a music downloader.
Cons:
• Users have complained of slow download speed and frequent crashes.
This is another wonderful music downloader app that enables users to download a unlimited number of songs to their device. Music Free Download Pro comes with support for MP3, WAV, and M4A which provide multiple download options. This application also allows you to play your songs and also use an integrated player.
How to Download SoundCloud Music on iPhone/iPod using Free Music Download Pro:
Step 1. Find the Free Download Pro from the App store and download it. You will get a web browser which you will use to browse and download your music.
Step 2. Near each song is a Download button. Just click on this buttons and the download process automatically commence.
Pros:
• This downloader app has a clean interface that integrates both the player and web browser.
Cons:
• Users have complained of variable download speed.