Last.fm is a website that deals with music recommendations and offers services related to that. It contains large amount of music catalogue so you can listen to thousands of wonderful music on Last.fm. However, to enjoy Last.fm music online need good network connection. When it comes to download Last.fm music and play them offline, a Last.fm music downloader is needed. Here is the best Last.fm music downloader for you.
With iMusic, you would be able to record whatever you listen to on your computer. This way you can never lose track of your favorite songs on Last.fm. Your recorded music can be saved in the common MP3 or M4A format with 100% original quality. This Last.fm music downloader is a powerful application that offers a number of other great features as well.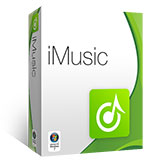 iMusic - Best iTunes Alternative to Transfer iTunes Purchased& Non-Purchased Music to Any PC or Mobile Phone
Discover music with the help of built-in music library using an artist's name, hottest playlist, and genres.
Download songs from over 3000 music sites such as YouTube, Spotify, Facebook, Vimeo, Dailymotion, Pandora, and more.
Record online streaming songs and save the content in MP3 format while the program downloads the ID3 tags in the background automatically.
Transfer music between computer/Mac to Android/iOS devices or between Android and iOS devices using drag-and-drop feature.
Create a backup of your existing library and move it to another computer with ease.
Fix your existing music library to clean broken links, remove duplicate tracks, fix mislabeled songs, and add missing covers.
Contains all the tools that the music lover would seek with several options that include removing DRM protection, transferring music to USB, creating a car playlist, and other features.
Simple Steps to download Last.fm music for free by iMusic
Only simple steps are needed to get this amazing software on your computer and you can have the best collection of songs and playlists out there.
Step 1:

Install and run the Last.fm downloader

Once you download the program, launch the set-up. You will have an installation wizard displayed in front of you. Follow the instructions as given by the wizard and complete the installation. Now launch it. From the main surface, click Record button at the top of the window. Click the red button to get ready to record songs.
Step 2:

Start downloading Last.fm music

Now play songs on Last.fm. Whatever songs that you play on Last.fm will get recorded automatically. IMusic will detect the songs that you are playing and start recording them. You can record as many songs as you like.
Step 3:

Check downloaded Last.fm music on iTunes library

After that, click "LIBRARY" menu, then the record icon on the left side to check out the recorded songs. You can also transfer them to iTunes and listen to them from all of your devices.
Last.fm works differently from other usual music websites such as Tunein, eMusic or Songza for that matter. So what is so different about this unique website?
The website gives its users to start their own profiles. There is a special feature named the 'Scrobbler' or 'Audioscrobbler'. The Scrobbler is a function by which a user's most frequently heard songs get recorded on a database. This means that if you are listening to certain songs either online or on your computer, those specific songs will get on the scrobble or a note.
Once your favorite songs are on the scrobble, the Scrobbler will send the list of the songs to Last.fm's database. Based on this, you get various recommendations. The recommendations cover various types of music and artists that are related to the songs that you hear.
So how does the information get to Last.fm? The songs that you listen to either through a certain internet radio station or on your computer, the data gets transferred through a plugin or a music player. The recommendations are then compiled and displayed on your personalized profile page that you create on Last.fm.