I used to use iTunes for syncing my iOS devices, listening to music and storing old video ... Any experience with syncing iTunes library between multiple computers?
Both Apple and the music copyright holders have contrived to make it very difficult to effortlessly share your music on multiple computers (Windows and Mac). When you plug an Apple device into a computer, you are taking the risk of wiping out everything on the device. However, Dropbox, the amazing cloud storage solution, allows you to build a central iTunes library and sync all your computer and devices with it. This way, you achieve the goal - One iTunes library, multiple devices/Macs - sync and backup. The drawbacks include internet connection and Dropbox space limit (means $$$).
Note: if you just want to share iTunes library on your network, you just need to set up Home Sharing in iTunes.
Dropbox provides 2GB (up to 16GB by referring people) free space. Unless your iTunes library is small enough, you will buy extra space to sync your big iTunes library. But 2GB is a good start. Let's see how to make a central iTunes library with Dropbox.
Things to Know Before Getting Started
1. There is no need to sync the entire iTunes library on Dropbox to your computer, only when you want to.
2. To prevent any syncing issues, close iTunes before opening it up on another machine. I know this is ridiculous, but there is not a perfect solution for syncing iTunes library, right?
3. You are recommended to backup your iTunes library to an external drive to avoid anything going awry.
4. Update to the latest iTunes, or make sure the iTunes versions on machines are the same. Older versions of iTunes cannot use the library of later versions of iTunes.
5. Make sure to check the option "Copy files to iTunes Media folder when adding to library" in iTunes > Preferences > Advanced.
Ready? Let's start creating iTunes library on Dropbox.
Step 1

: Move iTunes Library

When you install Dropbox, a Dropbox location will be created. Find and move your iTunes library to this location. You are also recommended to use the same Dropbox location across multiple machines. For example, the Dropbox location is usually "C:Documents and SettingsAdministratorMy DocumentsDropbox" for Windows and "Users//Dropbox/" for Mac. If you start everything new, select the Dropbox location as the iTunes library location.

Now start sync your iTunes library with Dropbox. It's a good idea to do this overnight and on the weekend to avoid any upload trouble. You also have to wait sometime for Dropbox to prepare your iTunes library so that you can access it on another machine.
Step 2

: Tell Every iTunes Where to Look for Library

On a device like (iPhone/iPad) or computer, install Dropbox and login with the same account with that on the other computers. Then open iTunes by holding down the alt/option key (or the shift key in Windows) to bring up iTunes library selection windows. Set the iTunes library to Dropbox location, or create a new library to the Dropbox location. Dropbox would sync content online and let you enjoy in your iTunes.
Step 3

: Use the Central iTunes Library

Now is the test time. Try copying some new songs to iTunes on one machine (File > Add to Library). When finished, quit iTunes and open it up on another machine. If those songs are already there - as they should be (Dropbox "Enable LAN sync" option is by default checked on both sides machines) - smile, you have one iTunes library for multiple devices and computers.
Part 2. Sync iTunes Library Across All Your Computers Easily with iMusic
link: https://www.aimersoft.com/imusic.html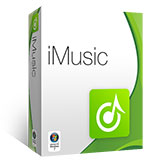 iMusic - All-in-One Music Downloader and Management Tool
Download music from more than 300 music sites by copying and pasting the URL.
Record unlimited music from any website for playback in your computer with just one click.
Built-in music library let you browse and preview the lattest and hottest music.
Automatically save downloaded/recorded music to library for management and easy transfer.
Identify and tag music with artist, title, album, genre, and more with the latest technology.
Steps to Sync iTunes Library to Your Computers by iMusic
Step 1. Download and install iMusic on your computer. Connect your iDevice. After launch iMusic, transfer Music to iTunes.
Step 2. Click "ITUNES LIBRARY", then select and export the songs in iTunes to PC/Mac.