"My iTunes Library has gone. I'm totally lost. I've been using iTunes and a couple of Apple devices for a long time, never have encountered this kind of situation. After I started my computer last night, finding that iTunes Library content has gone. But my iPhone and iPad seemed work properly. What's going on? Please help."
A friend told me that his iTunes Library is missing. I searched in Google, finding that several people have encountered the same situation recently. Some lost iTunes library after they upgraded their iOS devices. Some lost it because they updated iTunes itself. If you're in the situation, keep your shirts on. To some extent, you can bring the missing iTunes Library back. Below are 2 simple ways to fix it after iTunes library disappeared.
If you've added dozens of tracks to your iTunes Library since last update and synced your iTunes Library to your iPhone, iPad, or iPod with these tracks, instead of using solution 2, you should try iMusic to get the missing iTunes Library back. The reason is that the old iTunes Library file doesn't contain the latest music, videos or apps you've added to iTunes. iMusic lets you transfer music, playlists, videos, etc. from iOS devices to iTunes Library, making missing iTunes Library a complete one. Only in 3 simple steps, you can solve the problem of itunes library disappeared.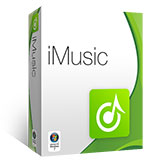 iMusic - Best Media Managing Music for the iPhone, iPod and the iPad
Download music from more than 300 music sites by copying and pasting the URL.
Record unlimited music from any website for playback in your computer with just one click.
Built-in music library let you browse and preview the lattest and hottest music.
Automatically save downloaded/recorded music to library for management and easy transfer.
Identify and tag music with artist, title, album, genre, and more with the latest technology.
Steps to Get Missing iTunes Library Back by iMusic
Step 1. Install iMusic on your computer and connect your iOS device to fix iTunes Library.
Step 2. iMusic will detect your iOS device and display it in the main window. And then you can click Device and choose "Transfer music to iTunes".
Step 3. As for purchased items, you should launch iTunes, click Edit > Preferences. Click tab for Store and check the option "Download pre-orders when available".
Note: iMusic (Windows) supports exporting music and videos directly to iTunes Library. iMusic (Mac) now only allows you to export music to iTunes Library. As for videos, you should use this app to export to Mac first and later import them to iTunes Library on Mac.
If your iTunes library disappeared right after you updated it, you should try this method.
Step 1. Quite iTunes. Find and drag iTunes Library file from iTunes Library folder to desktop.
iTunes Library.itl is located in:
Step 2. In "Previous iTunes Libraries" folder in iTunes folder, drag the latest iTunes file which named as iTunes Library YYYY-MM-DD.itl. Delete the date in this file. Copy it to the folder in step 2 where you find the iTunes Library.itl.
After replacing the broken iTunes Library.itl file with an older one, you can see your missing iTunes Library is back.