What is the best apple music converter and there any 100% free Apple Music format converter programs?
There might come a time when you may want to convert Apple music to MP3 format, you want to play the music on a device that does not support Apple music, and so on. To do so, you will need to have the right converter apps. Even though Apple provides a service that allows you to convert protected music files to less restrictive files, there are other software programs that can help you to convert Apple music with ease. The following are the best 5 apple music converter that you can consider.
With iMusic, you can download and record Apple music to MP3. This Apple Music converter allows you to download music from more than 3000 music sites (YouTube, Grooveshark, Pandora included)and record music from unlimited music sites and radio stations, say iTunes Radio.
To download music, you only need to copy and paste the URL to the download box, then click Download. The software will get the music with its identification automatically for you. For reording music, it will filter the ads and identify the music by itself, offering you complete songs.
After downloading and recording music, you can use iMusic to transfer music to iPhone, iPod, iPad, and Android phones & tablets for sharing or enjoyment without any data erasing issues.
Besides, this Apple Music converter can also help backup, rebuild or repair iTunes Library even on a Windows PC computer.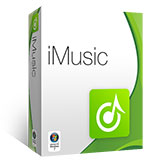 iMusic - Download, Record and Transfer Music in One Click
Record music from Allmusic, Pandora, Rdio, Google Play music, and thousands of sites.
Download audio from more than 3000 video websites.
Save music to high quality MP3 or M4A without annoying ad.
Support ID3 tags and get music information like artists, album, and other song details.
Allow you to export recorded music to iTunes library or burn music to CD.
Transfer Music from iTunes to iPhone/Android /windows/Mac with one click.
How to convert Apple Music to MP3
Step 1: Download and install iMusic on your Mac or Windows PC, launch to its main interface once finished. You will see four tabs name GET MUSIC, LIBRARY, DEVICE and TOOLBOX.
Step 2: Go to the GET MUSIC tab, and then click the Record button. You will be turned to a recording page.
Step 3: Play any Apple music you like, and then click the Record icon, it will start recording Apple music right away. This is the easiest way to get your favorite Apple music easily, and it could be also applied to other music sites or music radio station.
When you finish recording, the Apple music songs will be saved in the Library. Just go to the LIBRARY tab on top, there you can also transfer the downloaded songs to your mobile devices or sync to iTunes library. Then you finish the process to convert apple music to mp3.
Optional: Another quick way to download from Apple music, Spotify, SoundCloud, Pandora or other music sites is to download music from URL. You only need to copy the URL and then paste in the URL blank from GET MUSIC - DOWNLOAD. Within seconds you will get your songs downloaded to the library. You can choose to transfer them to your mobile devices from there.
That's so easy to convert apple music to mp3 with iMusic right? If want to know how to convert Youtube to MP3, you could click here to get more details.
This free Apple Music converter program is not the same as iTunes. While iTunes is mostly about media ownership and functioning, Apple music converter is mostly about music streaming. It allows you to access a wide range of music from Apple Music's entire catalog. However, it is very important to realize that you do not own the music that you listen to.
Another thing that you will like about this Apple Music Converter free is the fact that it lets you save tracks so that you can listen to them online at your own convenience. But you should realize that you will not be able to offload the music files somewhere else because the rights do not belong to you. Another important thing that this Apple Music Converter supports is file sharing. It is available for downloading free of charge. It also comes preinstalled on some Mac PCs.
This is a free Apple Music Converter application that you can use to convert audio files between different media formats. A wide range of media formats is supported by it, including MP3, M4A, WMA, WAV and many more. It also allows you to prepare music tracks that you can listen to on your MP3 player. Other things that make this app a great pick include the ability to convert video to audio fast, an advanced preset editor, batch audio conversion and so on. You can also use it to join audio files if you want them to play endlessly.
Freemake audio converter enables you to get music for your iOS gadgets. So it is also a iPhone music converter. You can use it to provide music for your iPod, iPhone or iPad. If you find that the audio in MP3 format is too large, you can convert it to M4A in order get much smaller files that allow fast synchronization as well as smooth playback on your Apple device. It automatically adds all converted audio files to the iTunes media library.
M4a file extension has been used by Apple for several of low-loss formats that it sells at iTunes store. You may come across M4a music that has digital rights management encryption while others do not. However, if you have large audio collections, you may find compatibility to be an issue. That is why this application allows you to convert audio files from M4a format to MP3 format which is compatible with many media players as well as portables.
There is a lot to like about this Apple Music converter. Besides allowing you to convert Apple music to MP3 format with ease, it also has a very simple interface that you can easily understand and use. However, it is important to point out that this application does not convert or play M4B videos that are commonly used by audiobooks. MP3 format can be played on virtually all audio devices nowadays. It is a file format that will not let you down.
This Apple Music Converter Free offers you the easiest and fastest way to convert apple music into MP3 format that is playable on most devices. It performs a perfect conversion of the music without tampering with the original quality. You can convert all audio files to MP3 format with a simple click of a button. You can convert one file or many files by simply dragging and dropping them in the interface of this application after opening it.
There is nothing that you will not like about this converter because it is designed and optimized to meet users' needs perfectly well. It has a very high conversion speed that is optimized for all processors. Its core engine offers the best performance regardless of the operating system that you are using. Even though its name suggests that it is a video converter, it also does a really great job when it comes to converting audios. Other impressive features that it has include audio language selection, subtitle selection, and automatic deinterface.
As you can see, there are several programs that you can use to convert Apple Music to MP3 format very easily. It will be up to you to choose which one to use among them because they are all great. However, for outstanding results and conversion speed, you should consider downloading and installing iMusic Apple Music Recorder. It allows you to record anything that you can hear on your Mac PC. Even if the audio is from applications and web pages such as iTunes or spotify, you can still be able to record the music and then convert it into the format that you want. You can customize the audio quality if you want - from low quality to high quality depending on your preferences.