How can I download YouTube Music to my computer PC?
YouTube is the largest video-sharing website right now. People visit the website to listen, watch, or share free music videos posted by others. While you can listen to a wide range of YouTube music videos online, you can't download them directly to your computer device. In this article, we have recommended easier ways you can use on how to download music from YouTube to the computer. Read on to learn more.
One way you can download music from YouTube to a computer is through a YouTube Downloader. There are several such programs but not all of them offer the best results. Some are slow while others need users to dig deeper into their pockets to purchase them. That said, one of the programs that have received several positive reviews and testimonials from users is iMusic. This program downloads high-quality videos from over 10,000 video sharing sites, including YouTube, Lynda, Crunchyroll, Metacafe, VEVO, Dailymotion, Facebook, and more on a device running on Windows 10, 8, or 7. It also gives you an option to convert your downloaded videos to multiple formats including MP3, WAV, MKV, M4A, and many more. We recommend this program because it is easy-to-operate, downloads music in a single click, and is three times faster than other YouTube Music Downloaders out there.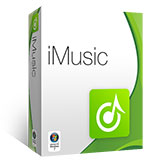 Best Youtube Downloader - Download Youtube Music to PC/Mac with Simple Clicks
Download Music: browse and download music tracks from 3000+ sites including Spotify, Vimeo, YouTube, Pandora, Last.fm, Dailymotion, VEVO, and Facebook.
Record Music: record online radio or any playing audio in your Mac/Windows PC with a well-balanced and well-managed music recorder.
Transfer Music: transfer music across multiple devices, or sync music in the form of individual files and the entire playlists between phones and iTunes library.
Backup, Repair and Rebuild Library: fix any duplicate files, missing album covers, mislabelled songs and broken or dead tracks in iTunes Library.
Play Music: follow hot music tracks or playlist in iMusic discovery channel, or enrich your own playlist by adding from local disk or online sharing sites.
Manage Music: Fix ID3 automatically, rebuild iTunes library with one click.
Steps to Download Music from YouTube to Computer by the Best Youtube Music Downloader -iMusic
Step 1:

Download and Run iMusic YouTube Music Downloader

Once this YouTube music downloader has been installed on your Windows PC or Mac, double click on its desktop icon to launch it. Go to the 'GET MUSIC' tab from the main window of the software.
Step 2:

Download YouTube Music

Then click the 'DOWNLOAD' tab under the 'DISCOVER' tab. In the DOWNLOAD tab, you can see a field to paste links of video tracks and a download button right next to it. Beneath that, you could see several links directing to major music sharing websites, choose "YouTube" from there and you will be directed to YouTube. Open the music track you want to download and copy the URL. After that, return to iMusic and the URL will be pasted automatically to iMusic download link field. Set MP3 as output format from the radio button below and click 'Download'.
Step 3:

Finish Downloading Youtube Music

After clicking the "download" process, you could see your downloaded music on the iTunes library page of iMusic.
Step 4:

Export Youtube Music to Computer

Choose the music you just downloaded from Youtube, then click the export icon on the top right corner of the program, choose to "export music to my computer "
If you don't want to use any downloader or software to download YouTube music to your window device, you can use a browser add-on. There are several YouTube MP3 add-ons for browsers that can help you download your videos to a specific format. If you want to download videos via Firefox, here is a step by step guide on how to download YouTube music to computer with a browser add-on. We have also included some screenshots.
Step 1: Click on the "Open Menu" on the top right corner and then click on the "Add-ons".
Step 2: Search for YouTube Video Downloader or YouTube MP3.
Step 3: Install the add-on and then restart your Firefox.
Step 4: Every time you listen to music or play a video, the icon of YouTube Video Downloader add-on or YouTube mp3 add-on will appear below that video or mp3. Click on that icon to download the video.
Most of the YouTube MP3 add-ons for browsers do not need to wait for the video or mp3 to be processed. However, time is limited for each downloaded mp3 or video to around 8 minutes. So you need to click the add-on twice if the video is more than 8 minutes.
Besides YouTube downloader and YouTube MP3 add-ons for browsers, another way you can use to download YouTube music to the computer is through an online tool. One of the best online tools is Online Video Converter. This is a free online media conversion tool that allows you to convert any link to multiple formats without the need to install any downloader or software on your computer.
Online Video Converter is fully compatible with most browsers and has been described by many users as the best online YouTube video conversion utility. One of the reasons for this is that it delivers high-quality videos at a super-fast speed. It converts to many audio formats including MP3, AAC, OGG, WMA, FLAC, WAV, and many more. It also converts to many video formats including MP4, AVI, MOV, WMV, WebM, FLV, and many more. A wide range of online video sharing portals is supported, including Dailymotion, YouTube, and Vimeo.
Step 1: Copy and then paste the YouTube Video link that you want to download or convert.
Step 2: Select the music format you want to convert to and customize your settings.
Step 3: Click "Start" to start the conversion process.
That's it! You can download the YouTube file once the conversion has been completed.