Although it's something that a lot of people tend to put off (or think unnecessary.) It's actually pretty important that you constantly back up your music . This is so that you won't have to deal with moments in the future where your data gets corrupted — or accidentally deleted. At those times, all you're really able to do is to re-download everything separately (which is an actual chore.) Whereas, if you thought ahead and actually stored music on iCloud — or backed it up in any way, you could easily restore your entire library in a couple of simple steps!
So, storing music is definitely a good idea, but what does it actually mean if you 'store music on iCloud?' Are they literal copies of your music files? One that you can check on, and pluck whatever you're missing easily? Well, no. Not exactly. Backups, traditionally, are all code. They're not actual data — which is why they take up so little space and are so easy to create! You're not duplicating your media, you're creating an accessible back up of it as a transcribed document.
This is how iCloud works! Specifically, for music at least. Now, another important note about storing your music on iCloud is the fact that it will count only Apple Music OR music that is synced from iTunes. That's it. So, if you ever lost any of your songs purchased elsewhere, it is because iCloud didn't (couldn't) store it properly.
For our first tutorial, we're going to be showing you how to store music on iCloud on your iPhone. This is a built-in feature on all iOS devices. So, you won't have to download or install anything extra in order to use it. Now, as mentioned, there are limitations to using iCloud — which we've listed down below. However, it is an option that is definitely something that any person who has an iOS device (and has a library filled with Apple Music), has readily available.
Backup is fully transcripted, so you won't have access to individual audio files.
iCloud only backs up music purchased from Apple Music (nowhere else)
iCloud also only backs up music that is synced from iTunes.
Steps to Store Music on iCloud without Using iPhone
Step 1

— Settings > iCloud

In order to officially begin storing all your Apple Music to your iCloud, you'll have to be signed up to an iCloud account. After doing so, you can click the iCloud menu under Settings.
Step 2

— Backup

In the iCloud menu, there are a bunch of different options that you can click on and off (as far as what you want to store on your iCloud library.) However, the one that we're going to be focusing on and turning on is the Backup option (which you have to scroll down a bit to see.) Click this in order to move to the screen shown in the next page.
Step 3

— Automatic & Manual Backup

The Backup screen is where you can find all of your iCloud backup settings. Which, in reality, really isn't all that much. You have the automatic iCloud Backup section (pointed out in the arrow before.) For this, all you have to do is make sure that it is toggled on.

As for the manual back up, you have the Back Up Now button [squared out in the image below.Whichever option you use, just make sure to keep in mind that this does need an internet connection (or Mobile Data), in order to work!
Now, before we finish up this tutorial, we're going to introduce you to an alternative first! This is a good alternative for if you're not fully immersed in the Apple Music scene. Meaning, if you have music downloaded or purchased from other sources, then you definitely might want another option (because iCloud won't back up non-Apple Music purchases.) For this alternative, we're going to be using iMusic — which is not a backup/restore software (it's so much more than that), but it does offer backup and restore features that you can use if you need them.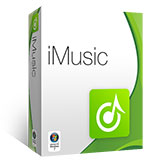 iMusic - Best iCloud Alternative to Store Music to Windows/Mac/iPhone/iPad/iPod/Android with Ease
MP3/MP4 Downloaded and Recorder for adding to your media library .
Completely compatible with Android devices (not just iOS), and will allow you to transfer and sync iTunes music automatically to your Android device .
Full back up and restore options that will allow you to selectively choose what you want to back up and what you want to restore.
Tag editor for adding appropriate cover art, changing song title, artist name, etc.
Rebuild iTunes library feature for rebuilding your entire library off of a device (iOS and Android compatible).
Support downloading high quality music video from YouTube, Facebook, Dailymoiton, Vimeo, Vevo, and more over 3000 sites.
Record Songs and Playlists as your wish .
Step by Step to Store Music by iMusic
Step 1

— Toolbox > Backup/Restore

As mentioned, the Backup/Restore options are not all that iMusic has to offer, but it is what we're going to be demonstrating for you down below. Now, to start, we've moved to the TOOLBOX tab [1.] This is where you'll be able to find all of iMusic's helpful extra features for managing your iTunes library and your Music. Under the TOOLBOX tab > iTunes Toolkit, select the Backup/Restore iTunes option [2.]
Step 2

— Backup

For our next step, it's fairly straightforward! As you can see, there are really only two available steps on this page. Of course, the one that we're going to be using to store our music is the Backup option.
Step 3

— Back Up Now

Unlike with iTunes (wherein your entire backup is under one place only), iMusic offers a 'Select contents you want to backup' feature. That means that you can choose what you want to back up from your iTunes library! For backing up your music collection, just make sure that you have "Music" [1] selected and then click the Backup button at the bottom of the screen.
Step 4

— Backup Location

You might have noticed this in the previous step, but you are given the opportunity to choose where you want to put this backup. For simplicities sake, however, we just stuck with the default folder. Now, if you want to know where this backup is located, all you have to do is go to your iTunes folder [under This PC > Music.]

Tip: By default, the folder is called iMusic Backup. Under this folder, you should be able to see all the different backups available (organized by date/title.)

Conclusion: iCloud is a great solution for those who fully buy into Apple and its products/services. However, it's not always going to be the most effective method. Especially if you're the type who likes to collect music from all over (iCloud won't be able to back up that type of media properly as it is meant to be used mainly for iTunes purchases only.) For those that are looking for a good alternative, then the third-party program that we introduced to you (iMusic) is definitely a good choice. You can try it out for FREE (Mac/Windows) and experience how more secure you can be – knowing that all your data will be backed up.
Video Tutorial: iTunes Backup and Restore by iMusic