Do you want to download Google Play music then play offline to enjoy it anywhere you like ? If so, just read on !
Google Play Music is an online music store where people with standard google accounts can listen to almost 50,000 songs for free. You can subscribe to Google Play Music and listen to music without being annoyed by advertisements and can create custom radios etc.
Google Play music is home to all types of popular music so you will benefit from a wide range of choices. You can create custom radios. This feature allows you to select all of your favorite songs and put them in a radio. You can then listen to the songs non-stop and also get regular updates on the music that you like.
When you find wonderful songs on Google Play Music and want to download them for playback offline, a reliable music downloader like iMusic is a must. It lets you record any music from a number of platforms in just a single click. It can save songs from Google Play Music in high quality MP3. See more attractive features of this Google Play Music downloader: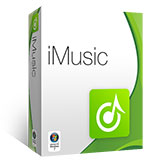 iMusic - The Best Google Play Music Downloader to Download Google Play Music to Computer/IOS/Android Easily
Download music from over 3000 sites like Spotify, Pandora, Google Play Music, Allmusic, eMusic, and more.
Record Music from Google Player and other streaming music sites with only one click.
Automatically filter ad and split tracks to separate audio files.
Burn recorded music to CD or create car playlists.
Transfer music between iPhone, iPad, iPod, Android phones, MAC/PC, and iTunes Library easier than ever.
Manage whole iTunes library,clean up the dead or broken downloaded music tracks on your iTunes Library and fix mislabeled songs .
Remove music DRM protection and convert downloaded M4P music files to MP3 format.
Easy Steps to Download Music from Google Play Music to Computer by iMusic
Step 1:

Download and install the Google Play Music downloader

Download the program file by clicking the "Free Download" button. Once you begin installing it, an installation wizard will guide you through the process. Follow the simple steps directed by the wizard to complete the installation.
Step 2:

Start to download Google Play music

In order to get it up and running you just need to click "GET MUSIC" "Record". Next, click the red "Record" button. After this, you can play any music you want to listen on Google Play Music and it will be recorded by the audio recorder automatically.
Step 3:

Get Google Play music information

So after you have finished recording your music, you can go to the audio recorder's "LIBRARY" to play the music by double-clicking it. You will also be able to get information about the song you have recorded. To do so, just right click the music and select "Identify".
Step 4:

Transfer downloaded Google Play music to Computer

If you want to transfer these downloaded google play music to computer to play offline , you could fist select the wanted music in library, then click the export icon on the top right corner of the interface, following that, click "export to my computer "
Tips: Learn how to transfer Google play music to android at here.
The songs on iTunes can be synchronized with Google Play Music for free. This way you can have access to your music library every time and anywhere. Again, you can store up to 50,000 songs in the Google Play Music Library for instant access. Using Music manager, you can upload songs from your computer onto Google Play. With Google Play Music, you will be able to keep your music files in any order you like and can delete or add to your collection of songs. There is a limit of 1000 songs that you can add to your custom playlists.
1. Share Music
Do you want to share your wanted google play music to your friends? If so, you don't have to search the whole internet for that song. You can just share the song via the built-in share functionality.
2. Open Offline Mode
One of the highlights of the Google Play Music is that it could save playlists for later use. Which is especially helpful when you are in an area of spotty connection or you have a cap on your cellular data plan. Open a station of your choice and tap on the download button, check the following Play icon position.
3. Clear Recommendation History
Trboubled by the un-classy songs that are popping up on the feed? Try the clear recommendation button in the settings. As it's name suggests, it will clear up all the songs in the feed and will begin to build the musical journey based on your taste, from scratch.
4. Choose the Stream Quality
Have a cap on cellular data? Don't worry, Google Play music have covered your needs. You can select the type of streaming quality over the mobile network. The default is Normal, although you can change it to Always High to have the ultimate music experience — it could provide you an unlimited data plan.
5. Deauthorise Devices
As known to all, Google Play Music app lets you have the same account on a number of devices. The better thing is that you can kick out any device when you aren't using it. Head over to the browser version of Play Music and scroll down to My devices.