How do you download music from SoundCloud to you computer?
SoundCloud is one of the greatest online audio and video platform. With the different music SoundCloud collection, you may be wondering how to download the SoundCloud music to your computer. You may try downloading them directly on your web browser but it may be slow or a times the download could be interrupted when your Internet signal is not strong. To do away with that, you need to look for the fastest and best way to download SoundCloud music. The best and easiest way to download Music from SoundCloud to Mac or PC is by using a SoundCloud downloader known as iMusic.
As mentioned above, the best way to download music from SoundCloud to Mac and Windows is by using iMusic software. iMusic software allows you to search, stream and download music from more that 3,000 sharing sites such as SoundCloud, Pandora, Spotify, Vimeo, Korean Show, YouTube, Radio stations and much more. Looking at iMusic download we can affirm it is the best SoundCloud downloader and recorder due to its super fast download speed. Also, Music software can be downloaded on both Mac and Windows.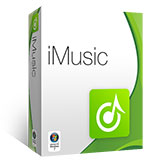 iMusic - Best SoundCloud Music Downloader to Mac/PC
Download videos from 3000 sites including SoundCloud and also download MP3 videos directly to your computer.
iMusic has a well designed music library that allows you discover music, search music on the 3000 supported websites and download them.
Under Discover feature the songs are well categorized according to genres, artist, scenes, moods and top list.
It has an inbuilt media player that lets you play, organize and manage your playlist.
iMusic allows you to browse and record music online and the ID3 tags will be added to the recordings immediately.
It can backup your iTunes, rebuild your iTunes and restore your iTunes library.
iMusic can fix your iTunes library by cleaning up iTunes Library, fixing mislabeled songs, delete duplicates, add covers and eliminates duplicate music.
Step-by-step Guide to Download SoundCloud Music to Mac or PC in iMusic:
iMusic software is a user friendly software that allows you to download music online in different ways. Now let us focus on how you can download SoundCloud Music to your computer with iMusic. The steps are similar on PC and Mac.
Step 1. Launch the iMusic. When the program opens, click on "GET MUSIC" button and then click on "Download" button.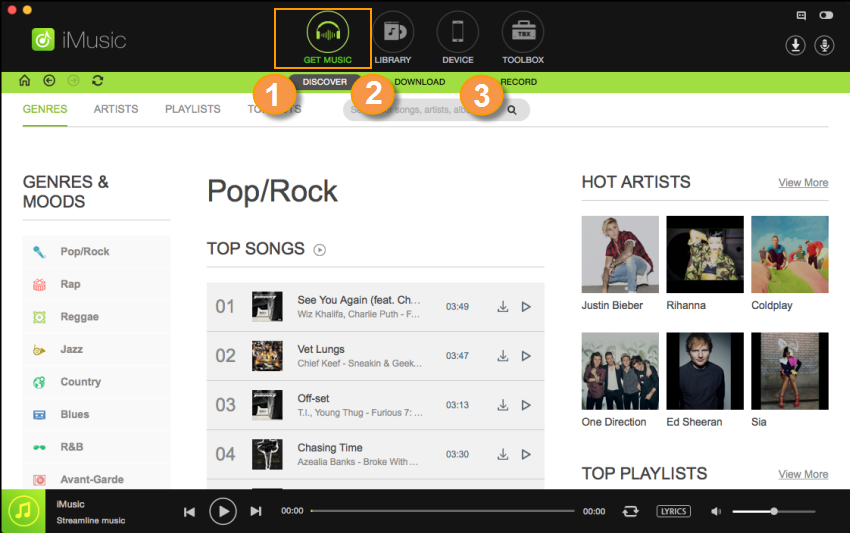 Step 2. From there, you can the paste the URL of the song from the SoundCloud on your browser. Alternatively, you can also get music by entering the keywords of the song on the search box after clicking on "SoundCloud".
Step 3. After pasting the URL on the search box or entering the keywords, you can select the file format of the music that you want download. Click on "MP4" and then click on "Download" button. iMusic will then download the selected music from SoundCloud immediately. The downloaded music will then be available on iTunes Library. And you can also enjoy it on your Mac/PC as you want.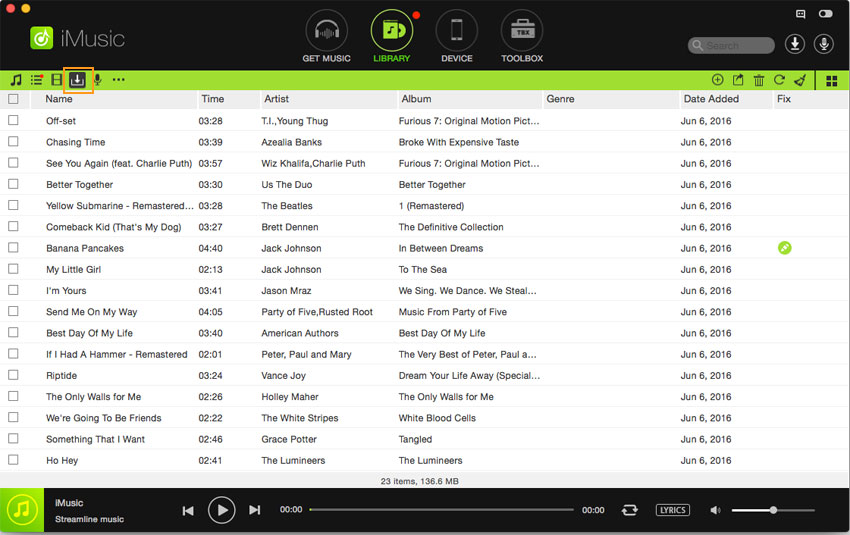 Except using iMusic to download music from SounCloud to Mac or PC computer, here is another direct way to download Music from SoundCloud to PC , check the following steps :
Step 1: Go to your computer's browser to open SoundCloud site. In the search bar, input the songs or artists' name.
Step 2: Click the name of the song you want to download, then song's page will open, Pls noticed that if clicking the song's soundwave , the song's page won't open. After that, copy the URL in the address bar at the top of your browser's window.
Step 3: Now go to the SoundCloud to MP3 site. Paste the URL link you just copied , and click download button on the right side.
That's it , since the SouncCloud to MP3 site is not stable sometime, we still suggest you to use iMusic to download music from SoundCloud to you computer, it is safe , stable and have free trial to cover your needs .