Want to transfer video to iPad? There are several ways that you can go about doing this — each of which are a bit unique in their own ways. We're going to be introducing you to 4 of those 'methods' today. In hopes of encompassing all the little tips and tricks that you might want to know about if you want a different transfer experience from what the regular iTunes software allows — which can be pretty stressful for beginners.
Just like most iOS devices, the iPad is a bit picky when it comes to the video formats that it uses. Fortunately, however, it's not as limited as it could be. You do get some flexibility. Especially when it comes to more common formats. If one were to list all the different video formats accepted iPad. The list would comprise of the following:
MP4
MEPG-4
MOV
M4V
H.264
M-JPEG
Now that you know what types of files can be transferred to your iPad. Let's discuss the actual method of transferring said videos to your device! To start, we're going to be introducing you to a transfer tool called iMusic. With iMusic, you can quickly and easily copy videos to your iPad (without actually using the iTunes software.) There are two methods of doing this through iMusic. The manual way (where you drag-n-drop files onto your Device's library) and the automatic method (which we will be demonstrating below.)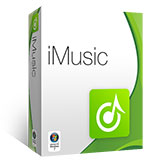 iMusic - Best iPad Tranfer Tool to Copy Video to iPad with One Click
Video transfer capabilities that will allow you to transfer video to iPad, to another device, to a PC, etc. automatically.
A Device Library Management view is also available with an "Add" feature if all you want to drop a video file directly from your PC.
Outside of transfer features, you can enjoy the fact that iMusic has a 'Download' feature that you can use to download videos from the internet (over 3000+ sources accepted.)
Also, if you're sensitive about potentially losing your videos. You can use iMusic's backup feature to make sure that you always have a secure backup file that you can restore at a later date (should any complications arise.)
Finally, as you will no doubt see in the tutorial below, iMusic is highly intuitive. Its functions are all fairly self-explanatory and manageable even for beginners.
Guide to Transfer Video to iPad without iTunes
Step 1

— Transfer Video to iPad!

To start copying your video to your iPad, make sure that you have iMusic launched and that you have your device connected to your PC.
Step 2

— The Device Tab

Then, move to the DEVICE tab (which you can select from the menu at the top of the interface.)

On the DEVICE tab, you'll be prompted to connect your device - if you aren't already. Do so, and you should be able to see the options we have featured in the screen capture below. The option that you need to choose in order to move videos to your device is the Transfer iTunes Music to Device option.
Step 3

— Transfer Video!

A secondary window should appear where you can select what you want to transfer (1) and a Transfer button that you will need to click so that iMusic can automatically begin copying the videos you have saved on your PC's iTunes library to your iPad!

Note: Remember, if you don't want to use iTunes period. You can use the manual device library management feature that will allow you to drop videos directly to your library!
Next, we're going to be downsizing a bit by demonstrating how you can send videos through email so that you can send it to your iPad! This is a completely FREE video transfer option that you can use if you're not planning to move anything too big. If the file is large, then you might not be able to use this method as described (as good has limitations on how big attachments can be — and will prompt you to use google drive instead.)
Steps to Transfer Video to iPad without iTunes For Free
Step 1

— Prepare Video!

The first thing that you need to do is make sure that your video is all prepped — in a format that is compatible (see list above) and in a folder/location that you can easily discover later on.
Step 2

— Attach Video to Send to iPad

Next, go to your favored email composer, and select the Attachments icon (circled in the image below.)
You'll be prompted to select the video that you want to transfer. Do so, and then click Open to upload the video to your email!
Step 3

— Send it To Yourself!

When composing your email, make sure that you have your email on the recipient's box. If not your email, then any email that you have connected to your iPad (so that you'll be able to receive it on there easily!)
Step 4

— Tap to Download!

Now, on your iPad, you can receive the video on your iPad by going to your inbox (if you send it to yourself.) All you have to do to save it to your PC is tap it!
For this next portion, we're going to be demonstrating how you can use the Mac version of iMusic in order to transfer video to your iPad on your Mac computer! There's not much of a difference between this method and the windows method. However, you might notice a couple of changes in the interface (just some slight ones to better suit the Mac OS system.
Steps to Transfer Video to iPad from Mac
Step 1

— Transfer Music from iTunes to Device

Again, much like before, we're going to be using the "Transfer Music from iTunes to Device" option under the DEVICE tab. This part doesn't change much between the Windows and Mac version!
Step 2

— Transfer!

This is really when the design changes quite a bit. However, just like before. You just need to make sure that the movies option is selected. Then, you can press the Transfer button to allow iMusic to automatically begin moving your movies to your iPad!
For the last method that we're going to be introducing, we have the AnyTrans software. You might already be aware of it, you might not. It's one of the most popular transfer software out there — on par with iMusic itself. Although, it is limited in a certain sense. What those limitations are, we'll be going through in more detail as we breakdown the transfer process with this tool!
Steps to Transfer Videos to iPad from Windows PC
Step 1

— Add Content

To move videos with AnyTrans, you need to use the Add Content option (which is highlighted in the image below.) Of course, for this, it is recommended that you already have your iPad connected to your PC!
Step 2

— Select Video!

Next, is the first setback. You'll be asked to choose what you want to transfer (which is kind of limiting in that you might want to make it so that all that you want to move are in the same folder.) In any case, once you've found and selected the video you want to copy . Click Open in order to move forward.
Step 3

— Videos

You do have a chance to confirm which of the files that you selected that you want to actually transfer. For this, just make sure that the Videos category (1) is selected.Then press the right-facing arrow (2) in order to move onto the next step!
Step 4

— Transfer Process!

The Transfer process should start immediately. You'll get a progress message (like the one shown below) so that you know how far along your transfer is.
Conclusion:If you're looking to transfer videos to your iPad, then we highly recommend the methods that we've introduced today! iMusic, most especially, is great for Mac/Windows users that just want a quick and easy way of getting their videos to their devices — no fuss or muss. Just simplicity at its finest! Try it out yourself, a free trial is available so that you can experience the interface first-hand.