If you want to transfer files to iPad, whatever those files might be, it might be a little difficult to find a method of doing so that will work for you. Down below, we've compiled some of the more helpful methods available online for moving large files to your iPad, easily and quickly. Starting with a third-party program that you might not have heard before, followed with a quick demo on how you can use the iTunes automatic sync features, and then ending it with a list of 5 other programs that you can use to send files to your iPad device!
As mentioned, we're going to be starting this with our third-party recommendation, which just so happens to be the iMusic transfer tool. This program is not only compatible with iPads, but other iOS/Android devices as well! Allowing you to easily and quickly transfer files of all types from your PC to your iPad (be it music, podcasts, photos, TV shows, movies, etc.) A FREE trial is available if you want to follow along with our tutorial or discover some of its other features — which include the following: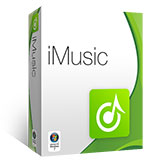 iMusic - Best iPad File Transfer Tool to Transfer Files to iPad with One Click
Automatic Sync Feature for transferring files from your iTunes library to your iPad.
You can also use the Device Library Management feature for manually moving files to your iPad (by using the intuitive drag-n-drop method.)
iTunes library management is also available — easily add/remove, edit ID3 tags, delete duplicates, manual transfer files, create/delete playlists, etc.
Get new Music/Videos by using iMusic to download songs and videos from various compatible websites (popular websites include SoundCloud and YouTube.)
Backup your iTunes library, restore your iTunes library, rebuild your iTunes library, Burn Music to CD, Automatically Transfer Songs to USB, etc. are other things that you can do using iMusic's special tools under "Toolbox."
How to Transfer Files to iPad by iMusic
Step 1

— iMusic Interface

When you first launch the iMusic program, you'll notice pretty quickly that there are four main tabs at the top of the interface (encased in circles.) Each tab represents one of iMusic's main features.
Step 2

— DEVICE

The tab that we're going to explore today is the DEVICE tab. On the DEVICE tab, after connecting your iPad, you can select the Transfer iTunes Music to Device option. Doing so will allow you to move forward!
Step 3

— Transfer!

You can choose how much you want to transfer from your iTunes Library to your iPad in the next screen. The basic choice, of course, is to select the Entire Library option (which will transfer all the items on your iTunes library to your iPad!

Once you've selected what you want to download, all you have to do next is click the Transfer button!
Next up, we're going to be teaching you how to use the iTunes software in order to transfer files from PC to iPad using a USB cable. For this, we opted to demonstrate the regular iTunes method of transferring files. Which requires that you have your device connected to your PC already! Unlike with Android phones, the only thing you can transfer to your iPad directly from a USB (without iTunes) are photos, so we're going to be demonstrating how you can transfer music with iTunes instead for this tutorial!
Steps to Transfer Files from PC to iPad using USB
Step 1

— iPad Settings

In order to start transferring music/movies/photos/etc. with iTunes, you'll need to change the iPad Sync Settings. Which you can do by clicking the iPad icon at the top of the interface (highlighted in the image below.)
Step 2

— Sync Music

Next, as mentioned, you can do this for a bunch of different types of media, but the one that we're going to be demonstrating is Music. So, go to the Music tab (select it under "Settings" on the left-hand sidebar.)

Under the music tab, you need to turn on the Sync Music option so that iTunes will automatically sync your music every time you connect your device to your PC!
A quick note, if you receive the following message (shown below), that means that there are songs on your iPad that are not Apple Music purchased. The only way you'll be able to sync your music from this point forward, is if you agree to delete those non-Apple Music songs.
Click Remove and Sync to agree to remove the non-compatible music from your library.
Step 3

— Apply

Lastly, click the Apply button to save your changes! Again, we only showed the Music sync options for this, but the same practice can be applied to other types of files (Movies, TV shows, Podcasts, Photos, Audiobooks, etc.)

Now, iTunes should automatically sync your iTunes music to your iPad!
For this last portion, we're going to be introducing you to 5 different softwares that you can use to transfer files to your iPad — without having to use iTunes! A lot of these will be similar to iMusic (the program that we first recommended), if only because all of these will be third-party programs that are created specifically for transferring data. Be it music, videos, photos, contact info., etc.
URL: https://drfone.wondershare.com/ios-transfer.html
Price: (Personal License) $39.95
Platform: Mac & Windows
Our first recommended transfer software is Dr.fone. It's highly intuitive, and it offers an incredibly sleek-looking interface that you can use easily for transferring music, videos, photos, contact info., apps, etc. It's not as detail oriented as iMusic, but there is no denying that it is very rich in features — although it is lacking a couple of basic features offered by other programs we've listed below it.
Pros:
Highly Intuitive program that is easy to use, with an interface that is perfect for beginners or inexperienced PC-Users.
Full Backup/Restore option is available for all your files, allowing you to enjoy security in the safety of your precious content!
Automatically Transfer iTunes library content to your iPad (iOS device) — very similar to what we demonstrated with the iMusic transfer software.
Cons:
For a transfer software, it is quite expensive. The personal license is at $39.95 and it only gets higher from there — if you want to be able to use it for more computers, or for your business then you might end up paying up to $59.50 -$399.90.

It should also be said that this is not a one-time purchase deal. Dr.fone licenses only exist in one-year forms. So, you'll need to constantly renew your license (which means paying $39.95-$399.00 per year.)

Unlike some of the other programs we've recommended thus far, Dr.fone doesn't have a Download/Record Feature.

It also exists in two different versions (for iOS/Android), so you'll need to download both separately if you own a mix of Android/iOS devices.
URL: https://toolbox.iskysoft.us
Price: $39.95
Platform: Windows and Mac
In terms of features, Toolbox is actually very similar to the first item on this list (which is something you can probably guess from the interface — as is shown in the screen capture below.) If you're looking for a program that you can use strictly just for transferring data, then this one might work for you. Much like with Dr.fone, it can transfer music, videos, photos, contact information, and apps! It also has an explorer feature that you can use for managing your data.
Pros:
It offers a lot of what you're going to need if you want to constantly transfer files to your iPad (or other iOS devices.)
The support for this software also includes a lot of the iOS generations — so you can rest comfortably in the fact that your device will probably work with no problem.
Lastly, it uses a lot of the same aspects and characteristics that make the other programs above it so intuitive — making it quite beginner-friendly.
Cons:
The main catch with this program is that it doesn't come with any other features outside of the transfer features that we mentioned in the description.
If you want to be able to backup/restore data, repair or recover your library, etc. you'll need to purchase the other 'extra' programs separately.
The price for the all-encompassing program (all features included) rounds up to $99.99.
Again, much like with Dr.fone, this only exists in 1-Year licenses, so you'll need to pay $99.99 every single year.
URL: https://www.iskysoft.com/
Price: $49.95
Platform: Windows and Mac
iTransfer comes from the same makers of the Toolbox - Transfer (which we introduced just now.) It's definitely not as updated or as rich in features as the Toolbox program, but it does provide the basics — allowing you to transfer different types of media/files to your iPad (or any other iOS devices.) As an added bonus, it does come with a toolbox with extra features (which you don't get with Toolbox -Transfer.)
Pros:
It uses the same intuitive interface that transfer tools make use of when it comes to designing their transfer interface.
Unlike the program before it, it does offer more than just transfer tools (with its Toolbox feature) that you can use if you want to manage your iTunes/Device library.
It's also the first program on this list to offer a one-time payment deal. Which means, that you won't have to repeatedly purchase based on a subscription agreement.
Cons:
Despite the fact that an unlimited license is available, it is still fairly expensive.
The cost of your unlimited license differs depending on how many PCs you plan to use — for (1) PC you get $59.95 whilst you'll need to pay $159.95 for more (2-5 to be exact.)
iTransfer is not as advanced as the other programs that we've recommended on this list.
For one, it won't allow you to directly download/record songs or videos (like iMusic) or even to manage your iTunes library.
URL: https://tunesgo.wondershare.net/
Price: $39.95
Platform: Windows and Mac
If we were to compare TunesGo to any of the programs that we've already discussed, then it would have to be our number 2 (Toolbox.) The only reason why it's a bit lower on the list is because of the fact that it doesn't really do much in terms of advancing what's already there (it just does a lot of the same things offered by the other programs. Of course, that doesn't mean that it is bad. It's just not necessarily up to par with the rest.
Pros:
Much like with the other programs, you can enjoy a highly intuitive interface with TunesGo. So, you won't have to worry about learning anything too complicated.
It will move files to your iPad fairly easily — be it music, photos, videos, contact information, etc.
Extra options and tools are offered in the "Toolbox" tab if you want to use this program for other reasons.
Cons:
Much like with the rest of the programs on this list, this is primarily a 1-year license program — which means that you'll have to pay yearly (price mentioned up above.)
If you do want to purchase the unlimited version of this program, then you'll need to pay quite a bit more (depending on what version you're purchasing and for how many computers you're buying it for.
Another thing is, you can purchase it separately for iOS or Android (which might seem like a pro), but you'll need to pay more if you want to get it for both.
It doesn't quite match up in terms of features (especially with our most recommended program — iMusic.)
Price: $29.99
Platform: Windows and Mac
Syncios is a name that gets thrown around when it comes to transfer tools to remember. This is primarily because it manages to pack a lot of extra features in a very cheap form. Of course, that does mean that it sacrifices quite a bit when it comes to design (interface-wise) and upgrades (for preventing bugs and crashes.) However, that doesn't mean that it is not a good product — it's just not as premium as the other programs that we've mentioned thus far.
Pros:
Offers a lot of great features — including video downloading options that will allow you to download videos/music from other sources.
This can also be used for backing up and restoring your iTunes account (so it doubles as both as a data restoration and data transfer program.)
This can also be used to manage data prior to transfer — which is great if you want to choose what files you want to keep or throw out.
Cons:
Even though it is the cheapest option, it's not much cheaper than the other programs.
The interface that it offers, whilst not exactly ancient, definitely cannot compare to the other programs mentioned thus far.
Despite the fact that it offers a lot of features, there are reviews/reports from users that certain features don't work as well as the more basic transfer options.
Certain options are treated more as 'backups' so it can be a bit difficult to find how to do certain tasks — especially for beginners.
Conclusion: That's it for our recommended helpful methods for transferring files to an iPad! If you have an iPad of your own, then you're probably anxious to fill it up as soon as possible! It's very convenient after all, able to double almost like a second computer (especially the newer and more upgraded versions.) As for our recommendation on what program you should try, we suggest that you check out iMusic first. Undeniably, it is the most helpful transfer solution available in the market right now!