Want to listen to some tunes on your iPad when you're working? Multitasking with iPad (especially the newer generations) is pretty sweet. All you need to do is download music to your iPad. How do you do that? Well, continue reading below! We're going to be teaching you how to download songs on iPad without iTunes, on your iPad, and introducing you to a couple of other programs that you might want to know about if you're looking to learn about something specific.
For the first program on our recommended solutions for downloading music on iPad, we have the iMusic program. This is primarily known for its 'transfer' features, but it also makes for a great video/song downloader. We're going to be showing you both aspects below. By teaching you how to download music to your iTunes library, and then automatically syncing that iTunes library to your iPad! This is all in one program too. A program that can, if used properly, be used for the following: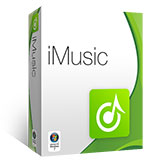 iMusic - Easily Download Music on iPad for Free Without iTunes
Downloading Music/Videos from thousands of reputable websites. Be it a primarily video streaming websites like YouTube or an Audio streaming website like SoundCloud.
It can also be used for transferring data to your device. Be it an iOS device like an iPad, iPod, iPhone, etc. or even an Android device.
If you already have songs on an older iPad (or another device in general), you can copy those songs with iMusic to your new iPad.
Outside of the Downloading features, you can also use iMusic for browsing and recording media to download to your device.
Back up all your data, restore data from backups, rebuild entire libraries, etc.
Steps to Download Music on iPad for Free without iTunes by iMusic
Step 1

— Get Music

As mentioned, we're going to be starting this tutorial by teaching you how to download songs with iMusic. Which is pretty easy to do. Just get on the "Get Music" tab and then select the Download option (2) below it.

Note: There are Discover and Record features as well. Discover for browsing websites for media to download and Record for recording the audio output of your computer!
Step 2

— Download with iMusic!

You'll be asked to paste a link when you click the Download option. Paste the link of the song you want to download (or use the browse feature to browse 3000+ compatible websites for the music you want to download.)

Either way, play the audio you want to download and then click the Download icon (1.) A small little toolbar should appear. On there, select MP3 (2) and then click the Download button (3.)
Step 3

— iTunes Library

When your file finishes downloading, it is immediately transferred to your iTunes library (which you can view and manage on the ITUNES LIBRARY tab of iMusic.
Step 4

— DEVICE

Now, if you want to transfer this downloaded song to your iPad, then you need to get to the DEVICE tab (1.) At this point, you should have your iPad connected to your computer as well (so that you will be able to see the following options.)

Once you're all plugged and ready to go, click the "Transfer iTunes Music to Device" option (2) and a second window should appear on your screen!
Step 5

— Transfer

On this second window, you can select what you want to transfer, but all you really have to do to move the downloaded songs to your iPad is click the Transfer button at the bottom right-hand corner of the screen.
Now that we've shown you a method of downloading songs on your iPad with a third-party program, let's discuss the normal way that most people do it. That is, by using the iTunes app on their actual iPad! This is actually pretty simple to do. However, it will involve either paying for individual tracks or paying for an entire album (as we'll be showing you in the tutorial below.)
Steps to Download Songs in iPad with iTunes
Step 1

— Music

On the iTunes tab on your iPad. Make sure that you are under 'Music.' On here, you can browse for in multiple ways. Either you search the tags using the search bar at the top right corner of the screen or you just pick out something from iTunes' new music/featured list.

Either way, once you find the music you want to download click it in order to view its details!
Step 2

— Pay!

When you click a certain album or single, you'll get something like this (shown in the image below.) This has all the details you need about said tracks/album. You can choose to purchase either the entire album (1) or an individual track (2.)

Click the track/album that you want to download, and then you should be led to the payment confirmation page. For this, it will be helpful if you already have an iTunes account and a solid payment method set-up. If not, you might have to go through certain hoops to validate your account — and have to re-do steps 1 and 2.
Now that we've discussed the two methods above, you probably have a better idea at what it is like to download music to an iPad! So, we're going to introduce you to another 5 programs that you might want to know about. A lot of these, much like iMusic, are third-party transfer softwares. That just happen to be able to allow you to copy music directly from your computer to your iPad!
Price: $29.99
Platform: Windows and Mac
Syncios is actually the closes to iMusic in this case. At least, in that, it can be used to directly download music to your PC and then transfer it to your iPad! A rare feature that not all iTunes transfer apps have. It's not quite as sleek or premium in design, but if you don't mind that all that much, then you should be able to download music from compatible websites and then use its transfer features to move it to your iPad (just like what we demonstrated with iMusic.)
Pros:
Video Download feature is available for downloading songs/for compatible websites.
Can be used to automatically transfer downloaded music to your iPad (the process is very similar to what we already demonstrated with iMusic.)
Has a lot of extra tools and functions that simplify the process of device data management. Which you might need if you're storing lots of data on your iPad.
Cons:
It lacks the premium feel that some of the programs that we recommended below it have.
There have also been complaints about the fact that some of its tools don't work as well as advertised.
As a one-time purchase product, you also don't get the same level of support that you would if you were using a more premium software.
URL: https://www.easeus.com/phone-transfer/mobimover-free.html
Price: $49.99
Platform: Mac & Windows
MobiMover is a great transfer program for those who also want to enjoy the benefits of being able to download videos for their device. There are not many other that offer this feature, but MobiMover offers it mainly for FREE. With this program, you can transfer between: PC to iDevice, iDevice to Pc, and then iDevice to iDevice without too much difficulty – the process is practically 1-Click and Done, which is something they advertise for many of their users. However, if you want to have access to support for this program, as well as some of its more premium features, you will need to download and purchase the Pro version for MobiMover. So, keep that in mind when you're picking out the transfer software for you!
Pros:
MobiMover can be used for directly copying songs to your iPad.
It's known as a very feature-rich program. Allowing you to do a lot in just one single package.
It also offers a highly intuitive and sleek interface that makes it very easy to use (even for beginners.)
Cons:
The main con is the fact that its primarily a transfer software.
Another thing is, because of its premium features, it's a bit expensive.
It also won't offer much in terms of other features. Just the transfer and download feature – which you don't always get in other programs. However, it also doesn't have the backup and restore options that people enjoy when looking for a good data transfer to use.
URL: https://www.imobie.com/anytrans/index-new.html
Price: $39.99
Platform: Windows and Mac
AnyTrans is a program we'd more closely relate to Syncios and iMusic. In the end, it's mainly meant to be used as a transfer tool. However, if you activate its premium version, you get extra tools for managing your data: device management, air backup management, media downloading (for downloading music for your device), iCloud management, IOS mover, and so much more. It's definitely not a program that you can scoff at. It's very nicely designed and easy to use. Hence, why it deserves its own little spot on this list.
Pros:
Great for transferring downloaded songs to your iPad (or other iOS devices.)
Outside of just music, this can also be used for copying and moving other types of content — be it photos, videos, etc.
You can also use this transfer tool for organizing your media library.
Cons:
It won't allow you to download from other sources — it's primarily just a transfer software.
Because of the premium interface, it's also a bit more expensive than some of the available alternatives in the market.
Add that to the fact that the aforementioned price is meant to be paid once per year, and you will have to make quite a long-term commitment to continue using this.
URL: https://www.winxdvd.com/mediatrans/index.html
Price: $29.95
Platform: Windows
MediaTrans is our first non-downloading software. So, it won't be able to download songs for you. However, it can be used for transferring songs, movies, photos, and audiobooks for your computer. Although, these extra features do bump up the price a bit. Now, as for its features, it has a lot of the same functionality as the last two programs on this list — it is, primarily, a transfer tool but it will allow you to manage your iTunes library as well. By removing DRM, transferring data directly to a flash drive, managing data library, etc. The important part is that you can use this to transfer downloaded songs to your iPad (compatible with iPad Air, iPad Mini, and iPad Pro.)
Pros:
Media Trans is an incredibly efficient transfer software.
It will allow you to transfer a variety of different media content be it your photos, videos, or audiobooks.
It also offers a couple of extra features that will allow you to make sure that your data always stays safe and secure.
Cons:
Again, the price mentioned above is not a one-time payment deal (you will need to purchase the license for this program every year in order to use all its premium features.
You'll also have to live with the fact that you can't use this program to directly download your songs — they'll have to be sourced elsewhere.
If you have an Android device that you want to use this for, it will not work as this is an iOS-only software. It also isn't currently available on MacOS computers.
URL: https://tunesgo.wondershare.net/
Price: $39.95
Platform: Windows and Mac
TunesGo, our last program is another transfer software that is primarily used for moving data from your PC to your device. It does offer a couple of extra features as well. A lot of which is stuff that you get from the other programs that we've recommended above it (hence the fact that it is a slightly lower ranking.)
Pros:
Able to quickly and easily transfer all sorts of data to your iPad (including audio files of various formats.)
Can be used to manage media library — for music, videos, photos, apps, etc.
Toolbox tab offered for various backup and restore tools.
Cons:
It doesn't really do anything different from all the other programs we've discussed so far.
Add to that the fact that it is actually very pricey, and you get a bit of a mixed bag.
It also cannot be used to directly download songs from other sources (mainly just copying already downloaded files to your devices or PC.)
Conclusion: That's all we have in terms of methods and solutions that you can use in order to download songs to your iPad! Feel free to check out all of these programs, you're sure to not to regret regret. Most especially, however, we urge that you try out the iMusic download/transfer software. It is, without a doubt, the best of both worlds — not many programs will allow you to download songs from great websites like YouTube/SoundCloud and then quickly transfer it to your iPad all at once!