Want to listen to music on your iPad while you're working? Then, you're probably looking for a workaround that will allow you to easily transfer music to iPads! We have a couple of suggestions for you — seven to be exact. Any of these should work for this purpose. However, by the end of this, we're sure that you'll be able to find one that you can use for your music transfer needs! Although, if you're still hung up by the end, we have a recommendation prepared for you. So, make sure to read till the very end!
For our first transfer method, we're going to be using iMusic. This is a non-traditional way of doing things, but we consider it one of the best - if not the best methods of transferring music to your iPad. It's easy to use, and yet it somehow manages to have a host of different options and functionalities that you'd think wouldn't be able to fit in such an intuitive software. Some of these options including the following: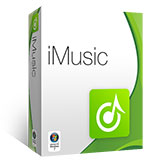 iMusic -Move Music from Mac to iPad with Original Quality
Automatic music transfer that will allow you to copy music from your iPad and transfer it to your Mac computer and vice versa (which is what we're going to be demonstrating in the tutorial below.)
A device library management feature that will allow you to control what goes in and out of your device - as well as make any changes to tags, and the like.
When demonstrating how to transfer music from Mac to iPad, this is available for Windows as well.
A video/music downloading feature that will allow you to download music from different websites (media will immediately be transferred to your iTunes — and can be transferred to your iPad.)
Great backup and restore features that will allow you to make sure that you always have a backup of your current state on your PC.
Tutorial to Transfer Music to iPad from Mac by iMusic
Step 1

— Install iMusic!

On your Mac computer, you need to connect your iPad and make sure that you have the iMusic software installed.
Step 2

— Transfer Music to iPad!

Once you've done that, you should be able to select the DEVICE icon from the menu at the very top of the interface. Doing so will move you to the device management area. Where, on the main page, you have a bunch of different options.

Of course, for transferring music to our iPad, the option that we need to choose is the Transfer Music from iTunes to Device option!
Step 3

— Transfer!

On the next window that pops up (shown below), you need to make sure that you have Music selected in the list of categories available. Although, as long as you have the Entire Library option selected, everything in the iTunes library of your PC should be transferred to your iPad no matter what.

All you have to do is click the Transfer button to start the actual transfer - iMusic will do the rest from there and will inform you when the transfer is done!
For this next portion, we're going to be teaching you how to transfer music to your iPad using the wireless sync option that iTunes offers. For this, you won't need to connect your iPad to your computer. All that's required is that you mess around a little with the sync settings on the iTunes software on your computer — which is what we're going to be demonstrating for you down below! Of course, there are other options that will allow you to do practically the same thing, but we decided to keep things simple here by making sure that you can move music to your computer easily!
Steps to Transfer Music to iPad Wirelessly
Step 1

— Change Wi-Fi-Sync Options

First things first, you need to edit the sync options of your iDevice. Which you can do under the overall Summary of settings (1.) On that page, if you scroll down a little, you should be able to find and activate the Sync with this iPad over Wi-Fi option (2.)

Once you've turned this option on, click Apply (3) to save your changes!
Step 2

— Sync Music

Now that we're sure that we can sync music whenever our iPad is connected to our PC through the same Wi-Fi connection, we just need to change the Sync Music options, which you can do under the Music settings.

To change your Sync options to allow the automatic transfer of music to your iPad from here, just make sure that the Sync Music option is ticked on.
If this message appears on your screen, that means that there is non-supported music on your iPad — music that iTunes requires that you delete in order to copy new data properly. If you're okay with this possible deletion, click the Remove and Sync option. If not, then we recommend using one of the other options we recommended.
Step 3

— Save Settings!

Again, make sure that you save your changed settings by clicking the Apply button. After this, you should now be able to automatically sync music from your PC to your iPad as long as you are connected to the same Wi-Fi connection.
For this last portion. We're going to be introducing the next couple of iPad Transfer tools more quickly. In a list form that should tell you all that you really need to know about the programs in question! Of course, these are going to be closer to iMusic than iTunes — as they're all third-party transfer programs. So, we're going to be using iMusic as our point of comparison in this compilation! See how it compares as we go through this entire list.
URL: https://drfone.wondershare.com/ios-transfer.html
Price: (Personal License) $39.95
Platform: Mac & Windows
For the first iPad Transfer program on this list, we have the Dr.Fone transfer software. Dr.Fone has a bunch of different programs available for sale (each with a different purpose.) Their transfer software, of course, was made for transfers. Although they do have their most premium product (which has all their other media tools along with their transfer options.) We're only going to be talking about their transfer program today. Which, as far as actual transfer features go, is pretty similar to iMusic — at least in that it will allow you to automatically transfer music from and to your iPad (and any other iDevice — although they do have a version available for Android as well.)
Pros:
The Transfer features of this program are premium. Which is to be expected from the price of the program itself (and the fact that it's pretty much the same as iMusic in terms of automatic music transfers.)
You also get the same sleek interface that is featured in a lot of our favorite music transfer tools.
Plus, as a premium product, you can expect that all of your new iOS products are compatible and can be transferred to.
Cons:
The main con of a premium program like this one is that it is very expensive.
In order to use just this transfer program (not the actual main one with all the different features), you will need to pay the price approximated above — and more if you want to be able to use this for more than one PC.
Also, despite the rather expensive price, this basic program doesn't have as many features as iMusic (its main version comes close — but even then, it's considered a bit lacking.)
iSkysoft Toolbox - Transfer
URL: https://toolbox.iskysoft.us
Price: $39.95
Platform: Mac & Windows
iSkysoft's Toolbox, very similar to the Dr.Fone - Transfer that we just introduced, is actually a larger program with more than just your average transfer tools. However, we're only going to be looking at its cheaper counterpart. Which only, has transfer and management features that will allow you to move media to iTunes, to your device, etc. You can also be very specific about what type of media you want to transfer or move, depending on what you need, by exploring the available menus (Music, Video, Photos, etc.)
Pros:
Much like Dr.Fone, this does come in a bigger and much larger program with more features.
As for its transfer features, however, you get pretty much the same thing that you see in Dr.Fone (with transfer to and from your device.)
It also uses the same user-friendly interface that we see very commonly in premium transfer programs such as this.
Cons:
Although it is available in a bigger program — that version is also more expensive.
For that matter, the price that is mentioned above is for the one-year licensed use of the iSkysoft Toolbox.
So, you will need to pay that amount at least once a year — which makes it one of the most expensive options available.
URL: https://www.easeus.com/phone-transfer/mobimover-free.html
Price: (Professional Version) $49.99
Platform: Mac & Windows
For this next program, MobiMover, we have something that is a little more different. Not just in the interface design – which you can probably recognize from just the screen capture alone, but also with its actual features. Don't get confused though, despite the name, this works for more than just 'moving movies.' In fact, it offers a lot of the same flexibility that you see in the first two programs that we mentioned – allowing you to use this in order to not only transfer music to your iPad but movies, apps, photos, etc. as well.
Pros:
This, even though it doesn't exist in a bigger program, comes with a couple of extra tools and features that make it a little bit more worthwhile as far as pricing goes.
It offers multiple types of transfers. Allowing you to move media to your iPad, from your iPad, and even from one iPad to another iPad!
MobiMover offers a download feature that you can use if you want to be able to download music to transfer to your iPad!
Cons:
It is one of the most expensive programs on this list (although it's not subscription-based, which is a definite plus.)
A note as to its extra features need to be made as well. Because, even with the download features, it doesn't offer quite as much as the other programs (especially iMusic.)
Also, if you ever want to use this for more than just your iPad, then you're out of luck. As this is only compatible for the management and transfer to, from, and between iOS devices.
URL: https://www.imyfone.com/
Price: $39.95
Platform: Windows & Mac
For TunesMate, we have an iOS-specific transfer software that you can use in a very similar way that you can use iSkysoft Transfer. In fact, you can probably see the similarities even from just the screen captures alone — both programs offer the same features. Which includes the transfer and backup functionalities that we mentioned for iSkysoft Transfer from earlier.
Pros:
Simple and Easy to use software that is good for beginners.
Can be used not only for transferring to your iPad but also from your iPad and from one iPad (or IOS device) to another.
You do also get the extra functionalities that you don't get with our number 1 and 2 on this list. Which is a definite plus.
Cons:
As for the cons, it's at the same price range as our number 1 and 2.
It is, once again, something that you have to pay for every year rather than a one-time payment kind of deal.
Unfortunately, as far as features go, it is a bit lacking in comparison to iMusic.
URL: https://www.fonepaw.com/ios-transfer/
Price: $34.95
Platform: Windows & Mac
If you want something that is pretty cheap. Then the one that we'd recommend the most for you is FonePaw. Of course, there is a reason that it is at the lowest spot on our list, but that doesn't mean that it doesn't work. It's just that, as a one-time payment kind of program, you can't expect the amount/level of support that you are sure to get if you choose one of the other programs that we've already discussed.
Pros:
As far as transfer features go, FonePaw does have a pretty big range of options and functionalities that some of the other programs we've mentioned above it don't have.
It can be used very conveniently for moving music for your iPad.
And, it also offers a good array of data management features that can help you control how you store your data on your PC.
Cons:
Unlike the other programs we've mentioned thus far, it doesn't quite support all the iOS devices out there (especially some of the older ones.)
You also have to be careful about the fact that some of the features here are said to be slow and even laggy — which might cause crashes in the firmware.
Lastly, it's not quite on par with the rest. At least, when it comes to the sleekness of the design and interface.
Conclusion: This is our conclusion to the '7 Ways to Transfer Music to iPad' list that we promised you in the beginning. Of course, as part of another thing that we promised, we will be giving our ultimate recommendation in this case. Which just so happens to be iMusic! It's not hard to see why, of course. As you can guess it's actually a lot easier to use than most transfer solutions (including iTunes) and it offers a lot more bang for your buck too.