Looking a quick and easy iPad file manager for your Windows or Mac computer? If so, then boy do we have something for you! Down below, is an entire list of 2019's most popular iPad managers. So, there's no doubt that at least one of these gems will be able to catch your attention and hopefully help you in moving your precious files from your iPad to your PC or Mac computer.
Before we dive into the nitty-gritty details regarding our favorite iPad softwares. Let's discuss what makes them so great. We're sure you probably know quite a lot about this yourself, especially if you've been looking for an iPad file manager for quite a while. But bear with us, and you might be introduced to features that you might not have realized some iPad file manners have! That is, something they should have. Which include the following:
Automatic Transfer Features: Not everyone has the time to manually drag-and-drop files from one place to another. Which is why our most recommended programs are often fully capable of transferring files to your iPad (or PC) automatically — practically in two to three clicks!
Manual Transfer Feature: Of course, that's not to say that the manual way of transferring files is bad. This can be helpful if all you want to do is quickly add or remove files that you don't want — and might be better overall for those who like to micromanage their media libraries.
Library Management Features: Lastly, as a basic requirement. It would be nice if the software also allowed for even the simplest data management. Either by sorting your files, editing tags for your files, adding/removing files, cleaning up duplicates, etc. As these kinds of quick and convenient features can greatly increase efficiency and make for a great intuitive program!
We're going to start off the actual list of recommended programs pretty strongly with a tutorial of our favorite iPad file manager for transferring and managing files on both Windows and Mac PCs. This program goes by the name iMusic, and it's perfect for those who just want something quick, easy, and stress-free. There's nothing about this program that is over complicated or difficult to understand. Everything you need is literally in fingers reach. Not only because of the clean and intuitive design of the interface but also because of the way they incorporated a lot of the important characteristics of a great transfer too and then some.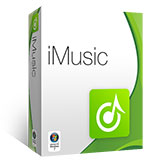 iMusic - Best iPad File Manager to Transfer and Manage iPad File to iTunes
Automatic Transfer Features — which, as we discussed in the list above, is useful for getting your files from one device to another quickly and efficiently.
Manual Transfer Features — which will allow you to micromanage your iPad's library (be it deleting/adding files, cleaning up your entire library, setting up tags, etc.
With iMusic, you also get a bit more than what you expect from your usual transfer software tool in the form of other extra options that you can explore — like those under the "Toolbox" menu.
You can also enjoy a download/record feature that will allow you to grab new content/media from the internet to save to your iPad or your iTunes library.
FREE trial for you to try and experience (especially if you want to learn how to use it by following our tutorial below.)
Guide to Transfer and Manage iPad Files to iTunes by iMusic
Step 1

— Device Menu

As mentioned, iMusic is more than just your average transfer software. However, if that is what you want to use it for, then you can click the DEVICE tab from the available menu at the top of the interface. As you can see from our screen capture this is where you can find iMusic's main transfer features.

Including the "Transfer Music to iTunes" option. Which will allow you to move your iPad files to iTunes.

Note: you can also use the DEVICE menu for managing the files on your iPad (just explore the icons available at the top left-hand corner of the window.)
Step 2

— Start Scanning

Next, iMusic will inform you that it will start by scanning the files on your iPad and your iTunes. This is pretty straightforward. Just click the Start button to allow the scan to proceed as needed.
Step 3

— Copy iPad Files to iTunes

Once the scan is complete — and iMusic has located the file on your iPad that you don't already have on your iTunes library, it will allow you to straight up copy it (and any other file that's not already on your iTunes) just by selecting the Copy to iTunes button!
For this next portion, we're going to be quickly breaking down 5 iPad File managers that you might be interested in if you have a Windows PC. These operate a lot like iMusic — but with minor differences that makes it slightly less or more recommended — depending on the ranking provided. So, if you're not quite sold on our most recommended program, you can go through the following and see if any of these will work for you.
URL: https://drfone.wondershare.com/ios-transfer.html
Price: (Personal License) $39.95
The first program on this list, is Dr.Fone. It's fairly well-known, and one of the most popular data transfer tools available in the market right now. You can probably see the similarities between this and iMusic (based on just the screen capture below), and it is true that they're the closest in terms of quality — hence the high ranking. With this software, you can do all the things that we recommended in the beginning — automatically transfer, manually transfer, and manage your iTunes with extra convenient features (although some of these are only available if you purchase the full and more expensive version of Dr.Fone — rather than just the "Transfer" tool.)
Pros:
The first and primary pros of this program is that it is very easy to use. It has a lot of its features laid out in one window — and even if you purchase the more packed version, it's easy enough to navigate that you shouldn't get lost.
Of course, it's also more than capable of automatically and manually transferring files from iPad to PC.
As an added bonus, it also has management features that you can use for organizing your library (be it photos, music, videos, etc.)
Cons:
The main con of this program is the fact that it is so expensive (price provided above.)
You'll also have to take note of the fact that this is just the 'Transfer' software we're talking about; the price rises significantly if you want to be able to use all of Dr.Fone's features.
Another thing of note is the fact that this is not an unlimited license that they're offering. So, if you want to be able to use this program for the 'long haul,' then you're going to need to consistently pay for this (once a year for the regular subscription.)
URL: https://www.imobie.com/anytrans/index-new.html
Price: $39.99
For our second to the last transfer software for Windows, we have AnyTrans. Which, despite what the name implies, is actually a pretty good iPad file manager! It's very sleek and it offers a lot of premium features (as you can see from the screen capture below.) With this, you can manage your device, your iCloud, your iTunes library, and your backups. Making it one of the best options available in the market as far as managing your data goes!
Pros:
It offers a ton of different managing options that will allow you to micromanage your media and the libraries that you keep your media in!
iTransfer also uses the same intuitive interface that you see in our favorite programs, which is easy to use even for beginners.
As an extra bonus, it also works for backing up, restoring, and rebuilding your library.
Cons:
As mentioned, it doesn't have as many options or tools as the other programs that we introduced before it.
It also is a bit more expensive than the other programs (even more expensive than some of the more high-quality products.)
Finally, if you want to be able to actually use this, you will have to pay. The FREE version is actually fairly limited.
Price: $29.99
When it comes to cheap alternatives, Syncios definitely steals the show. It's not all that much cheaper than the other's we've discussed thus far, but it's enough to make people more secure when it comes to making the decision as to whether this is a good program to try our or not. Which, in our book, is not such a bad perception to have. It might not be as sleek or intuitive as the other programs we've discussed so far, but it does offer a lot of the same features offered by the rest of the software on this list — which is really all you need for managing your iPad files.
Pros:
For one, it can be used for transferring different files — be it music, photos, videos, etc.
It's also not as difficult to use as some of the unnecessary complex systems out there.
Finally, a lot of its features are available for FREE in the trial version.
Cons:
To contrast our pros, we do have the fact that there have been reports that Syncios is not as good as it could have been when it comes to transferring files outside of music.
It's also not as intuitive as iMusic, Dr.Fone, etc. You'll need to browse through this software for quite a while in order to understand all of its intricacies.
And, finally, even though a lot of it is explorable through the FREE version, doesn't mean that all of it is — some features are locked period. So, you won't get to try them out at all until you pay the fee (listed above.)
URL: https://www.winxdvd.com/mediatrans/index.html
Price: $29.95
For our next recommended iPad File Manager, we have WinX MediaTrans. WinX has been around for quite a while, and they manage to consistently make good products. With their Media Trans software, they kept things pretty basic – you can't expect a premium interface with such a cheap product after all. However, it does work for managing your iPad files. Be if your photos, music, videos, audiobooks, etc.
Pros:
Automatically move files (music, videos, photos, contact information, etc.) from your iPad to your Windows 10 PC.
You can also use its device library management features for organizing your media (tabs are available at the top of the window for you to explore.)
Extra Encryption tools for securing your programs – which is not something that is offered by any of the other products we've recommended thus far.
Cons:
Compared to iMusic, or even Dr.Fone (the full version), you won't be getting as much tools or options with this software.
It will allow for the transfer of media from iPad to PC — which is all you might want it for, but it won't do anything more than that.
Of course, as a premium software, you will need to purchase this if you want to have full-access to its features.
URL: https://tunesgo.wondershare.net/
Price: $39.95
For our last recommended iPad File Manager for Windows, we have TunesGo. Much like with the previous program, there's not much about this that we haven't already discussed. It's intuitive, it can be used for transferring media to your device (and vice versa), and it offers management features that will allow you to organize your data prior to and post transfer!
Pros:
This works for the automatic transfer of media to your iOS device (be it photos, music, videos, apps, contact information, etc.)
It also offers backup features that will allow you to save your files on your device as backup (allowing you to be secure in where your data is at.
Lastly, TunesGo offers an extra toolbox of features that you can explore for other options — which includes, primarily, the management of your iTunes library.
Cons:
As a transfer software, it is a bit limited — at least in terms of available advanced transfer tools.
It also doesn't offer as much available tools/features as iMusic does (even though they are roughly the same price)
And finally, you will have to pay in order to be able to use this software (the price above is the yearly cost of the license that they provide with the basic transfer features.)
Now, following up our 5 recommended iPad File Managers for Windows, we have our 5 most recommended file managers for a Mac PC! This breakdown will be pretty similar from the last. Except, the programs themselves will be more focused on programs that you can use on your Mac computers (some of these won't work on Windows period.)
Price: FREE
Airdrop is a FREE built-in software in Mac OS computers that will allow you to manage the data in your iOS devices. A note, it's not quite as intuitive or even as feature rich as the other programs we mentioned previous. However, it will allow for bi-directional transfer, and the fact that it is free means that it deserves a pretty high spot on this list.
Pros:
The AirDrop feature is available on most iOS devices. No purchase or installation needed.
It can be used straight from your desktop — allowing you to share files through Wi-Fi connectivity — rather than cables, etc.
Completely FREE, so you won't have pay to at all in order to be able to use it.
Cons:
Although there are iOS devices that are compatible with the Airdrop features, that's not the case for all devices. You might find that your iPad (especially if it's from an older generation) will not be able to connect with AirDrop properly.
You'll also have to conduct transfers manually — picking and choosing what you want to transfer rather than an instinct sync-method that we described with the first program we recommended.
Finally, this is only available on Mac computers — so you won't be able to use this on a Windows PC. Neither will you be able to use it on a Samsung/Android device.

URL: https://www.easeus.com/phone-transfer/mobimover-free.html

Price: $49.95

Technically the EaseUS MobiMover software is FREE, and you can definitely use it as such. However, that's not the case for everything. If you want a copy of the software that is constantly upgraded (with full support provided), you will need to cough up some extra cash — $49.95 to be exact. Otherwise, however, it's not that bad of a product. Certainly, it will allow you to quickly and easily transfer files from device to pc, pc to device, device to device, etc. Which is all you really need to have a basic file manager!

Pros:

It does come with a FREE version — unlimited uses available, which is not something that most programs offer these days.
MobiMover is also meant to be used for transferring automatically and quickly.
The way that it is structured is fairly intuitive as well. Making it easy to use even for beginners or the less experienced.

Cons:

If you want to make sure that you have the best version possible — one that is constantly updated. That means, no lags, bugs, or crashes, then you will need to pay for the Premium version.
This is also just primarily a transfer software. So, if you want to be able to have more iPad management options, then you will need to install a separate program for this purpose.
Lastly, it's not quite as in-touch with other software. For example, it won't work for Android devices — just IOS devices.

URL: https://www.syncios.com/mac-ios-manager/

Price: $19.95

SyncIOS, for Mac, is a completely different program from the Windows version of Syncios. Sure, you do get a lot of the same features, but you can see (from the screen capture below) that the interface is styled differently, and that not all the features available on the Windows version is available on the Mac (like the video downloader and the extra features in the 'Toolbox' tab.) It is, nonetheless, still a good iPad file manager. At least, in that it is compatible with iPad devices, and it doesn't cost as much as other alternatives.

Pros:

It's cheaper than some of the more premium programs on this list.
SyncIOS Mac will allow you to easily and quickly transfer all types of media from your iOS device to your Mac PC (and vice versa.)
This software also offers quite a few extra features that you can use in a pinch if need be. Like the Media Manager, Photo Manager, etc.

Cons:

It's not as upgraded as the Windows version of the Syncios.
That means, it doesn't have quite as many features (hence the cheaper price.)
Much like the other Syncios, this program has been known to have some issues when it comes to transferring certain types of media.

URL: https://www.fonepaw.com/dotrans/

Price: $39.95

FonePaw is one of the older programs available out there for transferring media from PC to iPad. It has some library management features as well that you might enjoy if you're looking to organize your content in a way that's more manageable. If we were to compare it to a program, it would have to be 'Syncios.' Which means, it falls at around mid-range as far as quality goes — with its extra features at least.

Pros:

Can be used to easily transfer to iTunes, to Folder, to iDevice, etc.
Extra features available for backing up and restoring certain data.
Data management features available for keeping your media library organized and neat.

Cons:

FonePaw is an older program and is not as upgraded as others available in the market.
Also, because it is a one-time purchase deal, you'll have to remember that you won't be getting constant support with this — so if there are issues, you're out of luck.
It's also primarily a transfer tool — so you can't use it for downloading media, recording media, and etc.

Xillisoft iPad Apps Transfer

URL: http://www.xilisoft.com/ipad-apps-transfer-mac.html

Price: FREE

For our final software, we have a bit of a special program. This one, called Xillisoft, is specifically only for one type of media. That is, apps. So, if you're looking for a program to use for managing your iPad apps, then this might be the one for you. Of course, that means that you can't use this for other files, but it might be okay if all you need is a quick and easy way of transferring your favorite apps from one device to another.

Pros:

In-Depth App management feature.
Apps can be copied (backed-up) on a PC and can later be restored on another device.
Clean up tools are available for organizing your Apps.

Cons:

The primary con, of course, is the fact that it only transfers/manages apps.
You also don't even get the same amount of app management tools/options offered by other programs.
If you want a version of Xillisoft that offers more features than this, then you'll have to pay for the premium version of their product.

Conclusion: That concludes our rather long-winded top 11 best iPad File Manager compilation! We did our best to make sure that you were getting the most relevant information about the programs of interest. Be it on a Mac or Windows computer! Now, if you want to skip all this guesswork and get straight to iPad transfer/management, the program that we'd recommend for you is the iMusic transfer software. It is, out of all the programs we introduced today, the most versatile and helpful method.