How to get album artwork on iphone? Does anyone have good suggestions about it?
Or have you ever encountered the following problems ?
iPhone album artwork missing
Album artwork not showing on iPhone
No album artwork on iPhone
Wrong album art on iPhone
In this article, we're going to introduce two ways to get album artwork on iPhone, and these methods can help you to get the correct album artwork in easy steps. Check them out.
Album cover is an important part of music. Being the front of the packaging, album art can be both printed on cardboard cover or any digital cover or be used simply in the form of an image accompanying the digital music track. Popularity of digital music has grown over the years and with the increasing use of digital music all over the world, the digital album art has also gained popularity among the listeners of music. Inclusion of album art or album cover definitely has some relevance and significance with the way it serves the purpose. It is not just an important part of the creative packaging of an album, but also an innovative way of sharing information with the listeners.
In this age of digital music, with exponential increase in the downloads of albums, album art has become a very common part of music listening experience. This also has importance when it comes to listening to music on smart phones. And, when it comes to smart phones, iPhone has been one of the most widely used smart phones ever, especially among the music lovers of the world over. Now, with album art for digital media tracks, things have gotten more interactive and graphically informative. Having the album art work not only makes the albums look great but also makes it easier to find and identify the albums while playing them.
Now, usually iPhone has got iTunes assigning album art automatically, but sometimes it gets difficult even for iTunes to catch the right artwork for the right track. This does not just affect the efficiency of searching for albums or individual tracks, but also does leave a gap in the iTunes Library. So, while iTunes does this automatically during importing the media tracks, in case of any misses, we should know the process involved in adding the iPhone album art that is missing. There are various third party software as well serving the same purpose that when installed organize the music library and update the cover art easily. There could be a number of reasons pertaining to the issues around album cover art, including:
iMusic, an all-in-one music downloader and manager program, is helpful for getting album artwork on iPhone. iMusic is a desktop program for Windows and Mac users, and it enables users to download, record, transfer and manage music files easily. With the help of iMusic, you can get the correct album artwork on iPhone in simple steps. In this part, we're going to introduce how to use iMusic to get album artwork on iPhone.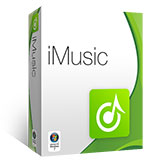 iMusic - Best iTunes Alternative to Fix iTunes Album Artwork not Showing on iPhone
Simple Clicks to solve how to change album artwork on iphone.
Transfer music from Mac/PC/iTunes to iPhoneXR/XS/8/8plus/Android phone easily.
Download music from over 3000 music sites, including download YouTube to MP3.
Record music from any radio stations with music tag, covers, album name attached.
Built-in library collected thousands of songs for free download.
Burn Music to CDs in one click.
Remove music DRM protection and convert downloaded M4P music files to MP3 format.
How to Get Album Artwork on iPhone with iMusic
Before getting album artwork on iphone, Come to iMusic's official site:https://imusic.aimersoft.com/ or click the following box to download iMusic.
Step 1. First launch iMusic after downloading and installing the software on your computer. Please note that iMusic is both available for Windows and Mac computers.
Step 2. On the iMusic main page, select LIBRARY followed by a click on music icon. The music icon is present at the top left corner which gives the list of songs the iTunes Library has.
Now there are 2 methods of adding album artwork.
Method 1 - Adding album artwork automatically using iMusic
Step 1. Click on the icon "clean up" which is present at the top right corner and this will start the process.
Step 2. Click on "Fix music covers" on the popup window. This will show all the tracks that have album artwork not showing on iPhone. And, then click on "Get Covers" from the same popup window.
Step 3. This will drive the process and iTunes will start searching for missing covers. Click on the 'Save' button after the music tracks are updated with covers.
Method 2 - Adding iPhone album art missing manually using iMusic
Step 1. After selecting LIBRARY and clicking on the music icon, click on the song for which the album artwork is to be added and select the green colored edit icon under the tab Fix.
Step 2. Select the box with "+" sign which is at the right and select the image on Mac which you wish to make the album cover for that particular song. Once selected, click on "Open".
Step 3. Once the image has been added in to the box on the right hand side (as shown in the image below), click on Save to make it the album artwork.
Bonus tips: Now you have solve the puzzle about how to change album artwork on iphone. So Easy right ? Click here to know more about how to clear up iTune Library.
iPhone album art missing is something which is not common, but when it happens it can be sorted with or without using any third party applications. To start, let's begin with how to get album artwork on iPhone without any third party software. So, considering the fact that there is no third party software involved in the process and just the iTunes is needed, things are extremely simple. Yes, it just requires the iTunes application wherein it either requires the user to manually find and add the missing album cover through iTunes or retrieve the iPhone album art missing in iTunes which does not require user intervention at all stages. Through iTunes, finding the missing album artwork and adding them to their respective tracks involves a few steps which goes as following:
Method 1 - Getting album artwork not showing on iPhone automatically
Step 1. Before you start, on the onset, you have to make sure that you are signed in to the iTunes store using your Apple ID.
Step 2. Go to 'My Music' ; 'Recently Added' to see the list of tracks followed by a right click on the song for which you want to get the artwork.
Step 3. Select "Get Album Artwork" and this will start the process. iTunes will start looking for missing album cover artwork and save the cover to the library.
There might be a case where iTunes does not find some of the missing artworks and that's where the manual search for iPhone album art missing comes in.
Method 2 - Getting album artwork manually on iPhone
While adding the iPhone album art missing through iTunes automatically needs less user intervention, doing it manually requires some effort and time. Before starting, recognizing the tracks with missing album artwork is imperative, otherwise things will be messy searching for album artwork without knowing which one to search for.
This is usually done when iTunes fails to receive or gather some album artwork automatically. There are some steps involved that are to be followed to manually add album artwork and they are as follows:
Step 1. First of all, find the tracks with missing album artwork in iTunes and note their names down.
Step 2. Go to Google image search in Safari and enter the names to locate the artwork. After the artwork is found, drag it to the desktop.
Step 3. Go to iTunes now and highlight the songs. Press 'control' and click the track and choose get info.
Step 4. Click the 'Artwork' tab open and then click on the 'Add Artwork' button.
Step 5. Use the Finder window to open the artwork file where it is located. Select the artwork and click on Open.
Step 6. Finally, click on OK to finish this process.
Conclusion: Both ways are helpful for you to get album artwork on iPhone with easy steps. By using iMusic, you're not only able to get album artwork, but also download music from over 10,000 music sharing sites, record music with high quality, transfer downloaded/recorded music to iPhone without the need of iTunes.