Do you want to know what's the best MP4 id3 Tag Editor ?
Although many people think of MP4 as a video file format only, the files with .MP4 extensions also contain music in them without any video stream. This makes MP4 a versatile format with most appreciated file type that is compatible with almost all media players used throughout the globe. MP4 id3 tag editors are the lightweight programs that allow you to manage the metadata of your audio files. Most tag editors that can manipulate MP4 ID3 tags also support other file formats. This allows the users to use a single program to manage various audio files with different extensions.
Bonus Part : Best ID3 Tag Editor for Both Windows and Mac Computer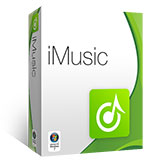 iMusic - One of the Best Media Managing Tool for the iPhone, iPod and the iPad.
Identify and tag music with artist, title, album, genre, and more with the latest technology.
Automatically save downloaded/recorded music to library for management and easy transfer.
Built-in music library let you browse and preview the lattest and hottest music.
Record unlimited music from any website for playback in your computer with just one click.
Download music from more than 300 music sites by copying and pasting the URL.
Clean up the dead or broken downloaded music tracks on your iTunes Library.
1 click to transfer downloaded music and playlist to USB drive to enjoy in car.
Steps to Edit ID3 Tag by iMusic
Steps to Use iMusic-Free ID3 Tag Editor
Step 1: After launch iMusic on your desktop, you could first download music by pasting the video URL, then go to "iTunes Library" .
Step 2: Then Click the MP3 songs you want to add metadata, tap "Edit music info" option.
Step 3: A new panel on the right side will appear where you can edit MP3 metadata related to covet art, name, artists, album, genre, year, track. Add the needed details and click "Save".
ManiacTools mp3Tag Pro
mp3Tag Pro is developed by ManiacTools and has received the highest user ratings and their appreciation regardless of the fact that it is a shareware (paid) program.
mp3Tag Pro is considered as one of the best and most versatile ID3 tag editors available online that also supports batch ID3 tag editing. Not only this, with mp3Tag Pro, the batch editing can also be done on files with different formats. This feature means that you are no long needed to edit the ID3 tags of the MP4, MP3, and FLAC files in separate sessions, and the ID3 tags of all the files can be managed in a single go.
Pros:
• mp3Tag Pro allows you to download album art and lyrics of your M4A/MP4 tracks.
• Allows you to rename the files using the information that it can easily extracts from the tags.
• Supports both ID3v1 and ID3v2.
• In addition to MP4, mp3Tag Pro supports various other file formats including MP3, FLAC, WAV, etc.
• Allows batch editing of ID3 tags and that too on different file formats.

Cons:
• It is a shareware and comes with a price tag.
• Some people have complained about its interface, saying that it looks a bit outdated and it is challenging to understand the program, especially when they are new to the application.
• Has a small-windowed interface which makes it hard for the users to have a clear view of the available options.
Jaikoz
Jaikoz is the best MP4 ID3 Tag Editor for OS X platform as per the users' feedback. The program's latest version is 8.4.2 that was released on January 16th 2016.
Jaikoz is an efficient ID3 Tag Editor for Mac OS X that does not only support MP4 but also allows you to edit the ID3 tags of other audio file formats such as FLAC, MP3, WMA, etc.. The program requires Intel processor, and OS X 10.7 or above along with Java 1.5 or above to function properly.
Jaikoz auto-formats the columns using its AutoCorrect feature that works in conjunction with AutoFormat, hence enabling automatic capitalization and other formatting to the information as needed.
Jaikoz matches the audio files' metadata with MusicBrainz – a well-known database that maintains the records of around 10 million audio tracks.
Pros:
• Jaikoz is available for Windows, OS X, and Linux.
• The developers of Jaikoz promise to provide all software upgrades to the buyers for the lifetime at absolutely no cost.
• Along with the MP4 support, Jaikoz also allows you to edit the ID3 tags of other file formats including OggVorbis, FLAC, WMA, etc.
• Automatically synchronizes the ID3v1 and ID3v2 tags of the audio files.
• Supports English, Greek, German, Spanish, and Italian languages.

Cons:
• Jaikoz is a shareware and comes with a price tag.
• Has limited shortcut keys, and most of the tasks must be done manually.
• Does not have a good-looking and easy-to-use interface.
EasyTAG
EasyTAG is a freeware and multi-format supporting ID3 Tag Editor for Linux that is appreciated by many users worldwide. With the multilingual support, the program is used in many countries and people from various regions and languages.
EasyTAG supports auto-tagging that automatically populates the corresponding fields using the filename and directory info. With the tree-type view of the interface, browsing the subdirectories becomes easy which remarkably expedites the ID3 tag management tasks.
Pros:
• EasyTAG supports multiple audio file formats including MP4, M4A, MP3, Ogg Opus, FLAC, WavePack, MusePack, MP2, etc.
• The program is capable of autocompleting the incomplete but important information in the fields.
• The software is capable of renaming the files according to the tagged information.
• The program also allows batch processing of the files that resides within single directory.

Cons:
• EasyTAG crashes sometimes when the file search is performed.
It is easy to edit id3 tags on MP4 and other audio files provided you get the best ID3 Tag Editor that can fulfil all your needs. If you are a professional and want to add or manipulate ID3 tags on audio files for commercial purposes, it is suggested that you should go for a paid ID3 Tag Editor in order to get prompt and efficient technical support, and regular updates for the program. It is also advisable to pick a tag editor that supports batch formatting. This way you can save a good amount of time by expediting the entire ID3 tag editing process in a simplified manner.