Are you struggling to maintain an organized iTunes library? This is one of the many issues that occurs to most of us while organizing or even clearing up our current downloads. As wearying as it may sound, there are many solutions to this exact problem, especially with the wide range of softwares in 2019 – all of which promise you that you will be able to achieve your dream library in minutes. Though there is still one issue, which tool is the best for you? Worry not, we have gathered not one, but 7 best iTunes organizers for you to choose from. They all come with their unique design and features to make the process much more convenient and most importantly easy to work with. Here we will show you 7 amazing iTunes organizers you can try out now.
As for the first and the best organizer from our list, we highly recommend iMusic. This is a multimedia manager with many approved qualities you won't be able to get enough of. Including its aesthetically pleasing design and simple all-in-one feature, you can finally enjoy listening to music with no struggle. Have duplicate tracks? Or broken files? These are no trouble when it comes to iMusic. Starting now you can remove extra files, edit playlist, add missing covers and even empty your whole library only to discover new music with its Search tool and recreate it from the very beginning.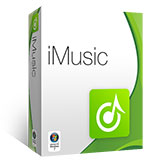 iMusic - Best iTunes Organizer for iTunes/iPhone/iPad/iPod/Android
Manage your current library -- be editing, cutting, removing or even adding music.
Transfer files, music, video, etc. from iPhone/iPad/iPod to your computer and from PC/MAC to iPhone/iPad/iPod.
Apart from clearing up your loaded library, you can also discover the latest available hits with iMusic's Search tool – provides access to about 3000 popular sites.
Download about 600 batch songs all at once as MP3/MP4.
Provides a high-quality download between 128k-320k music converted as MP4, M4A, OGG etc.
Record Songs and Playlists as you wish.
1 click to transfer downloaded music and playlist to USB drive to enjoy in car.
How to Organize iTunes Music by iMusic
So, how does it work? Below we will teach step by step on how to organize your iTunes library using iMusic.
Step 1.

Launch iMusic and select iTunes Library

First, after downloading and installing iMusic from here, launch the tool which will show the main interface of our software. Here you will see four different menus on the top corner.

Now, to start organizing your iTunes library, select the iTunes library icon.
Step 2.

Click Clean Up icon

As for our second step you will see different options on the top right corner of your screen, click on the Clean Up icon to allow iMusic to scan your current downloads and find all the broken tracks for you.
Step 3.

Start Scanning

After you've clicked on the Clean Up icon a new popup window will appear, here it'll show you exactly which tracks you are having trouble with, including missing tags/covers, duplicate tracks and broken ones. To start the scanning process, click on the Scan button to allow access.
Step 4.

Fix your library

When the scanning is done, iMusic will rate your current broken tracks, if you want to clean up the mess in your library automatically all you have to do is click Fix to let iMusic manage your entire music library without any further work on your end – which can save you a ton of time.
However, if you want to go through them to see which ones needs fixing, you can do that as well. Just click one of the circled icons at the bottom of the window. Then, when you're ready, click on the Fix button on the top right corner to begin the process.
Step 5.

Accessing Database

We are almost done, now since you've allowed iMusic to fix your files, all you have to do is wait for it to manage your missing covers/tracks, get rid of the duplicate files to finally provide you a more improved library.
Step 6.

All Done

As for our last step, you will only need to click Done to finish it off. And now if you check your library, you will see a much more organized track list for you to enjoy.
Video Tutorial: How to Clean Up iTunes Library with iMusic
If you are looking for additional selection of tools to choose from, we have gathered 6 unique music organizers which are also capable of many different actions. Of course, not all of these will be exactly what you need, but we'll be covering the down points of each in detail as well. Nonetheless they all come with advanced organizing tools, different interface designs and even some of the softwares include an Android app to manage remotely. Look through the list and find your suitable tool.
URL: https://www.mediamonkey.com/
The first software in our list is Media Monkey. This is a great method to find missing covers and fix your problematic tracks with no effort. It also has a logical organization of downloaded tracks to find your desired song easily between all the mess. Despite the advanced features, it does require a paid access to some tools you might need. Especially a lock down option which can prevent other guests to access and mess around with your tracks. Though apart from that you can still manage a huge number of tracks freely.
Pros:
Able to delete broken and/or duplicate tracks.
Can convert audio and videos.
Allows for the creation of smart playlists from recent tracks, genres, etc.
Cons:
Multi-user feature is unavailable.
Lots of pop-up errors.
Displaces titles when trying to organize albums with multiple songs.
Another one of our favorites is Music Bee. If you're a serious music lover and looking for a massive library to download, this software provides a huge space for above 500,000 tracks to be managed without a sweat. It even allows you to add lyrics to all tracks while the music is on, including an advanced metadata editing tool to upgrade your audios. To keep in mind, Music Bee also gives you an option to manage your downloads remotely with its Android app!
Pros:
Customizable interface with a variety of available skins.
Auto fills track information (covers, artists, tags, lyrics, etc.)
Lock down feature that prevents guests from editing your playlists.
Cons:
Has a tendency of adding the wrong artwork to tracks.
Freezes and crashes often – makes it difficult to load pictures or lyrics.
Plays tracks repetitively – even if it's been marked as skippable.
URL: https://www.clementine-player.org/
There is also Clementine which is another organizer that can be suitable for you to work with. It comes with its Multi-Platform music player and an access to stream music from popular services such as Spotify, Grooveshark etc. And just like the previously mentioned softwares it can also add lyrics and even artist biographies to your album. Including an Android app that will allow you to manage all your data remotely. It might not be one of the most advanced softwares, but it's still simple to use.
Pros:
Smart playlist feature that automatically creates playlists from recently played tracks, song genres, etc.
Allows you to use Google Play Music, Spotify, Ampache, and hundreds of radio stations.
Manual management feature for renaming files, adding covers, etc.
Cons:
Software developers have not responded to any reports since 2017.
Radio stations are permanently place –- non-customizable.
Dull, and old-school, interface design.
URL: https://www.imploded.com/
As for our next software, we also recommend Helium which is another music organizer that is quite simple, but still easy to manage. Its limited features consist of a search tool to find your desired track between all the albums, lets you edit tags whilst the music is on, download artworks for your songs and automatically rename the files. Though if you are willing to pay for more tools you can have a multi-user feature which goes up to 5 individuals who can access your playlists at the same time.
Pros:
Edits track names, adds artwork covers, adds lyrics, etc.
Smart Playlist create feature for recent tracks, newly added songs, etc.
Music is sharable to iPods, smartphones, Creative Zen, and other portable devices.
Cons:
Design is old, and non-customizable.
Reviews and Annotation feature is unavailable.
No remote app for managing files on the go.
As for AIMP, this is another one of the highly rated music organizers which offers an easy management tool along with its remotely controllable Android app. Though as our list continues, the softwares start becoming less advanced and contain a lower quality interface design that actually plays a huge role in creating simplicity. Though if you aren't looking for a fancy app to work with, AIMP provides enough features and additional streaming tool which you can use with Soundcloud.
Pros:
Reads metadata attached to tracks for instant search.
Available in multiple languages (up to 36.)
Internal and automatic updater available.
Cons:
Open Source software – managed only by AIMP staff.
Issue reports can only be submitted in English and Russian.
Interface is confusing and non-confirming with latest layout standards.
Last but not least, we also recommend Magix which is another software for you to clear up or organize your iTunes library easily. It allows you to transfer music or any other format of files between suitable smartphones and computers. If you wish, you can also check out above 6000 radio stations online through this tool. And apart from the additional MP3 convert feature you can even set a timer which will turn off your software or computer whenever you desire.
Pros:
Finds and deletes Duplicate/Broken tracks.
Simple, and uncomplicated, interface.
Playlists can be transferred and shared to all Android devices.
Cons:
Paid software with a high price of $29.99.
Hasn't been updated in a long while.
No free trial available.

All things considered there are plenty of music organizers you can choose from. Though do keep in mind they all come with their own down points which might complicate things even further than it already is. To prevent from coming across such issues iMusic can help you the best. Apart from the quality management skills, it also offers a free trial for you to test out. To give a brief summary of their general features we prepared a comparison table, check them all out and pick your suitable iTunes music organizer.

Features
iMusic
Media Monkey
Music Bee
Clementine
Helium
AIMP
Magix
Overall Rating
Five Star
Four Star
Four Star
Three Star
Two Star
Three Star
Two Star
Supported Operating System
MAC/Windows
MAC/Windows
MAC/Windows+Android App
MAC/Windows+Android App
MAC/Windows
MAC/Windows+Android App
Windows
Distinguished Features
Convenient interface design to help you cooperate faster;
Free trial for you to test out its advanced features;
Many tools to edit and reorganize your library freely.
Easy removal of unwanted files;
Smart playlist feature;
Convert audio and video to MP3.
Customizable interface for free;
Can manage up to 500,000 songs without an issue;
Autofill tracks with needed covers and titles.
Smart playlist feature which creates additional playlist for you depending on your recent plays;
Library management tool to organize your tracks;
Supports popular music services.
Has a built-in feature to edit your files freely;
Supports other devices to share music;
Add or change covers to your albums.
Can be managed with 36 different languages;
Internal update feature;
Easy access to finding desired tracks.
Easy transition of playlists between Android and Windows;
Delete and get rid of broken tracks;
Simple designs.