Christmas is the most widely awaited holiday of all. It brings a great deal of happiness and joy for the people and is celebrated all over the world with great fervor. Days before Christmas, the preparations get underway with Christmas trees being decorated and gifts being bought and packed. While you are performing these tasks, it is always good to have some Christmas music on to keep you in the festive mood. You don't have to have the music on your phone or PC as you can easily listen to it online by streaming Christmas songs and tunes from streaming sites. The following is a list of the top 10 sites to listen and stream Christmas music online.
Jingle Bell Jukebox is one of the best websites for listening to Christmas music for free. It has a vast collection of Christmas songs that are available in the form of albums. The site has a total of nine albums so there is plenty of choice available to you. You can listen to each song which is played in a loop, one after the other or you can skip tracks to listen to your favorite ones.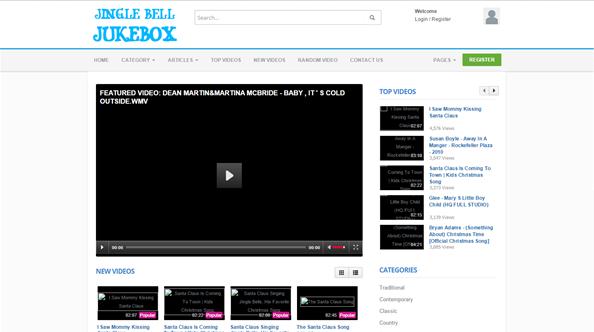 Radioio Holiday Channels offers you the chance to listen to Holiday music for free through three radio channels that are dedicated to providing you the best Christmas music all throughout the festive season. It has a nice player that is easy to you and offers you the chance to view the song that is being played and those that were played before it. You can pick a bitrate from the player menu too.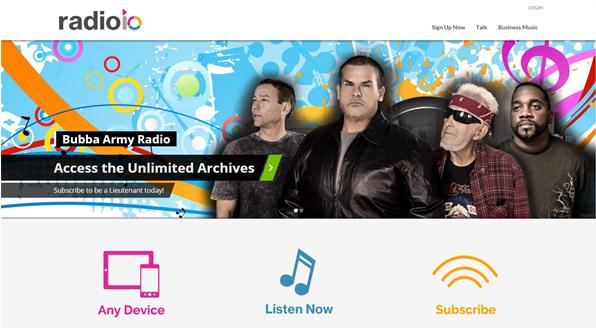 AOL Radio Christmas Music
AOL Radio Christmas Music has a large collection of Christmas radio stations to offer you as well as some nice Christmas music. You can start playing any station you want from the list just by clicking the play button that is present right beside it. The radio stations are played inside a player which gives you the chance to change the station and pick categories.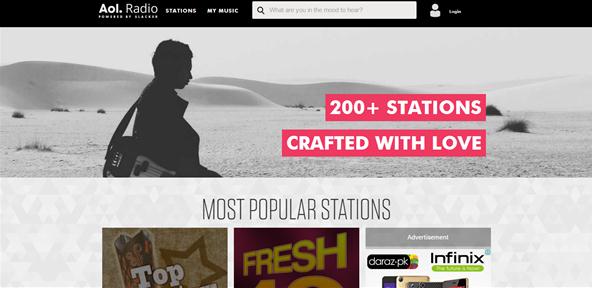 SHOUTcast Radio is a venture of AOL music but it has an absolutely different lineup of stations to offer you so these sites are not that same. Although there aren't many Christmas themed stations included in this lineup but it does offer some very exciting features. For instance, the web player of this website allows you to listen to the music in other players like Winamp.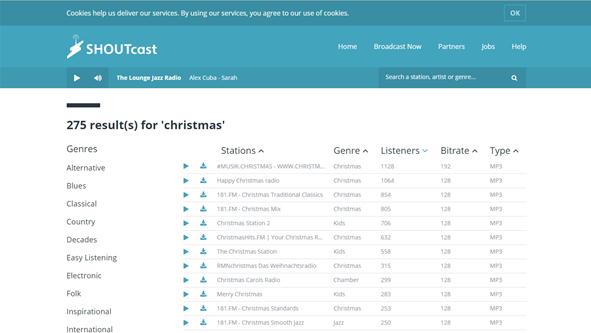 Web-Radio Christmas Player
You can find a number of Christmas stations on Web-Radio Christmas Player as well. You can choose the Christmas station that you prefer to listen to and click the play button. The station will begin playing and you would be treated to the best Christmas music. One of the negative aspects of this website is that it offers a toolbar for web browsers which is annoying and does not help you in listening to Christmas music.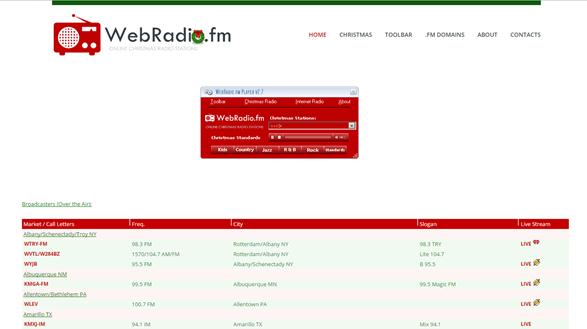 Last.fm Xmas Radio is another excellent site for listening and streaming Christmas music online. The best feature of this website is that you don't have to create an account for listening to the stations. There are a number of radio stations on offer so you do have a good amount of choice available. However, if you want to block a song that you don't like on the station then you are going to have to log in to block it.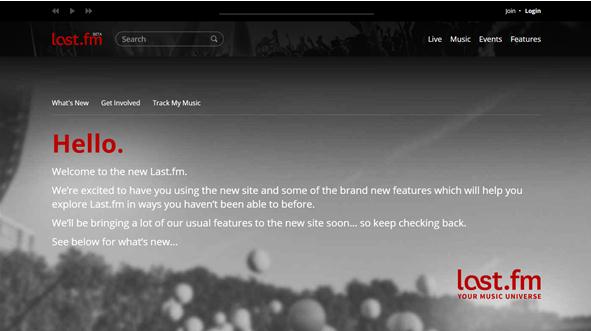 If you want to listen to quality Christmas music for free then there is no better website then Christmas Radio. It is the easiest site to use and offers a total of 9 different Christmas themed stations to you. The songs played on these radio stations are of the highest quality and you are going to thoroughly enjoy the jingles and songs that are on air on these stations throughout the Christmas period.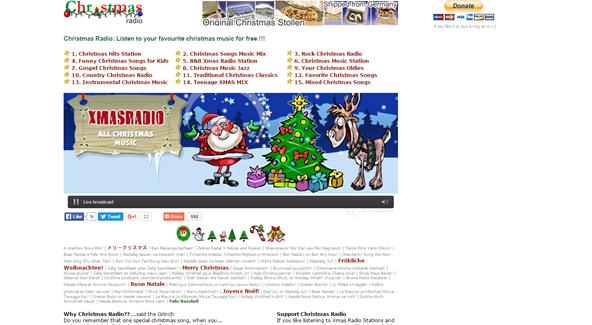 AccuHolidays is one of the best website for listening and streaming Christmas music. It has a lengthy list of radio stations to offer you which are all very good. You just need to choose the one that you find to your liking and click on it to start the player. This website also offers you the chance to mix the stations that you like the most to create your very own music mix as well.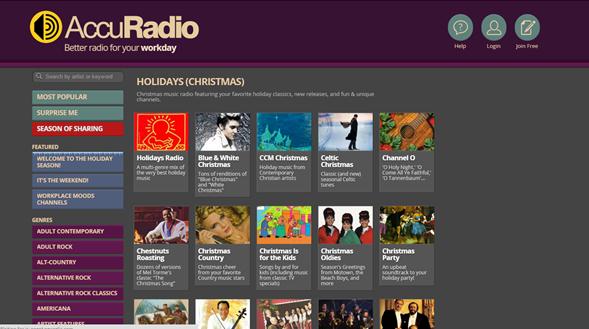 Live 365 has a great variety of radio stations to offer you that are dedicated to playing Christmas jingles, songs and hymns throughout the festive season. You are going to love the dose of fresh holiday music that you are going to get from this website which is going to keep you hooked for hours. On top of that, this website is extremely easy to use as well.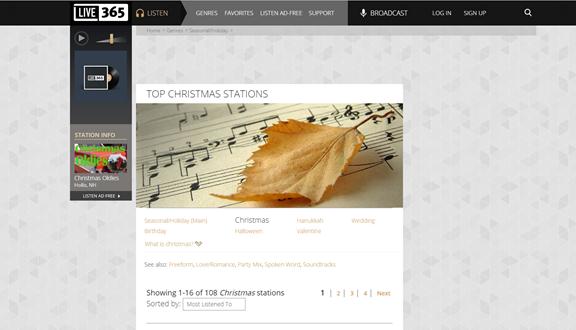 Listenlive also has an extensive list of radio stations for you. What sets this website apart from others is that you can listen to foreign radio stations here as well. All the stations listed here play Christmas music so you can listen to the Christmas music from all over the world in a single place.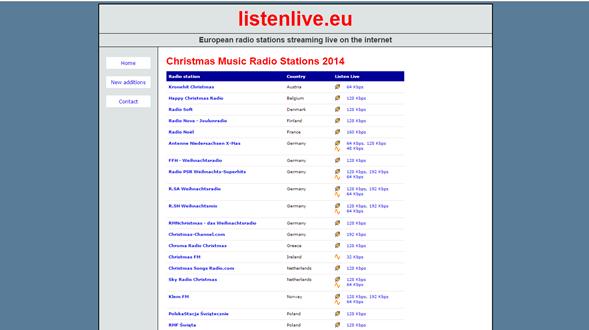 If you are not satisfied with streaming music and want to listen to your favorite Christmas songs and jingles at your leisure then it is best that you record them. iMusic can help you in recording all the Christmas tunes on your PC so that you can listen to them whenever and wherever you want. It is an excellent software package that has a number of features to offer you like: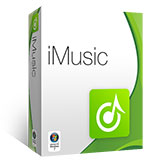 iMusic - Record Christmas Music for Free with One Click
Record audio from over 3000 music streaming websites.
Record audio of videos shared on websites like YouTube, Vimeo, Hulu and Dailymotion.
Download audio in the highest possible quality.
ID3 Tag support which helps in identifying the song.
It acts as a management toolbox that lets you manage iPad, iPod, iPhone and Android phones iTunes Library through options like backup iTunes, recover iTunes Library, fix iTunes music tags and covers as well as remove music DRM protection.
1 click to transfer downloaded music and playlist to USB drive to enjoy in car.
Ability to burn downloaded songs and playlists to CDs easily.
Steps to Record Christmas Songs by iMusic
Step 1: Download and install iMusic on your computer. Launch it and click the "GET MUSIC" menu on the top of the software. Next, click the "RECORD" button.
Step 2: Click the "Record" button and prepare to record the song you're going to play. You can open a web browser or an application on your computer to play the Christmas song you're going to record. iMusic will detect the song and record it. During the process, the cover and artist for a record song will be added to the song automatically, making it quite easy for you to identify the songs in iTunes Library.
Tips: You can try the Record feature while playing songs in iTunes radio station, Spotify, BBC radio stations, and so on. It works perfectly.
Step 3: Click "LIBRARY" menu, then the record icon on the left side to check out the recorded songs. To add them to iPhone, iPod, iPad, and Android phones, check recorded songs > click export icon > select device to transfer (a device should be connected to the computer first).