Feeling bored while traveling, or waiting in the queue? Play some music and lighten your day. There are lots of Android music devices and you may just choose the best for your taste. Here are the top 5 best Android music devices and try to pick one from them.
To be the best Android music device in providing great sounds, Huawei Ascend Mate 7contains a big battery. Its long lasting battery is essential for the music to go a long way. This smartphone has one speaker at the bottom of the back cover only. However, it does not affect to produce powerful and clear sound. It delivers distinctly above average sound; the 3D sounds are really strong; and the bass volume is pretty much non-existent when it is on loud speaker. Your Android music quality improves a lot once the DTS is turned off from the mobile settings.
Huawei Ascend Mate 7's price ranges $600 - $643 on Amazon for US customers. It is somehow an expensive mobile phone but it is the number one mobile in the market since it has the best music quality on a 7" inch big screen.
Huawei'stablet phone is number one on the list, which is offering a very powerful, high tech and accurate sound reproductions. It creates a very little distortion like what you can see on other mobile phones. It also provides great stereo sound and a good dynamic range even on its normal size speaker.
Samsung has won the race of producing the best smart phones of today. Some are big screen tablets; some are small screen android mobiles but their sound qualities make them as the best Android music devices.This brand is popular among music lovers because of its excellent headphone line-out. It is extremely powerful and it produces sounds that are almost perfect.
One of its products is the SamsungGalaxy Alpha. It offers a good dynamic range of sound and stereo-width. Its speaker quality is higher since its distortion is less. Usually, mobiles have minimal distortion of 0.1% but this device has less than 0.006% of total distortion. Even you set the volume higher, it still remains powerful and clear with good quality signal. These features are similar to iPhone 6+.
There are some cons on this Smartphone related to its monotone loud speaker, but when it comes to providing great sound quality in headphone, it is the best Android for music. Prices of this giant mobile are not very high. If you are a music lover and looking for a good Android music device, then look for Samsung Galaxy Alpha. It is between $370 and $375 on Amazon and it is a well- purchased item.
If you are a music lover then you maytry Meizu MX4. It is well known for producing the finest MP3s. It is a Chinese product and it is well worth it. The headphoneline out is fantastic, with minimal distortion and crystal clear sound from speaker. These featuresmake MX4 at the top of the list as the best Android music device. It has Dirac HD sound that makes headphone's sound better. To hear better sound, don't deactivate Dirac HD sound.
Its loud speaker is not very good.It gives high distortion if you make the voice louder but the headphone line out is very powerful. As we know,it is a Chinese mobile so its price is not very high. It is $230 onAmazon so you can save up to $130 and it's for free shipping. Thus, if you are a music lover and looking for the best Android music device, then MX4 is the best thing to buy.
No top list of any kind related to Android phonesbecomes complete without adding HTC models in it. With this brand new model Desire eye, HTC has made the powerful device, which sounds fantastic if Boomsound setting is activated. The headphone line-out is powerful and can produce sharp clear 3D sounds. On the back of mobile, two mini speakers are situated; one is on top and one is at bottom. This model is on top of the list because of its high quality stereo sound without even using any headphones.
The Boomsound enhances your music experience on some headphones. You lose a little power when you turn off Boomsound from settings. If you do not turn Boomsound off, you will hear noise and the sound will be monotonic.
The prices of HTC Desire Eye are moderate and ranges up to $400 to $460 on Amazon. It comes with 16 GB memory and a great Smartphone other than being the top Android Music Device.
There are many mobile phones that are waterproof but only a few have a quality sound like Xperia Z3. It is not a new model by Sony Xperia but it used to be the best Android for music.As we all know,it is hard to compete with Sony's sound and camera qualities. Sony Xperia Z3 is a popular Android device which comes in 5.2'' inch screen and with a big battery built to last longer. Its headphone line out is very powerful and even more powerful than all the other mobiles described above.
The overall rating of this mobile is 70 out of 100 but the sound quality is 90 out of 100 so you can guess the quality of the sound. It can support all types of headphones and external speakers. However, it is still worth a while and it produces high quality 3D sounds; but if you make the voice louder, it is distorted.
The prices of Sony Xperia Z3 are slightly higher. They range from $450 to $470.The specifications are lower than the other mobiles in the market but it is the best Android for Music device.
Maybe you had made up your mind which of these Android music devices will you buy soon. Be wise enough in selecting. Think more than twice, then grab one!
Part 2. The Best Music Manager You Should Know
iMusic is an all-in-one music manager tool, facilitating you to download music and playlists from over 3000 sites, transfer music among iPhone, iPad, iPod, iTunes and Android phones, record any audio you're playing, clean up and fix iTunes Library (delete duplicate and broken tracks, get cover and tags, fix ID3 tag, etc). iMusic is a must-have music downloader and manager pro for music lovers to discover and download music, or backup and rebuild iTunes Library even from a Windows PC. iMusic has separate versions for both Windows PC and Mac, which is fully compatible with the latest Windows 10 and macOS 10.13 High Sierra.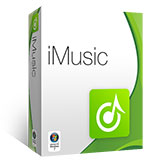 iMusic - Best Android Music Manager with High Quality
Download music from more than 3000 music sites such as YouTube, Dailymotion, Vimeo, Vevo, Hulu, Spotify, and much more through copying and pasting the URLs.
Transfer music between a computer, iPhone, iTunes Library, iPad, iPod and Android phones making it easy to share songs.
Record music from radio stations and streaming sites and gets the identification of the songs including the title, album artist, and genre.
It acts as a management toolbox that lets you manage iPad, iPod, iPhone and Android phones iTunes Library through options like backup iTunes, recover iTunes Library, fix iTunes music tags and covers as well as remove music DRM protection.
Batch download of files is supported where you can download up to 100 songs at the same time.
1 click to transfer downloaded music and playlist to USB drive to enjoy in car.
Ability to burn downloaded songs and playlists to CDs easily.
Steps to Manage Music for Android by iMusic
Step 1: Launch iMusic on your PC or Mac. And then click "Toolbox" menu on the top of the software to enter the management for iTunes library. After then click the cleanup icon .
Step 2: Click "Scan" in the pop-up window, letting iMusic scan for the broken, duplicate and miss labelled songs for you. The duration of the scanning process depends on how many songs are in your iTunes Library. If you have a big iTunes Library, then it might a few minutes.
Step 3: The amount of missed tags, covers, duplicate and broken tracks will be displayed in the result window. Click "Fix" to let iMusic fix them all for you.
Video Tutorial: How to Clean Up iTunes Library with iMusic