Bring home a new digital harmony by using the Apple Music and family sharing option along with it. Up to six members of your family will be able to share iTunes and App Store purchases. So, if you are not willing to spend a lot of money in buying music and apps from the App Store, just check whether your father has it. If he does, you can ask him to share it with you. Apple Music lets you share purchases among family members without sharing accounts.
Apple Music lets you pay for family purchases of music, apps, and other items available on the Apple Store. Now, parents can pay for the apps and music using the same credit card. Kids and youngsters in the family can share the apps and music files from their parents' devices. You can purchase and share family albums, calendars, and lots more to keep everyone connected.
The Requirements for Family Sharing:
All you need to do is to create the Family Sharing group and invite your family members to join in. You can add a maximum of five persons to your circle. Now, you can share your digital content without sharing your ID. You and your family members will enjoy each others digital company with the new feature of the Apple Music.
The most important thing that this feature of Apple Music lets you is, it helps you to get organized. One adult in the household can pay for the different types of contents on the iTunes store. He can invite a total of five people to join him to share various digital contents. Whatever is being purchased in the iTunes and App Store can be shared by the person with his family members. To create a family group, the family members need to join in and thus, the contents can be shared to the devices of the family members automatically. Sharing has never been easier. You will be able to share videos, songs, albums, and films with your near and dear ones.
Once all the family members join in, anything one purchase from the Apple Music and the iTunes stores appears on the purchased tab on these stores. The family members can view all the purchases here and will be able to download the required contents to their devices, without any extra cost at all. Each of the family members in the circle will be able to see each other's purchases and will be able to choose the ones they would like. You will be able to access each others digital content. Now, you can share your contents with your family members too. Family sharing of contents is easy and convenient. This feature of Apple Music also allows you to keep certain purchases private in case you do not want your family members to know everything you purchase from the iTunes or the App Store.
Each of the family members can share their own locations with you. So, with this feature of Apple Music, the parents will know where the children are and whether they are safe. When you need some privacy, you can temporarily stop sharing your location. You can do it by tapping on the Share My Location switch that you will find in the iCloud settings.
Once you join your family in the family sharing group, you will be asked your Apple ID. With it you will be able to make iTunes, iBooks, and other app store purchases. Given below are the steps that you need to follow to be able to share music with your family members:
Using iPhone, iPod, or iPad
• Go to the Settings. Then, from there to iCloud, and there you can find the family. Tap on your name there.
• Under the option Family Purchases, you need to review the account information.
• Sometimes, you need to confirm the Apple ID. It is then you need to enter your password. Here, in case you are planning to use a different account, you can use your other Apple ID and password for making the purchases and sharing the things.
• While making purchases, you need to be sure that the "Share my purchases".
Using Mac for sharing
If you are using your Mac for downloading the applications, music, and other contents from iTunes, you must remember that you need to follow certain steps to turn on Family Sharing. Given below are the steps that you need to follow to be able to share the contents and purchases of the iTunes store with your family members:
• Choose the Apple Menu. Then, you should go to System Preferences and click on iCloud there.
• When you are at the iCloud option, you should make it a point to choose Manage Family.
• Now, you need to click on your name and review the account information that is there next to Family Purchases.
• When you are purchasing something from iTunes of Apple Music store, make sure that "Share my purchases" option is on.
If Family Sharing option turns out to be a family mayhem and the option is not functioning properly, you need to know what to do with it. Sometimes, the family sharing steps do not work at all. In such a situation, there are certain important things that you need to check. Given below are some of the solutions to the problem of Apple Music family sharing not working:
Solution 1: In case your family members are signed up for Apple Music free trial, this feature might not work. So, you need to check whether any of the five members are on a free trial. You need to wait until the free trial period is over. After than you will be able to sign them up as a part of the family plan.
Solution 2: You need to make sure that the family members are using one unique account for the iCloud, iTunes, and Apple Music Library. This does not mean family members should use one single ID to login to all the devices. Rather, it means that each of them should sign in using one unique ID.
Solution 3: If you are unable to share the contents with your family, try logging out of Apple Music and try logging in again. This should help to troubleshoot the problem.
Part 4. Best Music Share Software - iMusic
Compared with Home Sharing, using the same Apple ID, using transfer software, like iMusic, could be the best way to share music. iMusic breaks the limitation of iTunes, only letting you sync music to device which must binding to a computer. iMusic lets you copy and share songs, and videos between iPhone, iPad, iPod touch, Android devices, computer and iTunes library freely.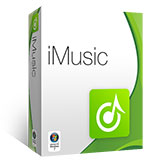 iMusic - All-in-One Music Downloader and Transfer Tool
Download music from more than 3000 music sites such as YouTube, Dailymotion, Vimeo, Vevo, Hulu, Spotify, and much more through copying and pasting the URLs.
Transfer music between a computer, iPhone, iTunes Library, iPad, iPod and Android phones making it easy to share songs.
Record music from radio stations and streaming sites and gets the identification of the songs including the title, album artist, and genre.
It acts as a management toolbox that lets you manage iPad, iPod, iPhone and Android phones iTunes Library through options like backup iTunes, recover iTunes Library, fix iTunes music tags and covers as well as remove music DRM protection.
1 click to transfer downloaded music and playlist to USB drive to enjoy in car.
Ability to burn downloaded songs and playlists to CDs easily.
Steps to Download Apple Music by iMusic
Step 1: Click "DOWNLOAD" in the "GET MUSIC" window. After then you can see a URL paste box as well as access to several popular music sites.
Step 2: Open Apple Music, Copy the URL of the song on the site. Then paste the URL of the song to the URL paste box in iMusic, check the needed music format and click "Download".
Step 3: Another option for downloading is to navigate to the music site from those indicated below the URL blank, then search the music you want to download. Select the music format and quality, click "Download" to begin the download process as mentioned before.
Step 4: Once completed the download process, the downloaded songs will be automatically added to your iTunes Library automatically. Click "LIBRARY", then download icon on the left side to check out the songs.