Music Tube for Android enables an easy way to enjoy millions of songs from YouTube on Android devices. Music Tube Android app lets you create your own playlist. And it is a very simple app. You do not need an account unlike YouTube. That means you can add songs to your playlist without going through another troublesome process just to add another song in there. Music Tube's interface is intuitive enough for just about anyone familiar with trying to stream or buff YouTube videos on a regular basis. When you search up a song in mind, you can just as easily find it as if you were looking through YouTube. All the song results are displayed with a thumbnail so that you are not misled to the wrong video. When you are satisfied with the song you have found, you can just drag and drop your song to the playlist tab. It saves you a lot of time when it comes to hearing that song you suddenly come across and you just have to save it. If there is anything to say about Music Tube, it is that it respects YouTube's rules and regulations about its content. It does not let you download whatsoever-- meaning, everything on Music Tube is completely reliant on your internet connection. If you do not have a stable internet, Music Tube is just there with your unplayable playlist.
Spotify is a great streaming service for Android users. This Music Tube for Android alternative does not rely on YouTube for its content-- meaning, it has its own way of buying and owning songs to be heard by its faithful users. Spotify offers their huge music collection for free, although there are some drawbacks like a limited number of skipping to the next track and same with going back the previous track. It also features some ads from artists and from Spotify itself. The app does not allow you to save these songs into your Android powered device too. Looking at the interface of this great app, it has really come a long way from its starting venture on both Apple and Android platforms. The interface is quite simple, you can browse through playlists made by Spotify and by its other users. This is great when it comes to looking for a quick playlist for the morning commute, workouts, parties, and even just for a sudden change of taste in music. There is even a radio feature which looks for other users near you and allow you to hear what they're listening to, which is a great way to discover new music. Although Spotify lets you experience their services for free, there is a premium subscription which lets you experience Spotify to the fullest. It can work as your standalone music player. There are no constraints like ads and limited skips. The best part about it is that you can save your songs to your device which saves you a lot of bandwidth and time on the stream.
Sound Cloud is a great alternative app to Android Music Tube for musicians and those who love hearing a wide variety of musical artists. You can create an account on Sound Cloud and it gives you the freedom to record videos and post it for others to enjoy. What makes this app stand out is that it's open to everyone. You can find different people making covers of their favorite song and if you like it, you can save it in your favorites so you can access it quickly and efficiently. A major downside is that you are not allowed to save it on your Android phone.
Spinnr is another great Music Tube for Android alternative app if you want to have something like Spotify. Spinnr works just like Spotify with all those ads if you don't want to pay for any of those premium subscriptions and a limited number of skips. What makes Spinnr standout is that it gives you promos and music at an affordable price. If you opt for the premium you get an unlimited number of skips and the power to save your songs to your Android phone.
Beats Music is a very powerful app similar to Android Music Tube for those who want to be constantly updated with all their music. It offers you curated lists of songs you like based on what you've listened to and what you choose to skip. It carries the Beats brand and boasts in giving quality music for those who subscribe to their service.
Although this app isn't a music streaming service, it makes use of your music and sorts it out to give you the best experience based on your tastes. It lets you randomize your songs if you're uncertain of your current tastes. You can also get music through the Playstore and it will easily sync with this app to give you the best kind of music personalized for you.
Part 2. The Best Music Manager for Android - iMusic
iMusic is the best music downloader that works on both Windows and Mac PC. It allows users to download music from over 3000 music sites by copying and pasting the url of the music. for music played on radio stations, it can help users record the songs and get the music tag and covers automatically . It is a music tool if users really need to download music.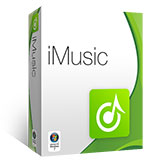 iMusic - Best Android Music Manager with High Quality
Download music from more than 3000 music sites such as YouTube, Dailymotion, Vimeo, Vevo, Hulu, Spotify, and much more through copying and pasting the URLs.
Transfer music between a computer, iPhone, iTunes Library, iPad, iPod and Android phones making it easy to share songs.
Record music from radio stations and streaming sites and gets the identification of the songs including the title, album artist, and genre.
It acts as a management toolbox that lets you manage iPad, iPod, iPhone and Android phones iTunes Library through options like backup iTunes, recover iTunes Library, fix iTunes music tags and covers as well as remove music DRM protection.
Batch download of files is supported where you can download up to 100 songs at the same time.
1 click to transfer downloaded music and playlist to USB drive to enjoy in car.
Ability to burn downloaded songs and playlists to CDs easily.
Steps to Manage Music for Android by iMusic
Step 1: Launch iMusic on your PC or Mac. And then click "Toolbox" menu on the top of the software to enter the management for iTunes library. After then click the cleanup icon .
Step 2: Click "Scan" in the pop-up window, letting iMusic scan for the broken, duplicate and miss labelled songs for you. The duration of the scanning process depends on how many songs are in your iTunes Library. If you have a big iTunes Library, then it might a few minutes.
Step 3: The amount of missed tags, covers, duplicate and broken tracks will be displayed in the result window. Click "Fix" to let iMusic fix them all for you.
Video Tutorial: How to Clean Up iTunes Library with iMusic