One of the best streaming services for the music lovers is Spotify, which can be regarded as the biggest one in the music, with more than 20 million users all over the world. One of the best streaming services, which give access to the millions of songs and one of the favorite for the people, it has the music collection for everyone. With the Streaming services of Spotify, allowing the best songs at your fingertips, you really will enjoy playing songs while moving.
When we talk about the streaming quality of Spotify, we can say that the one of the most widely platform. It offers the huge collection of the songs from all over the world at the most reasonable prices (in case for the premium users), and with the quality which can be judged from the streaming speed of 320 kbps, the quality is indeed high.
Spotify, even as among the best for the music lovers, but no brand is without any competition. Either it be the Spotify or any other brand, you always have some options behind. Same is the case with the Spotify. There are some serious alternatives, which many people prefer at the place of the Spotify and while the some people maybe don't like Spotify or not satisfied with the services of the Spotify, he or she maybe want to try the alternatives for streaming Spotify. The top list of those is as follows:
Apple Music
One name in the serious consideration apart from the Spotify is the Apple Music.
Features of Apple Music
Can be truly called as the Spotify killer.
Free three months trail experience available.
Pros of Apple Music
Music Uploads.
Free trail of three months.
Cons of Apple Music
Doesn't include Every Track in iTunes.
Limited device options available.
Some issues with social connectivity.
Price
Free and $9.99 per month
Download Link: https://www.apple.com/uk/music/membership/
Google Music
Features of Google Music
Simple Setup.
Large Online Library.
Pros of Google Music
Setting up is quite simple.
Very huge collection of Music available with Google Music.
High-quality 320Kbps tracks.
20,000 song digital locker.
Cons of Google Music
No free add-supported version available.
No connection with home-theater set-tops.
No iPhone or iPad support for All Access.
Price
$9.99 per month
Download Link: https://play.google.com/store/apps/details?id=com.google.android.music&hl=en
Rdio
Another Simple and easy interface for the Music Lovers.
Features of Rdio
Strong social networking elements associated with Rdio.
One of the most intriguing services available among all.
Pros of Rdio
Re-windable tracks available.
Strong social networking available.
Easy to navigate options.
Cons of Rdio
Privacy issues are associated with Rdio.
No official bitrate quality ever declared.
Price
Free and $9.99 per month
Download Link: http://www.rdio.com/home/en-in/
Beats Music
A new Music Platform, Beats Music is a real gem, which is introduced in recent times.
Features of Beats Music
One of the innovative methods to analyze your taste of music through your age, gender and all other aspects, which you make while using services!
Pros of Beats Music
Daily tracking of the listening habits.
Lovely ability to prioritize the albums of artists you search for 320 Kbps bitrate available.
Cons of Beats Music
Some spam type services like personal recommendation at least 4 times a day.
"The Sentence" services, which many people don't like.
The inability to play it with a swipe or two and then get on with life.
Price
$9.99 per month
Download Link https://play.google.com/store/apps/details?id=com.beatsmusic.android.client&hl=en
Pandora
A wonderful service for the lazy ones!
Features of Pandora
A fantastic tool for the people who don't have the time to hover over computer and pick a new song.
Pros of Pandora
Music Genome Project database.
Perfect for people who are afraid of any kind of commitment.
Cons of Pandora
No ability to actually search or listen to a specific song.
192 Kbps bitrate on your desktop.
Cannot skip through more than five songs within a short period of time.
Price
Free and $4.99
Download Link: https://play.google.com/store/apps/details?id=com.pandora.android&hl=en
| Features | Apple Music | Google Music | Rdio | Beats Music | Pandora |
| --- | --- | --- | --- | --- | --- |
| Price | 9.99 | 9.99 | 9.99 | 9.99 | 4.99 |
| Devices | iOS, Mac, and PC | All | Mac, PC, iOS, Android, Windows Phone and BlackBerry Sonos, Roku, and the Bose Jambox | All | Google Android, Apple's iOS and BlackBerry |
| Quality | -- | 320Kbps | 320Kbps | 320Kbps | 192 Kbps |
| Songs | 27 million | -- | 25 million | 20 million | 1 million |
| Free Version | Yes | Yes | Yes | No | Yes |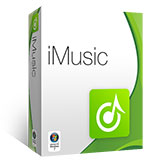 iMusic - Best Spotify Alternative for Both Windows and Mac
Download music from more than 300 music sites by copying and pasting the URL.
Record unlimited music from any website for playback in your computer with just one click.
Built-in music library let you browse and preview the lattest and hottest music.
Automatically save downloaded/recorded music to library for management and easy transfer.
Identify and tag music with artist, title, album, genre, and more with the latest technology.
Steps to Use iMusic to Download Spotify Music
Step 1 : Click "DOWNLOAD" in the "GET MUSIC" window. After then you can see a URL paste box as well as access to several popular music sites.
Step 2 : Open Spotify. Copy the URL of the song on the site. Then paste the URL of the song to the URL paste box in iMusic, check the needed music format and click "Download".
Another option for downloading is to navigate to the music site from those indicated below the URL blank, then search the music you want to download. Select the music format and quality, click "Download" to begin the download process as mentioned before.
Step 3 : Once completed the download process, the downloaded songs will be automatically added to your iTunes Library automatically. Click "LIBRARY", then download icon on the left side to check out the songs.