Can Audacity rip CD for editing ? Do you want to learn the easiest way to rip CD by Audacity alternative ?
Audacity is a software program that offers you many capabilities, among them being importing data to CDs or ripping data from CDs. The following is how you go about the process of importing data to a CD or ripping data from a CD on your Mac PC.
Step1. First, input the CD that you need to import or rip the data from into the CD drive.
Step2. After that, open Audacity, and then go to File, and then Import, and then use the Audio command.
Step3. An alternative will be to extract the audio by going to File, and then use the "Save Project As" option. The only issue with this method is that the CD will need to be present the next you open the project.
Step4. You can also rip data from a CD or import it from a CD using Audacity by going to Preferences, and then use the Import/Export option. When importing the audio files, a radio button that requests you to make a copy of uncompressed audio files before editing them will appear. Make sure that you check that radio button.
If you find the process of ripping data from CDs with Audacity to be complicated, iMusic will be a great alternative to give a try. Besides ripping data, you can use this application to record unlimited music from both audio and video streaming sites such as YouTube, Yahoo Music, iTunes Radio and so on.
With iMusic, it will be easier than ever for you to rip from music from CDs so that you can have the convenience of listening to it on your iPod, flash disc, phone and other portable devices. You will also find it easy to record your favorite music on the internet from sites such as YouTube and Vimeo. You simply need to click a Record button in order to capture the audio and then save to high quality M4A or MP3 files.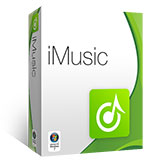 iMusic - Easiest Way to Rip CD with Audacity Alternative
You can use it to record audio from music directly.
It automatically filters out ads between tracks that are being recorded.
It can split tracks to separate music files automatically.
It allows you to customize the MP3 audio quality depending on your preferences, from low quality to high quality.
It can transfer recorded music to iTunes library/Windows/Mac/iPhone/iPod/iPad/Android Phones.
1 click to burn music to CDs in one click.
Steps for Recording Audio from CD with Audacity Alternative
Step 1. First, make sure that iMusic is installed on your computer. After that, you will need to insert the CD that you want to record the music from on your computer, and then launch the program. Next, click "GET MUSIC" tab and select "Record".
Step 2. Hit the record button on the program, and then locate the music that you want to record on the CD, and then start playing it using your favorite media player.Once the audio starts playing, this application will detect it and start recording it automatically.
Step 3.After the recording, all the songs from CD will be saved to your iTunes Librar if you have installed iTunes on your computer. Otherwise, they shold be in your media library. Next, you can copy these songs to your iPhone, iPad, iPod, Android phone, or USB flash drive for playing in the car.